Behind the Counter part 2: Circa oddsmaker talks current state of sports gambling and advice for futures bettors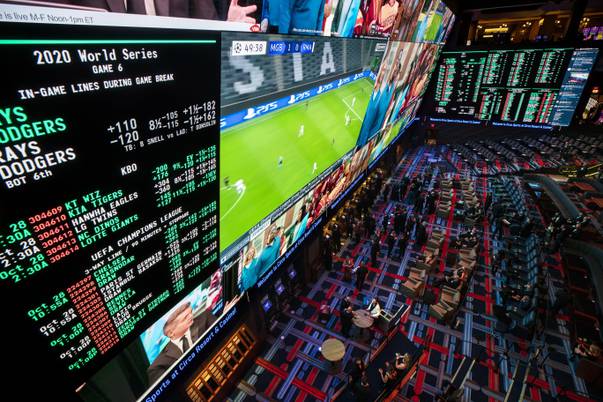 It has been only 6 months since our first Behind the Counter feature with Circa Sports oddsmaker Jeffrey Benson but a lot has changed in the industry since, including the Las Vegas-based sportsbook expanding its reach to Illinois.
"It's going to be really big to have our first property outside of Nevada later in quarter 4 this year. We think it could be every bit as good as Vegas if not better," said Benson.
Shout out to everyone who has been encouraging us to expand to Illinois over the past 3 years. Today we have some great news! 🙌🙌https://t.co/V2OrQa6KP5

— Circa Sports (@CircaSports) May 9, 2022
Illinois joins Nevada, Colorado and Iowa as the 4 states Circa Sports currently operates in, with more perhaps coming on the horizon.
"We continue to look at states that have favorable rules and registrations to remote registration and remote funding," added Benson.
Challenges with expansion
New states mean new opportunities and higher overall handle, but there are challenges as well. For starters, the rules and regulations vary from state to state, creating obstacles along the way and some "pain points" for the consumer in terms of the offerings on the betting menu.
"In Colorado we can book the hot-dog eating contest but we can't book the horses. In Iowa we can't book the NFL MVP and things like that. From a state-to-state perspective there are certain nuances. There's definite challenges and a lot of hurdles any time you open a new state but that certainly doesn't impede the excitement of being able to add another state to our portfolio."
Benson believes we are still unfortunately many years away from there being a uniform system in place, and will likely not happen until all 50 states including the District of Columbia have legalized sports betting.
"I think right now we're so early in the infancy, and it's just on a state-by-state basis," he added. "As people go from state to state the user experience is certainly not as consistent as we would like or hope for."
The current state of sports betting
Overall it's an exciting time for the industry, but there have also been some troubling things taking place across the landscape which are creating an unfair environment for the player. The main one that needs to be addressed when a bet is placed at an online sportsbook, and during the review process the odds are changed and the original stake is reduced to an amount significantly smaller than the original bet. This practice called "spooling" allows sportsbooks to gain information from the bettor without taking on the added risk and gives an unfair edge to the house. Benson is among many in the industry who feel there needs to be stricter guidelines in place with bet limits and how those limits are enforced.
"My hope is there will be less barriers to entry and that more players will be able to play in the space and there will be more competition, which will hopefully breed innovation," said Benson. "I think there is a world for both entertainment books and more of the Pinnacle, Cris, Circa types and as somebody who bets not for entertainment, making sure there is still a marketplace for that is certainly at the forefront of what we're trying to do."
I've experienced "spooling" first hand, and while it's frustrating, I understand why it's happening and try to adjust as best I can. If this happens to you, the best thing you can do is take your action to another sportsbook or accept the reduced bet at lower odds.
Advice for futures bettors
As you well know, the futures market is one I pay very close attention to as I believe there is a lot of hidden value to be found. The biggest obstacle I face to being profitable in those markets over the long term is the high hold percentages associated with them. Circa is one of the only sportsbooks I've ever seen publicly post the theoretical hold percentages with each market, as indicated below for the RBC Canadian Open earlier this week.
RBC Canadian Open 🏌️‍♂️
⛳️ Odds to Win (theo hold 22.0%)

For app limits by golfer and to bet against golfers check the Golf Yes/No menus on the @CircaSports app.@RBCCanadianOpen | @StGeorgesGCC | #RBCCO | @GolfCanada pic.twitter.com/2fwboWHD2p

— Circa Sports (@CircaSports) June 9, 2022
Hold percentage is just another way of saying how much margin the sportsbook takes on both sides of the game. It can be calculated by adding up the implied odds of every bet offered and subtracting 100. The remaining percentage is the hold. The higher the hold percentage, the more money the sportsbooks can make and the harder it is for the bettor to profit in the long term.
For example, a standard bet at -110 implies a 52.38% chance of that event occurring. If you multiply 52.38 by 2 to represent both sides of the market you get 104.76. Then subtract 100 to settle on a hold percentage of 4.76%. If you bump the odds up to -115 on both sides the hold percentage jumps to 6.98%, and if you reduce the odds to -105 the hold percentage drops to 2.44%. Over the long run, those numbers add up, which is why it's important to find the best prices possible.
"Shop shop shop. I would have more than one app, I would certainly be looking at different prices," said Benson. "I would say during the season when teams get on runs, there may be some books that don't adjust quickly enough and I think you can find some value there."
When it comes to specific sports, Benson believes NFL futures offer some value due to the high efficiency of the single-game market.
"I'd be looking at the schedule if there's a team that you're targeting that goes on the road 3 times in the first month or has a difficult first half of the season, maybe staying off a future bet there," Benson advised. "Letting them lose a couple games or come out the gate a little slower and then maybe try to buy low and sell high."
Read my latest Back to the Futures column on MLB
Pickswise is the home of free sports picks, news, and best bets. Check out our expert NFL picks, NBA picks, NCAAF picks, college basketball picks, NHL picks and Soccer picks for the latest game picks.