Best MLB player prop bets for today 7/14: Framber Valdez wears a halo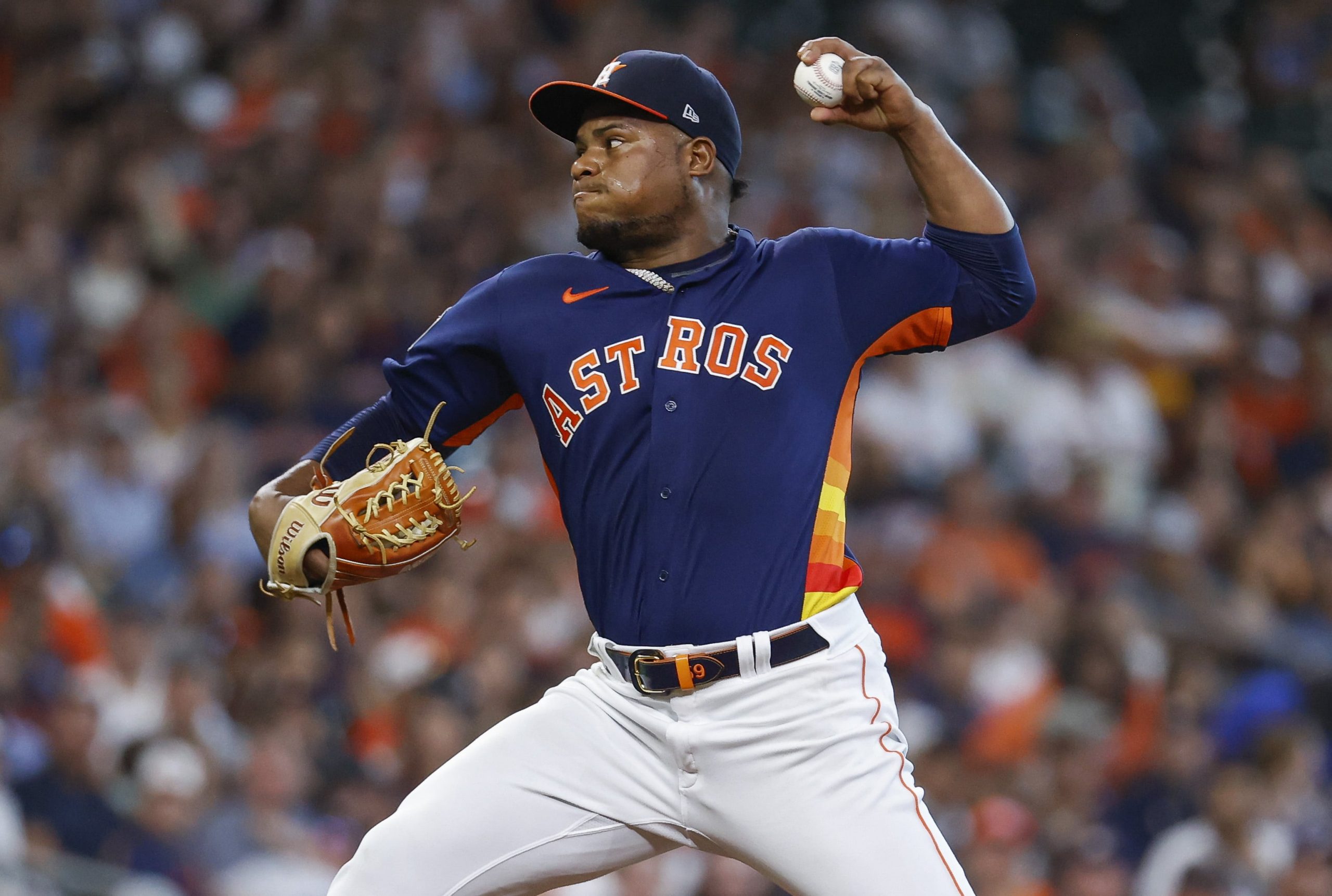 For the last 13 months I have shared my sports betting tips and plays on my Twitter page @shou_in. I am incredibly thankful for the platform Pickswise has now allowed me. I update my record in my Twitter bio daily and am more than willing to answer any questions or provide help through direct messaging.
Read below to see the prop(s) I am eyeing up on Thursday's MLB slate.
Framber Valdez (HOU) 5+ strikeouts/Astros money line (-125)
Odds available at DraftKings Sportsbook at time of publishing. 
Framber Valdez is one of my favorite pitchers in Major League Baseball. His 5'11, 240-pound frame generates one of the single most dominant pitches in the league. His sinker registers at an average speed of 94 MPH. It has significant downward movement, as does his curveball and changeup. His sinker has a run value of -9, which is elite. Valdez's ground-ball rate sits 67.9% — 23% higher than average. That is mostly due to throwing his sinker 50.5% of the time. He ranks 2nd in ground-ball outs this season behind only Sandy Alcantara — but in 21.1 fewer innings.
Valdez has recorded a quality start in 14 straight appearances. His 2.64 ERA has a 74th percentile xERA to back it up. Despite issues with walks, he still maintains a WHIP of 1.11. When on the road this season he has a 1.76 ERA and a .154 batting average allowed. Astros have won 9 of his last 12 starts, including a 4-2 victory over the Angels on July 3 — when he racked up a season-high 13 strikeouts. His 85th percentile barrel rate and 86th percentile xSLG match up well with the Angels' 3rd-worst ISO against left-handed pitching in the last 30 days. They also rank 29th in K%, OPS, SLG, AVG and wOBA with a wRC+ of 69 against left-handers in that span.
He isn't the biggest strikeout pitcher, but Valdez has recorded 5 or more Ks in 12 of 17 starts — including in 10 of his last 12. The Angels have struck out at least 5 times in 8 consecutive contests started by lefties. Those pitchers have combined for a 1.21 K/IP. In his most recent start against the Angels Valdez's sinker had a 33.3% whiff rate with a put-away rate of 42.9%; his curveball had a 71.4% whiff rate and 40.9% put away rate. While the extent of his success was a bit of an outlier, we only need about 40% of that strikeout production tonight.
Reid Detmers is coming off his 2nd-best start of the year, but the Angels still lost that game and he is still fade material in my eyes. His barrel rate and xERA each sit 22nd percentile. He has an 18th percentile xSLG and struggles to make batters miss. Detmers is prone to walking batters and his fly-ball rate is 7.5% higher than league average. With wind blowing out and facing the Astros, that could prove problematic. Houston in the last 30 days against left-handed pitching ranks 2nd in SLG and ISO, 3rd in OPS, 4th in wOBA and has a wRC+ of 139. The bullpen advantage is also clear for Houston, which ranks better in nearly every statistical category.
Astros are 49-20 this season as favorites for 9.54 units of profit. Los Angeles is 7-25 as an underdog for a loss of 16.73 units. Since beginning the season 27-17, Los Angeles has lost 33 of its last 45 games and now sits 11 games below .500.
Prop parlay: Corbin Burnes (MIL) over 17.5 outs/Triston McKenzie over 17.5 outs (+146)
To win 1U. Odds available at BetMGM Sportsbook at time of publishing.
Now I'll begin by acknowledging that this play is not correlated. These aren't even props in the same game. That being said, the price that MGM is offering is better than at other books by about 30 cents on the dollar. That discount in addition to my reasoning below provides enough value in my eyes to recommend such a play.
Leg 1: Corbin Burnes over 17.5 outs recorded against the San Francisco Giants
Burnes has pitched at least 6.0 innings in 14 of his last 16 starts while allowing 3 or fewer runs in 13 of those starts. He is an advanced metrics darling ranking 89th percentile in xERA and 87th percentile in xBA. His 71st percentile walk % pairs nicely with his 78th percentile barrel %. Burnes is an elite strikeout artist, ranking 98th percentile in whiff %, 95th percentile in chase% and 93rd percentile in K %.
His cutter is one of the best pitches any pitcher in the game has to offer and he utilizes it 56.6% of the time. He is exceptional on the road with a 1.62 ERA and .179 opponent batting average. Burnes has cleared this line in each of his last 7 road starts and 16 of his 21 road starts dating back to last season. He also shredded this Giants lineup in April, with 11 of his 20 outs coming via strikeout while allowing 2 hits and 0 runs.
The last 3 Brewers starters have gone 5.0, 4.0 and 4.1 innings leaving their bullpen taxed. Milwaukee has used Josh Hader, Devin Williams and Brad Boxberger each of the last 2 games, with Boxberger tallying 43 pitches total. Last night alone saw 4 arms combine for 69 pitches. They could use another quality start from their ace tonight.
Seventeen of the last 25 right-handed starters to face the Giants have pitched at least 6.0 innings, including each of the last 6. San Francisco is hitting .217 against right-handed pitching in the last 30 days. During that span the Giants rank 23rd in SLG, 20th in OPS, 20th in wOBA and have the 4th highest K%.
Leg 2: Triston McKenzie over 17.5 outs recorded against the Detroit Tigers
Yesterday Cleveland was put into a tough position with an early injury to starting pitcher Aaron Civale. Just one inning from their starter led to 120 pitches across 5 bullpen arms. While the Guardians have arms that they can use, every single one of them has thrown at least 14 pitches in the last 3 days — with 6 of them throwing 27 or more. Over the last 30 days the Cleveland bullpen has the 2nd-highest WHIP and 3rd-highest ERA. They would absolutely love to get a quality start from today's starter.
Triston McKenzie has surpassed this line in 11 of his last 12 starts averaging over 19 outs recorded in that span. In 5 home starts he has a .184 batting average allowed and has cleared this line in 4 of 5. His 3.78 pitches per plate appearance ranks 36th fewest of 114 qualifying pitchers. The Tigers take the 5th-fewest pitches/PA as a team. 
While McKenzie has some worrisome underlying stats such as his 7th-percentile barrel %, 14th-percentile xSLG, and 26th-percentile xERA, this Tigers offense doesn't scare me away from the spot. The Tigers have the league's 3rd-lowest team barrel rate and fewest runs scored this season. In the last 30 days against right-handed pitching Detroit has the 2nd-lowest hard-contact %, 3rd-highest ground-ball %, and the 4th-lowest home run to fly ball ratio. During that same span they sit 24th in OBP, 29th in SLG, 30th in ISO, 28th in wOBA and have a wRC+ of 80 against right-handers. The Tigers have allowed Brad Keller and Brady Singer to each surpass this line while combing for 13 innings, 14 Ks and 2 runs allowed. Sixteen of the last 25 right-handed pitchers they have faced have worked at least 6.0 innings.
Pickswise is the home of free MLB Picks. Check out the latest MLB Prop Bets and MLB Parlays as well as our MLB Best Bets from the experts.