Best MLB player prop bets for today 7/28: Mariners get to Urquidy again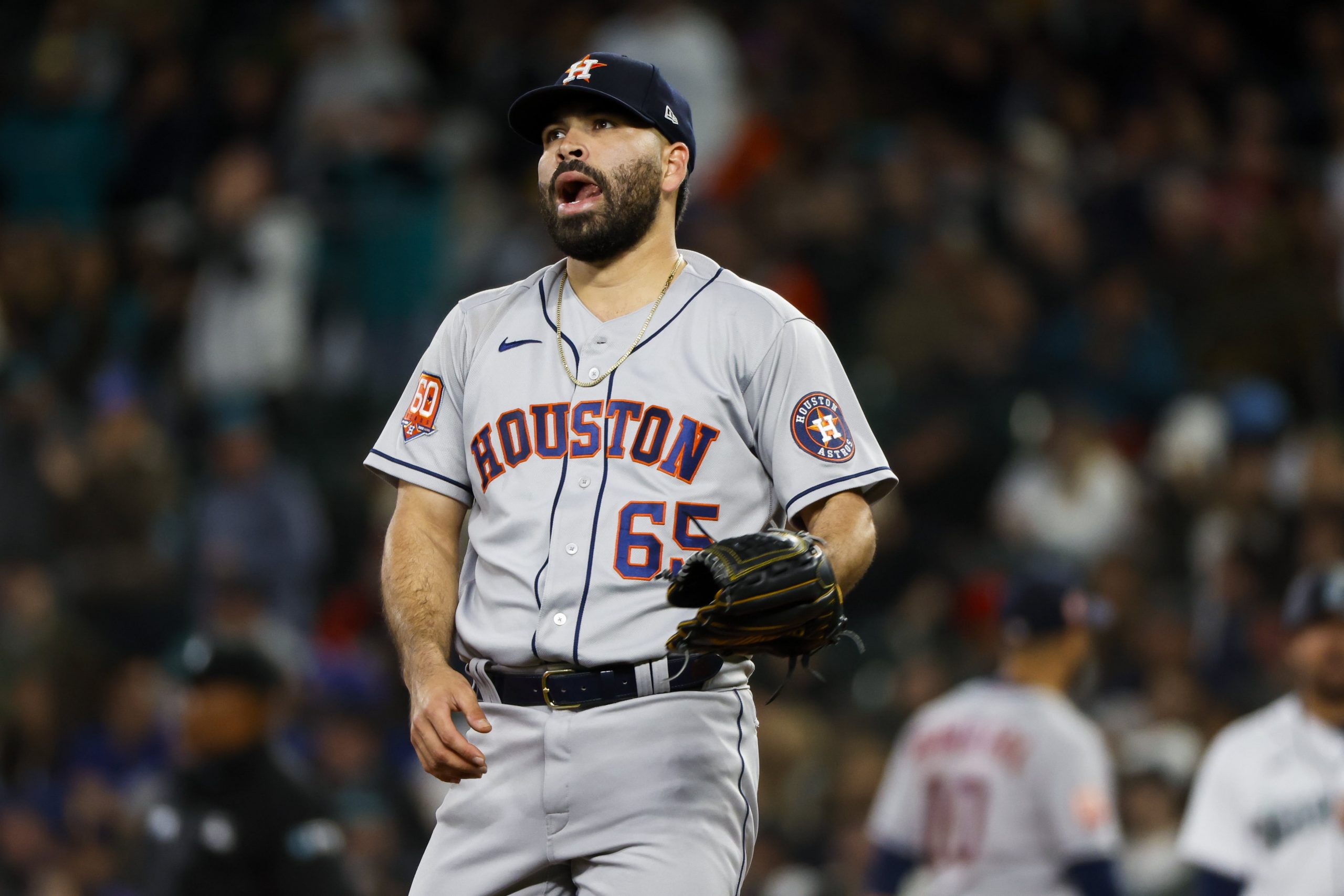 For the last 13 months, I have shared my sports betting tips and plays on my Twitter page @shou_in. I am incredibly thankful for the platform Pickswise has now allowed me. I update my record in my Twitter bio daily and am more than willing to answer any questions or provide help through direct messaging.
Read below to see the props I am eyeing up on Thursday's MLB slate.
Read our MLB picks for EVERY game today
Jose Urquidy (HOU) under 4.5 strikeouts (+106)
Odds available at FanDuel Sportsbook at time of publishing. 
Let me start with the worrisome areas. Jose Urquidy has much better splits at home than on the road in terms of K/IP. That being said, he has drawn some favorable matchups at home where he was able to rack up a large number. The Mariners have also allowed 4 straight right-handed starters to exceed this number. Two of them landed right on 5 Ks and the others were named Jon Gray and Justin Verlander. Now that we have that out of the way, let's discuss why I like this play.
The Mariners have already seen Urquidy 4 times this season. He is under this number in all 4 starts with a combined 12 Ks across 19 IP. In those 19 IP, he has allowed 31 hits, 9 walks, and 16 earned runs. Even in his last start which came against Seattle, Urquidy pitched well with 6 innings of 1 run ball, but only 3 punchouts. He should see a very similar lineup today. On the season, Urquidy ranks in the 22nd percentile in K% and 21st percentile in whiff rate. His chase rate is in the 59th percentile but the chase contact rate he allows is 5.8% higher than average. In called strike plus whiff rate, he ranks in just the 21st percentile.
Urquidy gets hit hard with a 16th percentile hard-hit rate, 15th percentile average exit velocity and 16th percentile barrel rate. His xBA is 16th percentile along with a 19th percentile xERA. He sits 8th percentile in xSLG and his most-used pitch is his worst one. His fastball sits 93.6 mph and is used on 54.1% of his pitches. On that pitch, he allows a .299 xBA and .583 xSLG. Urquidy possesses just one pitch with a put away rate higher than 20% and that is his curveball he only uses on 12.5% of his pitches. Mariners have the 5th highest zone contact rate, 6th lowest chase rate, and 11th lowest whiff rate overall. Jose is under this line in 12/18 starts this season, and I love grabbing plus money on this number.
Be sure to check out our full game preview for Seattle Mariners vs Houston Astros
Detroit Tigers F5 Team Total over 1.5 (-120)
Odds available at DraftKings Sportsbook at time of publishing.
I know, the Tigers are a very bad baseball team. It is never fun targeting a team that is 40-59 on the season but those can also be the teams with sneaky value. Detroit has been quietly mashing left-handed pitching in the last 30 days. During that span, they rank 3rd in AVG, 5th in OBP, 8th in SLG, 5th in OPS and have a wRC+ of 131, which ranks 5th-highest. Since June 1, the Tigers have faced 14 left-handed starting pitchers. Eleven of those starters have allowed 2 or more runs in the first 5 innings with 8 of them allowing 3 or more. The only pitchers to allow less than 2 runs in the first 5 innings were Carlos Rodon, Alex Wood and Martin Perez.
Yusei Kikuchi will make his first start since July 5 following an IL stint. We can expect to see some rust, and his form before the injury wasn't good either. Kikuchi ranks in the 1st percentile in barrel rate, average exit velocity, hard-hit rate and xERA. His xSLG is in the 4th percentile with a 3rd percentile walk rate and 27th percentile xBA. Kikuchi has just a 55.9% first-pitch strike rate which sits 5.4% below average. When behind in counts, batters have xBA's of .281, .293, and .317 on his 3 main pitches. The xSLG on those pitches in this scenario are .489, .541, and .745. Kikuchi does strike out batters, but his main strikeout pitches are also the ones that get hit the hardest. In 8 of his last 9 starts prior to getting injured, Kikuchi allowed 2 or more runs in the first 5 innings.
Be sure to check out our full game preview for Detroit Tigers vs Toronto Blue Jays
Alex Wood (SFG) under 17.5 outs recorded (-135)
Odds available at BetMGM Sportsbook at time of publishing.
Alex Wood enters this game having cleared this line in just 3 of his 19 starts this season. He is a good pitcher who limits walks and gives his team a chance to win but there are some areas in his game I see value in attacking. Wood ranks 10th highest among 114 qualifying pitchers in pitches per plate appearance. His 4.11 P/PA mark hinders his ability to deep in games as he averages just around 85 pitches per start. Wood ranks just 41st percentile in xBA and 44th percentile in hard-hit rate. When at home this season he allows a .291 OBA and is under in 6 of 8 starts. He has also seen an uptick in strikeout production lately which is leading to longer counts.
The Cubs have been hitting left-handed pitching very well over the last 30 days. During that span they have a wRC+ of 120 while ranking 3rd in ISO and 6th in SLG. 9 of the last 14 left-handed starters to face them have gone under this number. Cubs are striking out at a 26.5% clip during this stretch, and this has actually increased their P/PA to an above average mark.
Giants have received 6 and 6.1 IP from Rodon and Webb their last two games. As a result, the bullpen has not had to pitch anybody in both of those games and should be well rested as a unit. If Wood should run into any trouble, the Giants shouldn't need to overextend him.
Be sure to check out our full game preview for Chicago Cubs vs San Francisco Giants
Triston McKenzie (CLE) under 5.5 hits allowed (+110)
Odds available at DraftKings Sportsbook at time of publishing.
Triston McKenzie is rapidly becoming one of my favorite pitchers in the league to watch. The 24-year-old right-hander features a 3-pitch arsenal with each one serving a purpose. He throws his 92.4 mph fastball for over half his pitches but has 12 inches of vertical run and a -8-run value on that pitch this season which is very good. His slider drops off 5 mph and has a 27.1% whiff rate. In my opinion, his curveball is his best pitch and what makes him stand out. His looping curve is thrown below 80 mph and makes his fastball appear quicker out of the hand (along with his long arms). His curveball has a 44.4% whiff rate, .259 xSLG, and .157 xBA.
Overall, McKenzie doesn't allow many hits with just 76 hits surrendered in 107 innings pitched. His 62nd percentile xBA supports the fact he has allowed fewer than 6 hits in 14 of his 18 starts this season. In his last 4 starts spanning 26.2 IP, McKenzie has allowed 13 hits and 1 run with 27 punchouts. That includes a 7 IP gem against the Yankees allowing 0 runs on 1 hit. A small shift he has made during that stretch is to lean more heavily on his breaking balls and I agree with that adjustment.
The Red Sox are a depleted team that is playing uninspiring baseball. Against right-handed pitching in the last 30 days, Boston ranks 28th in BB%, 24th in AVG, 22nd in SLG, 26th in wOBA, and have a wRC+ of just 83. They are also striking out at the 3rd highest clip. 10 of the last 14 right-handed starters to face Boston have gone under this 5.5 line. 
An added element to this play that is worth considering is the weather in Boston. From what I have been able to gather, there is a legitimate chance of mid-game rain and even a delay which certainly wouldn't hurt an under. I love grabbing this number at plus money.
Be sure to check out our full game preview for Cleveland Guardians vs Boston Red Sox
Pickswise is the home of free MLB Picks. Check out the latest MLB Prop Bets and MLB Parlays as well as our MLB Best Bets from the experts.