Best NFL player props for Week 7: Gesicki cages Falcons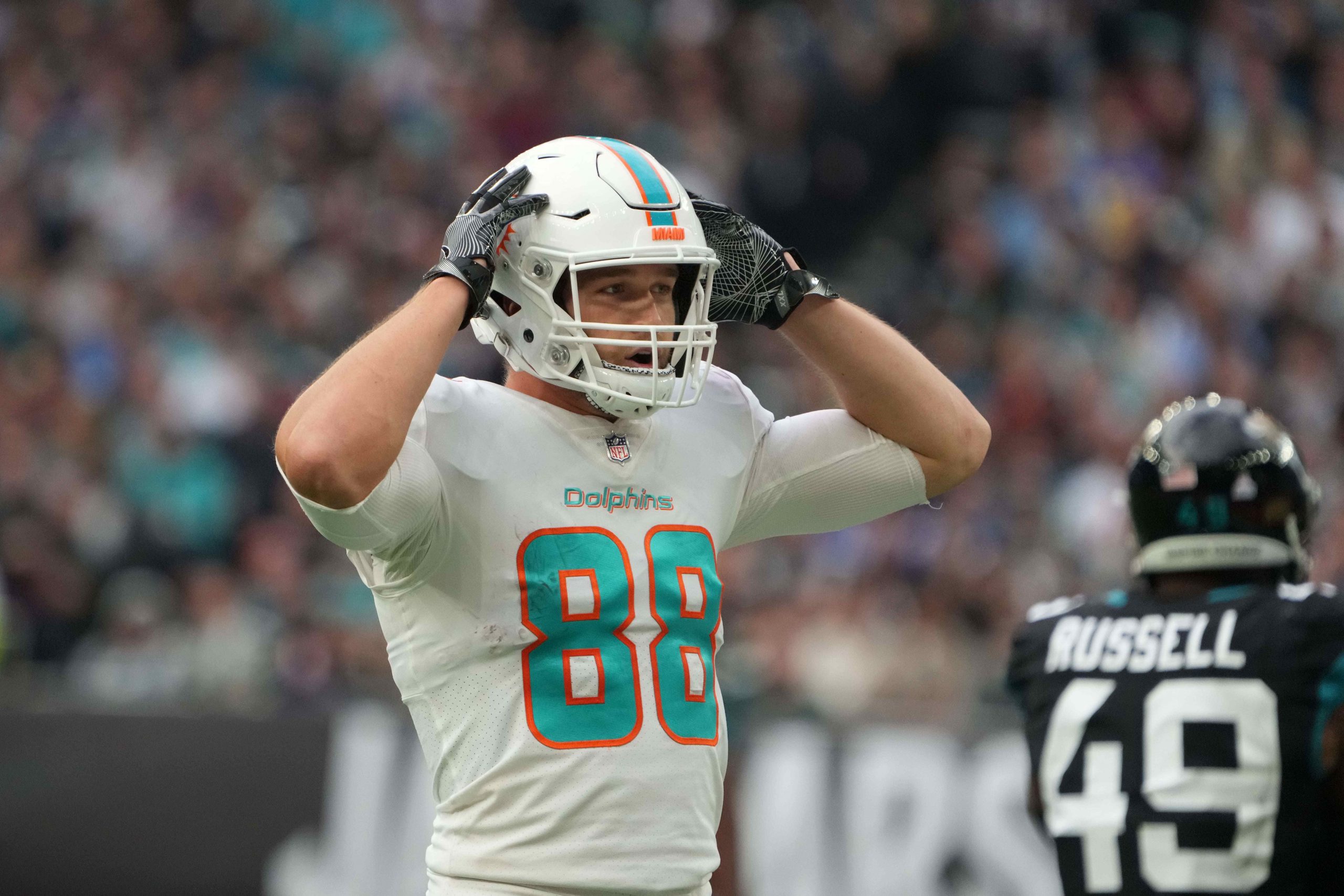 The tight end receiving market is about to heat up people. They are the forgotten skill position group and frankly, it's not cool. The funny part is, as far as NFL player props go, the tight end receiving yardage numbers are some of the easiest to beat. They are always suppressed. Always. The wide receivers get all the love while the tight ends are just left to clear less than 40 yards. I think we should stick up for these guys and get paid in the process. Feels like the right thing to do.
On top of this article, you should definitely check out our NFL expert picks. It's just a smart thing to do. Also, bets can be added to the card, so why not follow me on Twitter so you don't miss them. It makes perfect sense.
NFL Player Prop – Mike Gesicki over 39.5 receiving yards (-115)
Line available at DraftKings at time of publishing.
I'm only seeing this NFL player prop at DraftKings, but I am sure FanDuel and BetMGM will be along soon. I said I would be fine with anything under 40 and here we are with a number lower than 40. For what it's worth I don't think this number will go much higher, so if you have to wait for FanDuel or BetMGM that's fine.
Here's the thing about Mike Gesicki. People hate him because he ruins fantasy teams every year. He gets drafted as someone's late round tight end and it just doesn't work. I get the frustration but it's time to move on. So far this season, Gesicki has only finished under this total once. That's not bad.
I am guessing his number is so low because the Atlanta Falcons are coming to town. So far this season only 4 teams have given up fewer receiving yards to opposing tight ends. That looks scary until you realize they have only played five games and one was against the Jets who don't throw to their tight ends. No team in the NFL has targeted their tight ends more than the Dolphins. We should be good here.
Be sure to check out our full game preview for Atlanta Falcons vs Miami Dolphins
NFL Player Prop – CJ Uzomah over 20.5 receiving yards (-115)
Line available at DraftKings at time of publishing.
This one is available pretty much everywhere for the same place but I got it DraftKings first. FanDuel has it at 20.5 for -114, so technically they are the lowest so there is that. BetMGM hung 20.5 at -115 which is exactly the same as DraftKings. We've got agreement everywhere.
No team in the NFL targets their tight ends less often than the Cincinnati Bengals. That's the bad news. The good news is we only need 21 yards for this to hit. I've seen guys trip and fall forward for 21 yards. This should be pretty easy. And yes I know Uzomah has only hit this number twice this season. Opponent matters, though.
Only six teams in the NFL have given up less receptions to the wide receiver position than the Baltimore Ravens. Translation, the Bengals will need to diversify. The tight end position is the likely place since only three teams in the NFL have given up more receiving yards to tight ends than Baltimore. I think Uzomah will earn an extra target or two on Sunday–especially if the Bengals chase points. That should be good enough for us to get over 20.5 receiving yards.
Be sure to check out our full game preview for Cincinnati Bengals vs Baltimore Ravens
Pickswise is the home of free NFL picks and predictions. Make sure to also check out our NFL parlays and NFL prop bets tabs for more expert picks.