NFL Parlays
Get our best NFL parlays every week of the 2023-24 season. Our experts combine their best NFL bets to create the best NFL parlay picks this week. You can also find our NFL same game parlays from each game, all season long.
Check back later today to find out if any are added, or head over to our picks page for bets on all of today's big matchups.
• undefined News - Discover the latest news.
• Bonuses - Check out the latest selection of offers from your favorite Sportsbooks.
What Is An NFL Parlay
An NFL parlay is a type of bet where you combine multiple selections into a single wager. For an NFL parlay to win, all of the selections or bets need to win. While the difficulty of winning an NFL parlay increases with each selection you add, the odds can also greatly increase. To calculate the odds of a parlay you multiply the odds of the individual selections so the more selections, the bigger the parlay odds. You can also make use of our Parlay Calculator to take care of all of the math for you. For more on Parlays be sure to check out our Parlay betting guide.

Check out an example of an NFL Futures Parlay with 7 teams to make the NFL Playoffs below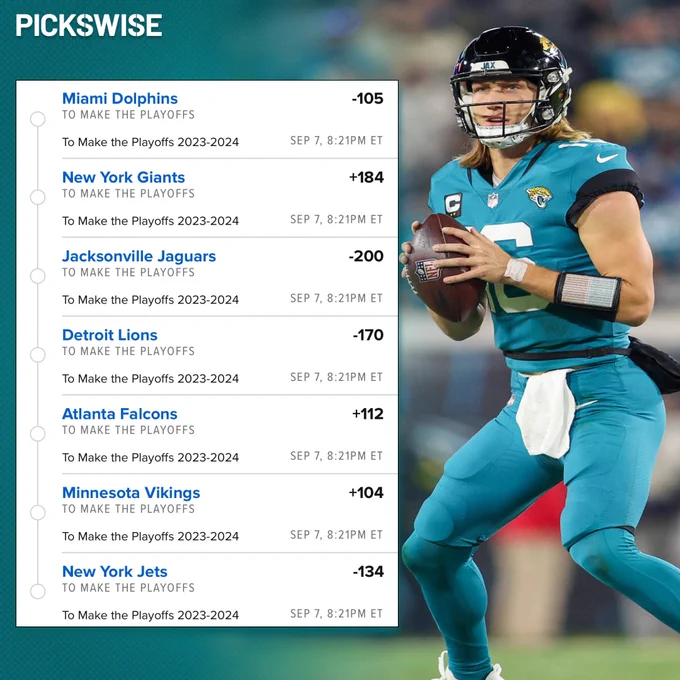 Our experts will highlight the best NFL Picks today to combine into an NFL Parlay, offering you even more variation into how you want to wager on this week's NFL action.

Free Picks and Parlays NFL
Here at Pickswise, we have free NFL picks and parlays every week of the NFL season. Our free NFL picks and parlays include both traditional multi-game parlays which include our best parlays picks from of the most popular markets including money line, spreads, and totals, as well as our NFL Same Game parlays on every game of the season. Each of our free NFL parlays will come with a full analysis for each leg, as well as the best odds available from all of the top online sportsbooks. Check back every week including for those primetime parlay picks on Mondays, Thursdays, and Sunday Night Football.
NFL Parlay Strategies & Tips
Parlay Bets despite their popularity can be one of the most difficult and lucrative bets, with increased difficulty with each selection you add.
Here are three quick tips to better your chances of winning long-term with your NFL Parlays
Stick to 2, 3, or 4 team parlays

– Any more than this will often not be profitable long term despite the increased parlay odds.

Shop around for odds

– Not all online sportsbooks offer the same odds, and while there is often only a marginal difference if you can wager three picks at -105 each instead of -120, your payout would be $

744.21

instead of $616.20 to a $100 stake.

Manage your bankroll –

Being disciplined with your bankroll is key long term as not all parlays will win, particularly in the NFL, but if you keep your stake consistent, at odds of around 6/1, you only need to win 1 in 7 parlays to break even, any better than that is profit.
How to bet on NFL Picks and Parlays
Betting on NFL picks and parlays is a quick and simple process with any online sportsbook. To create a parlay, you simply have to add multiple selections to your bet slip and click the parlay option before placing your wager.

Due to the popularity of NFL betting and also NFL parlays, sportsbooks pay a considerable amount of attention to these markets, and in shopping around you can find great variations in odds, spread lines, and often price boosts or bonuses such as Parlay insurance whereby you get your stake as a bonus bet if only one leg lets you down. Shopping around for these advantages is key to having long-term success with NFL parlays.

Unsure where is best to place your NFL parlay bets? Head over to our online sportsbook reviews page where we break down all the information and latest promo codes you'll need to know for all of the top online sportsbooks.

What is an NFL Teaser Bet?
One of the ways to avoid the frustration of losing an against-the-spread bet by a point or two is with teaser NFL picks. For example, in a 2-team teaser, you get 6 points placed in your direction (-7 spread becomes -1) for both games. The caveat is that both teams must cover for your ticket to be graded a winner and the odds are similar to a single-game bet. Conversely in a parlay, you still wager on two teams but with the original spread and with better payout odds (usually 3:1). Teasers and parlays can be played with 2,3,4,5 teams or more.
What Is A Same Game Parlay
A Same Game Parlay is just like a regular parlay wager, except all selections come from prop bets within one specific match. The obvious positive of a Same Game Parlay is that by combining multiple selections you can go for an even bigger win with the odds increasing with each selection.

Bettors will often use Same Game Parlays to wager on correlated props, and if you get it right the payouts can be huge. Take, for example, a team facing a poor pass defense with an elite QB, in that spot, you might take the QB to hit over their passing yards total and you can also parlay that with their favorite wide receiver to score anytime over their receiving yards total.
How Do I Bet On A Same Game Parlay
With the Same Game Parlay's increasing popularity, the majority of leading online sportsbooks now offer them across a number of sports, including the NFL. Some refer to them as One Game Parlays and Single Game Parlays, which are different in name, but the same in concept.

To bet on the same game parlay simply head to your preferred online Sportsbooks, or where you can get the best odds for your picks. Unsure of the best online sportsbook, check out our promo codes and reviews today.

To bet a Same Game Parlay you must first click on the game you want to place a bet on, and then add each selection to your betslip. The Same Game Parlay odds update with each pick. Once yvou have added all of your selections, enter the amount you wish to wager and hit 'place bet'. And that's it, you're on!

New to betting? or not yet registered with one of the sportsbooks currently offering Same Game Parlays? Check out our full reviews for FanDuel Sportsbook, BetMGM, and DraftKings here, where we take a look at everything from sports on offer, their mobile app, deposit and withdrawal options, and much more.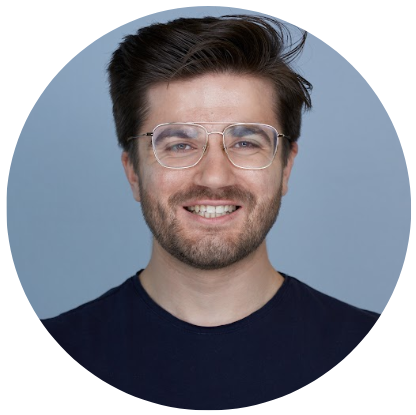 NFL Parlays: Betting small to try to win big
Bet small, win big. That's the aim of every NFL parlay and our team of experts spend hours each week crafting what they believe to be the perfect parlay to deliver a nice payout. Our handicappers are among the best in the business at doing just that, with each leg the product of intensive analysis from numerous members of the Pickswise capping team. We also produce a Same Game parlay for every NFL game, every week, mixing in some of our favorite, picks and props to find that lucrative winning ticket for our readers.
Andrew Wilsher, Pickswise Managing Editor
Can You Parlay NFL Win Totals?
What Is A Parlay Bet In NFL?
Can You Parlay NFL Futures?
Are NFL Parlays Worth It?
What Are The Disadvantages Of A Parlay?
Why Are Parlays So Popular?