NFL
Back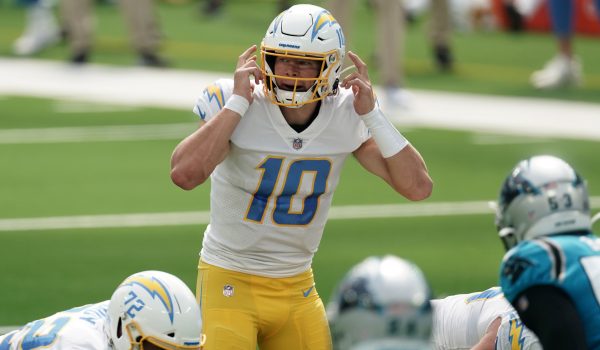 NFL Week 11 Survivor Pool Picks: Chargers look strong despite losing record
How To Win An NFL Survivor Pool
Only the most skilled survivor players have successfully navigated the first ten weeks of the NFL season. Those who are still left should have a clear strategy for the weeks moving forward, either one that was created before the season or one formed throughout the course of the past ten weeks.
The Jets return to action after their bye last week, and picking against them, especially as they play an underrated opponent with a deceptively poor record, is always a smart play. But if you'd rather look elsewhere, we've got options. These are our best picks for the games you should and should not pick in Week 11 of your survivor pool.
Who to Pick Week 11 NFL Survivor Pool
DO NOT PICK: New Orleans Saints vs. Atlanta Falcons
The Saints changed course on Friday and committed to starting Taysom Hill, their wildcat/hail mary specialty quarterback who also plays wide receiver, instead of Jameis Winston under center. While Hill is an important piece for the Saints who's excellent at what he does, starting a game and playing every snap is something completely new for him. The Falcons have won two in a row and are a better team than their 3-6 record would indicate. Stay away from this one.
DO NOT PICK: Miami Dolphins vs. Denver Broncos
The Dolphins could easily make a case to be the hottest team in football. They've won five straight and newly promoted rookie starter Tua Tagovailoa has yet to lose a game in the NFL. But they haven't proven themselves as a consistent force in the division, and a letdown seems almost certain at some point in the season. The Broncos already have a win against the Patriots, and the cold conditions in Denver could prove tricky to Tagovailoa, who's played his entire career in Hawaii, Alabama, and Miami.
DO NOT PICK: Kansas City Chiefs vs. Las Vegas Raiders
The 8-1 Chiefs are one of the best teams in the league, but their only slip this season came against the Raiders in Week 5. After losing their subsequent game to the Buccaneers, Las Vegas come into Sunday night on a three-game winning streak and full of confidence to get back into the division race against a team they've already beat this year. Odds are you probably don't have the Chiefs left after their game against the Jets, and if you do, look to last week's performance, where they just barely survived against Carolina, as a reason to pick someone else in Week 11.
PICK: Los Angeles Chargers over New York Jets
The Jets are coming off a bye week, but they're still the 0-9 Jets and will still be without starting quarterback Sam Darnold. Assuming you've made it this far into your survivor pool, you've probably already used some of your stronger cards, and the Chargers might never have been one you'd consider using this late in the game, especially as they enter with a 2-7 record. But Los Angeles have kept their games tight, not losing a single one by more than eight points. They're a much better team than the Jets and should win handily to send you into Week 12.
PICK: Minnesota Vikings over Dallas Cowboys
Andy Dalton is back under center for Dallas after missing two games with a concussion and coronavirus, but it won't make much of a difference against a surging Minnesota team. The Vikings have won three in a row, sweeping the rest of their division over the past three weeks, and are rewarded with a meeting with the last-place team in the worst division in football. Minnesota started out 1-5 (although they were a much better team than that), but now at 4-5 feel they still have a chance to make it to the playoffs if they play well. They'll get back to .500 with a win over Dallas, which would be another wise play for your survivor pool.
PICK: Pittsburgh Steelers over Jacksonville Jaguars
The undefeated Steelers play the 1-8 Jaguars in what could very well be the most lopsided game of the week. While we'd still advise you to go with Pittsburgh if you want, they're third on our list for a few reasons. First, you most likely don't have them left – we recommended you play your Steelers card two weeks ago against the Cowboys. Also, the Jaguars have played extremely tight in their last two games, including a loss by just four to the Packers, a team with Super Bowl aspirations. Pittsburgh appears due for a letdown at some point after starting 9-0, but that letdown shouldn't come this Sunday, so if you're still in position to use them, the Steelers should advance you.
What Is An NFL Survivor Pool?
The goal is simple: last as long as you can without incorrectly picking the outcome of a game. You just need to select one game per week, and if you pick the winner right, you move on to the next week. The ultimate goal is to be the last player standing in your pool.
How Does An NFL Survivor Pool Work?
There's just one catch – you can only pick each team once per season. This is where strategy comes in – it would be easy enough to pick the Chiefs every week, but you're only allowed to go with them once, and need to find 16 other winners throughout the season to finish a perfect 17-0.
Pickswise is the home of free NFL picks and NFL Odds. Check out the latest prop bets and parlays as well as expert underdog predictions and computer picks.
Last updated: Sat 21st November 2020