NFL
Back
NFL Week 15 Survivor Pool Picks: Rams a better option than Seahawks in West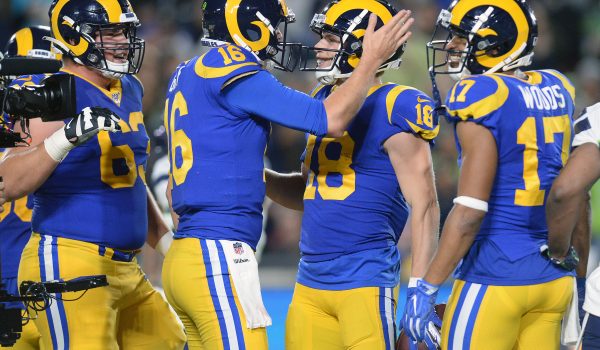 NFL
11:00AM
Sat 19th December 2020

NFL
11:00AM
Sat 19th December 2020
Dylan Ruhl
See Bio
I lived in Italy for three years in college and learned the art of sports betting while I was there. Now I'm back in the States, and I want to share all the knowledge I acquired in one of the sports betting capitals of the world. Bills Mafia!!
See Bio
I lived in Italy for three years in college and learned the art of sports betting while I was there. Now I'm back in the States, and I want to share all the knowledge I acquired in one of the sports betting capitals of the world. Bills Mafia!!
Just three weeks remain for undefeated survivor players to clinch a perfect season. Week 15 is undoubtedly the most crucial week in the playoff race to date, as teams will be eliminated, clinch divisions, and shuffle around in the seeding picture. This year, because of how the schedule works out, every single game this week has playoff implications of some sort.
Like most weeks, the most high-profile games aren't necessarily the ones you should choose, though. If two teams facing each other are both in a race, they're in that race for a reason. This is our best advice for where you should look to – and where you should look away from – in Week 15 of your survivor pool.
Who to Pick Week 15 NFL Survivor Pool
DO NOT PICK: Kansas City Chiefs vs. New Orleans Saints
This game could decide the top seed – and lone playoff bye – in both conferences. Drew Brees is expected to return to the lineup for the Saints, but there are still questions surrounding his ability to play a full game against a team most consider as the favorites to repeat as Super Bowl champions. That said, New Orleans has enough offensive weapons to keep the Chiefs on their toes, and they have as strong a defense as any team in the league that could keep Patrick Mahomes to a stat line lower than any other he's experienced this year. Watch this game, but don't pick it.
DO NOT PICK: Cleveland Browns vs. New York Giants
One month ago, this game would have been a must-pick. But the Giants have shown that their team is more than just a big-market laughingstock that somehow found itself in the middle of a divisional race. The New York defense should do a better job than most teams have of stopping the two-headed rushing monster that is Nick Chubb and Kareem Hunt. The Browns, like the Giants, had been in good form before being stopped by a wild card contender in Week 14. This one's too close to call.
DO NOT PICK: Seattle Seahawks vs. Washington Football Team
The Seahawks dominated the Jets last week, but their powerful offense scored just 12 points two weeks ago against a Giants team built similarly to Washington – not many points, but a defense that can hold up against the best on any given day. The Football Team have everything to play for – they're currently alone in first place and odds-on favorites to win the division for the first time all season. Seattle's defense has picked it up recently, but the offense has faltered. If they aren't at their best on both sides of the ball, this game could go either way.
PICK: Baltimore Ravens over Jacksonville Jaguars
The Ravens couldn't have asked for a better schedule to end their season. With the Jaguars and Giants at home before trip to Cincinnati in Week 17, they'll be a good survivor pick at any time moving forward. Baltimore scored 47 points on Monday night in Cleveland, and with quarterback Lamar Jackson back to full health after a bout with Covid-19, the preseason favorites in the AFC have now turned into a dangerous sleeper team as the season winds down. They're a lock in Week 15.
PICK: Los Angeles Rams over New York Jets
Winning a game could be the worst possible thing to happen to the Jets in this entire forgettable season. Now 0-13, they currently hold the first overall draft pick, but one slip and Trevor Lawrence could be headed to Jacksonville instead. Although they haven't said it directly, the front office has made it clear that the team's short-term plan no longer involves winning, and a first-place Rams team fighting for a division title and a high playoff seed won't have to sweat much on Sunday. If you still have the Rams, play them and save Baltimore for Week 17.
PICK: Pittsburgh Steelers over Cincinnati Bengals
After starting 11-0, the Pittsburgh Steelers have lost their last two and no longer hold the top spot in the AFC. Having lost the tiebreaker to surging Buffalo, they're in danger of falling as low as third with one more loss. Thankfully, the Cincinnati Bengals – minus Joe Burrow – are up next on their schedule, and Cincinnati shouldn't put up much of a contest against the elite Pittsburgh defense. The Steelers are approaching each game at this point of the season like a playoff game, and this team wouldn't lose a playoff game to Cincinnati if they played 100 times.
What Is An NFL Survivor Pool?
The goal is simple: last as long as you can without incorrectly picking the outcome of a game. You just need to select one game per week, and if you pick the winner right, you move on to the next week. The ultimate goal is to be the last player standing in your pool.
How Does An NFL Survivor Pool Work?
There's just one catch – you can only pick each team once per season. This is where strategy comes in – it would be easy enough to pick the Chiefs every week, but you're only allowed to go with them once, and need to find 16 other winners throughout the season to finish a perfect 17-0.
Pickswise is the home of free NFL picks and NFL Odds. Check out the latest prop bets and parlays as well as expert underdog predictions and computer picks.
Last updated: Sat 19th December 2020