NFL Anytime Touchdown Scorer Predictions and Prop Bets for Week 13
Which NFL players are going to find themselves in the endzone? Week in and week out it's a worthwhile question, especially for the purpose of prop bets. It is becoming increasingly important in fantasy football, too, as the playoffs are now on the immediate horizon. It's a question we will ask now with Week 13 looming, and one we will also try to help you answer.
Let's take a look at our four best anytime touchdown scorer bets for Sunday's games.
Favored to score – Nick Chubb, RB, Browns (-115)
Congratulations to fantasy owners—and to the Browns—for Chubb's return in mid-November. After missing more than a month because of a knee injury, the former Georgia standout has run roughshod over opponents. He had 126 yards and a score in Week 10, 114 yards in Week 11, and 176 yards plus another touchdown this past weekend. Chubb has scored six TDs in seven games this season. Cleveland awaits a Tennessee team whose run defense is nothing more than in the middle of the road statistically.
Slight underdog – Wayne Gallman, RB, New York Giants (+115)
We are 4-for-4 on Gallman anytime touchdown scorer prop bets so far this season and you can actually get him at longer odds (+115) than you could last week (+105), when he cashed on the very first drive against Cincinnati. So you better believe that we are rolling with him again! Since becoming the primary running back for the Giants, Gallman has scored in five consecutive contests (six TDs in total). He now faces a Seattle defense that has yielded the fifth-most rushing touchdowns in the NFL (15).To say we are on the Wayne Gallman bandwagon would be a gross understatement, and we suggest you do the same.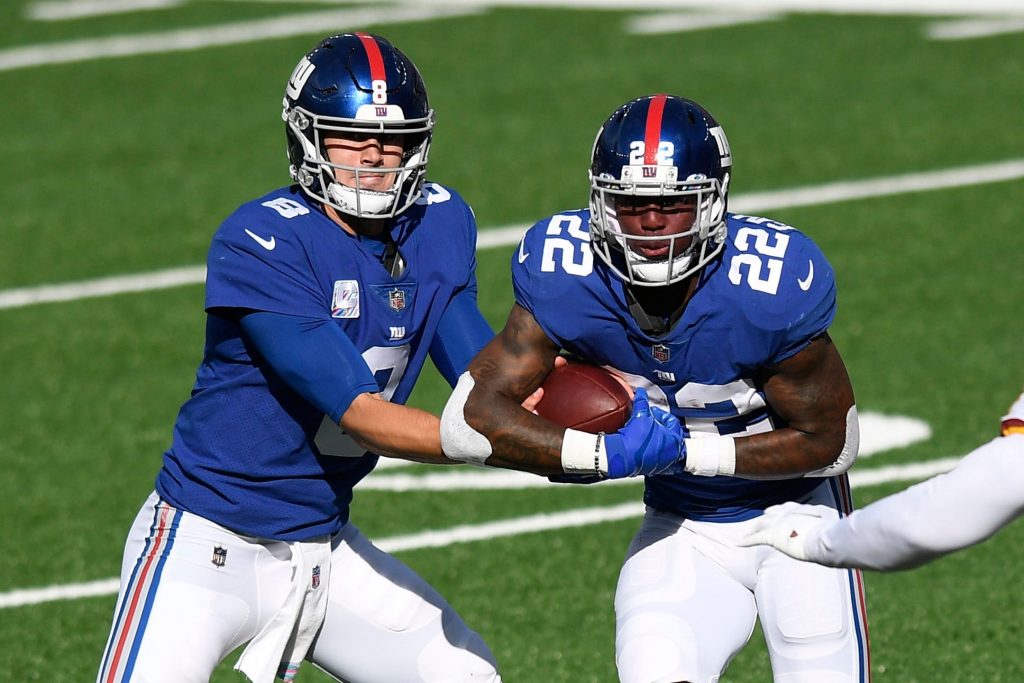 Bigger underdog – DJ Chark Jr., WR, Jacksonville Jaguars (+175)
Chark is going up against a Minnesota defense that ranks 25th in the NFL against the pass and is also 25th in yards per pass attempt allowed. Even more importantly, the Vikings have surrendered the second-most touchdowns through the air this year (23). Chark has a golden chance to capitalize, too. His five most recent target totals are 14, seven, 12, five, and eight. In Week 9 against Houston he caught seven of his 12 targets for 146 yards and scored his fourth TD of the 2020 campaign. Chark could be in line for another huge performance.
Longshot – Breshad Perriman, WR, Jets (+260)
We have already discussed Perriman's value in fantasy football this week, and part of the reason for that is we think he has a good chance of getting his way into the endzone. At +260, especially, the sixth-year receiver out of UCF has great value. Although his team his hopeless, Perriman has quietly been stellar of late. He has 11 catches on 19 targets for 234 yards and three touchdowns over the past three outings. He tied his season-high with eight targets against Miami last weekend, turning them into 79 yards. Next up is a Raiders defense that got abused by Atlanta last week and ranks 27th in the league against the pass.
Anytime Touchdown Scorer FAQs
What does "anytime touchdown scorer" mean?
Anytime touchdown scorer is a popular player prop bet that NFL bettors can wager on throughout the season. But what is it, and how do you win?
As the name suggests, placing a wager on the anytime touchdown scorer market is when you tip a particular player to score a touchdown during a game. This can be a rushing or receiving touchdown for an offensive player, or you can wager on a team's defense/special teams to score a touchdown by interception return and fumble return or kickoff and punt returns.
If your player or defense scores a touchdown, you win! The odds will differ from player-to-player depending on the sportsbooks' calculated probability of that player scoring.
Does anytime touchdown scorer include passing touchdowns?
Not for a quarterback, no. A player must get into the endzone, himself, in order to qualify as an anytime touchdown scorer. If a quarterback throws a touchdown pass, only the player who caught it counts as the scorer. If Tom Brady throws a touchdown pass to Rob Gronkowski, wagers placed on Gronkowski as an anytime touchdown scorer will cash. However, those placed on Brady as an anytime touchdown scorer will not. See below for more on what the anytime touchdown scorer market means for quarterbacks.
What does anytime touchdown scorer mean for a QB?
For a wager on a QB to be an anytime touchdown scorer to cash, he must follow the same rules as a running back, tight end, or receiver. He must get into the endzone himself, either as a runner or a pass-catcher.
In the age of the mobile quarterback, QBs such as Lamar Jackson, Patrick Mahomes, Kyler Murray, and Josh Allen are often seen rushing in for a touchdown on any given Sunday. And don't forget the occasional Philly Special, either. QBs can sometimes catch passes for TDs, too.
Be sure to check out the Pickswise NFL Computer Picks and score predictions. With predictions available across the top NFL betting markets including Moneyline, Totals, and Against the Spread predictions for every game.