BetsByBob Friday 5/7 MLB picks: Dodgers, Cardinals looking like winners
After half the league had get-away days on Thursday, we are back in action on Friday with a full night slate of games with the exception of the Pirates and the Cubs. I am still grinding away thus far into the early stages of the season, but am looking to breakout and get hot here soon, as the summer heat is waiting right around the corner. Usually on Friday's I try and take it light, as I like to have one day during the week where I am not combing through every game on the card. That is not the case this Friday. I like a bunch on tomorrow's slate, and have my two favorites for the day below. Let's start the weekend off right!
Los Angeles Dodgers (Julio Urias) at Los Angeles Angels (Griffin Canning)
Pick: Dodgers -1 (-132)
*Playable to -1 (-140) or -1.5 (-115)
The Los Angeles Dodgers head back west to their home city, but they won't be back at home. Instead they will be taking on cross-town, interleague foe, the Los Angeles Angels. The Dodgers are coming off a road sweep against the Cubs, and they got walked off against in back to back days. They have been underpreforming as of late, and are only 2-8 in their past 10 games. Hopefully getting back in sunny southern California is what it takes to get them out of their mini slump.
Julio Urias will be taking the mound for the Dodgers, and he has had quite a pleasant season up until this point. He enters this game with an ERA of 2.87, and a FIP in line with that of 2.81. Urias looks like he has finally turned the corner to be the phenom prospect that he was made out to be a few years ago. Strikeout numbers are up, walks are way down, and he is limiting the hard contact. All the peripherals look great for the young 24 year old, who has already been in the league for 6 years now, which is absurd at his age. He is someone I plan to keep an eye on and will be looking to back moving forward.
The Angels will counter with fellow 24 year old, Griffin Canning. Canning comes into this contest with an ERA of 6.20, and a FIP of 5.41. That signifies that he should run into some better fortune moving forward, but the numbers still aren't pretty. He is giving up a good amount of hard contact, and has actually still been fortunate to have the numbers he does with a BABIP of .292 with the amount of hard contact he has been giving up.
The Dodgers had Thursday off to travel back to LA, while the Angels wrapped up a late night game against the Rays. The Dodgers bullpen should have had a chance to rest with the day off and am looking for them to get back to their winning ways back in the City of Angels on Friday.
Colorado Rockies (Austin Gomber) at St. Louis Cardinals (Jack Flaherty)
Pick: Cardinals -1.5 (+101)
*Playable to -1.5 (-115)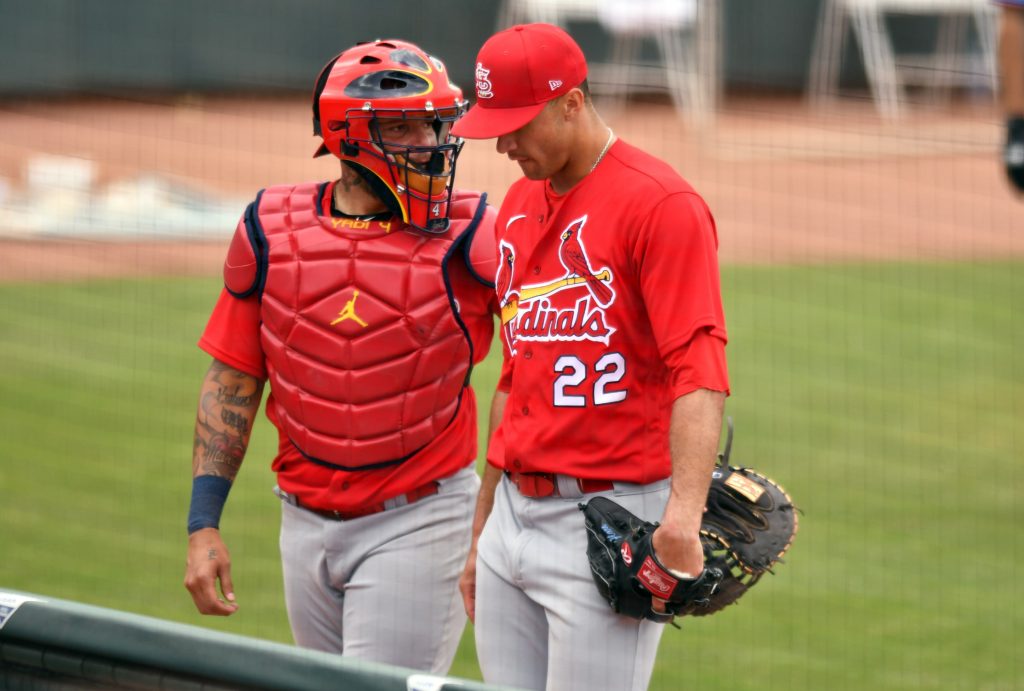 If you have followed me for a while, you will know that I hardly ever play a home team on the runline. It's much more common for the home team to only win by 1 than it is for the visiting team, so I usually try to play -1 at most on home teams. Today I am breaking that rule.
The Colorado Rockies head east to take on the St. Louis Cardinals, and Austin Gomber gets to face his old team. This is Gomber's first season not with the team that drafted him in 2014, so that's always a bittersweet moment facing that team for the first time. Some guys embrace the moment and use it to fuel them, but sometimes the familiarity can get to a pitcher. Gomber hasn't had a great season so far. He has an ERA of 5.90 and a FIP of 4.06, so some positive regression should be coming his way. But there is another major red flag, and that is his control. He has walked 20 batters to his 27 strikeouts he has accumulated so far this season. Gomber has been sporadic, and when he is in the zone he is getting hit hard. He is giving up hard contact 38.1% of the time, and batters have an xWOBA of .357 against him. That's dangerous against a good Cardinals lineup, and Paul Goldschmidt still isn't hitting like himself.
To make matters worse, the Rockies are going to have to face Jack Flaherty. Flaherty is 5-0 this season with a 3.41 ERA and an even lower FIP of 3.28. He has elite stuff and a vast arsenal of pitches, all of which he can command really well. Batters have an xBA of only .216 against him so far this season, and should be able to keep it rolling here at home against the Rockies. I don't play home runlines often, but I like the spot here at the plus price.
Pickswise is the home of free MLB Picks and Predictions. Check out the latest MLB Prop Bets and MLB Parlays as well as our MLB Best Bets from the experts.