MLB
Back
BetsByBob's Best Bets for Tuesday's MLB slate: Dodgers to stay hot on a warm day in L.A.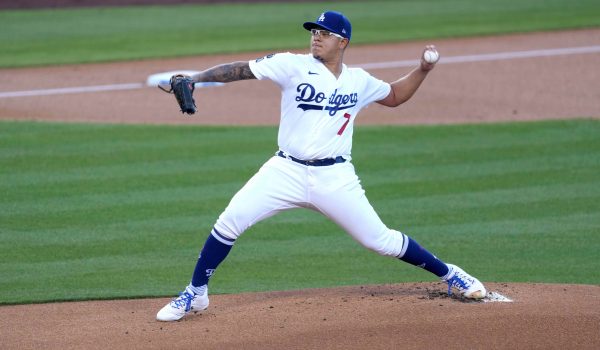 MLB
12:37PM
Tue 15th June 2021

MLB
12:37PM
Tue 15th June 2021
By BetsByBob

@BetsByBob
BetsByBob@gmail.com
We have a full Tuesday of baseball with all 30 teams playing today. All games start in the evening, giving us plenty of time to comb through it all and find some good angles to play. Offense has been on the rise the past few weeks after the MLB said they would be cracking down on pitchers. Spin rates are down, batting averages and walk rates are up. Also, pitchers now know that they get a 10-day paid vacation essentially if they get caught using anything to improve their grip. It's pretty strange to just do this on the fly in the middle of the season, and feels like it is something that Rob Manfred and the MLB office hasn't thought through very well.
Regardless of my thoughts, it's something worth paying attention to in the coming weeks. We keep plugging along though, and I feel as though I have found a few edges in this MLB slate. Be sure to check out the Pickswise team's picks on the side and total for every game today too, who have been on a serious roll lately.
Philadelphia Phillies (Zach Elfin) @ Los Angeles Dodgers (Julio Urias)
Play: Dodgers -1 (-123)
*Playable to Dodgers -1 (-130)
The Philadelphia Phillies are in Southern California taking on the Los Angeles Dodgers in their second game of the series. They lost the opener 3-1 after jumping out to an early lead in the first, but were unable to muster up any runs afterward. The Phillies have been playing some better ball as of late, winning 7 of their past 10 games. The Dodgers are in the same boat through their past 10 games, and should have the edge here again. It will be a very warm evening at the Chavez Ravine, as a heatwave is blistering the southwest at the moment.
Zach Elfin gets the nod for the visiting Phillies and he has turned in a fine season thus far. He enters with an ERA of 3.89 and a FIP of 3.11. He has worked around some jams, and although he has allowed a fair amount of hard contact, seems to be managing the situations well. The Dodgers are a different animal however, and have a lineup that gives a pitcher no breaks. While Elfin has worked out of some decent jams here early in the season, I am not positive he will be finding the same success here tonight.
Countering Elfin will be young right-hander, Julio Urias. Urias has also had a good 2021 campaign to this point, sporting an ERA of 3.56 and a FIP of 3.18. He has struck out 27.8% of all the batters he has faced and has become a staple in a very good Dodgers starting rotation. Urias limits hard contact, and doesn't issue many free passes. He should be able to exploit this Phillies lineup tonight, and with the visiting team having one of the worst bullpens in the league, will gladly take a shot on the more talented lineup at home here.
Be sure to check out our full game preview for Philadelphia Phillies vs. Los Angeles Dodgers
Boston Red Sox (Eduardo Rodriguez) @ Atlanta Braves (Tucker Davidson)
Play: Red Sox (+104)
*Playable to Red Sox (-110)
The Boston Red Sox head down south for a quick two-game interleague set against the Atlanta Braves today. The Red Sox have been a great story so far this season, sitting 13 games above .500. Their starting pitching has kept them in almost every game, while their offense has flourished. The Braves, however, are the large underperformers so far, sitting three games below .500, in a division many pegged them to win.
Eduardo Rodriguez gets the start for the visiting Red Sox today and enters this contest with an ERA of 6.03 but a FIP of 3.85. There should be some major positive regression coming his way, as he carries a BABIP of .370 while only allowing a hard-hit rate of 35%. He faces a tough task in a talented Braves lineup today, but he has the tools to get through it without giving up too much damage.
Opposing Rodriguez will be young southpaw Tucker Davidson. Davidson has only thrown 17 innings this season, so there isn't a ton of data to work with. He does have an ERA of 1.53 with a FIP of 3.49. Rodriguez has gotten lucky so far in his appearances, with opposing batters having a BABIP of .191. He has a 20 percent strikeout rate while walking 10 percent of batters. I like the Red Sox to be able to give Davidson a bit more of a challenge than he has faced thus far, and am willing to take a shot on them here at an underdog price.
Be sure to check out our full game preview for Boston Red Sox vs. Atlanta Braves
Pickswise is the home of free MLB Picks and Predictions. Check out the latest MLB Prop Bets and MLB Parlays as well as our MLB Best Bets from the experts.
Last updated: Tue 15th June 2021