MLB
Back
BetsByBob Tuesday MLB Plays: Reds to keep winning on the west coast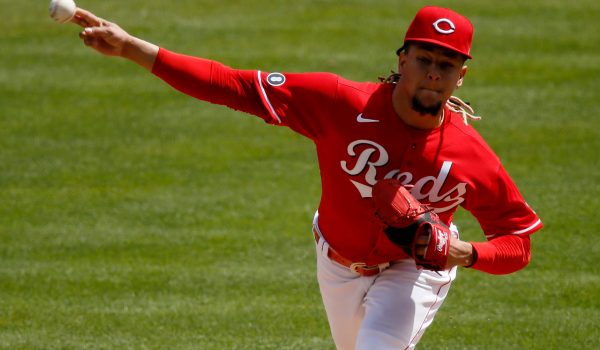 MLB
12:10PM
Tue 13th April 2021

MLB
12:10PM
Tue 13th April 2021
By BetsByBob

@BetsByBob
BetsByBob@gmail.com
The College basketball season ended just over a week ago, and now I have transitioned all my attention over to Major League Baseball. Most people online know me for betting college hoops, but it was baseball that initially brought me into the sports betting space. I have always loved watching this game since I was a kid, and still holds true as my favorite sport if I could only choose one. There are an abundance of statistics at your disposal for betting baseball, and it's up to you to decide on which ones you like and how you want to use them.
Since this is my first of many baseball articles to come at Pickswise this season, I am going to give a few tidbits that I believe are very important.
-First and foremost, always shop around for the best line. The more sportsbooks you have access to, the better. Baseball, unlike basketball or football, uses mainly the moneyline to bet on a side instead of a spread. Therefore, prices will almost certainly differ from shop to shop, sometimes rather greatly. It's time consuming to check prices at a bunch of books before placing a bet, but in the long run, it could make the difference between a losing season, and a winning one.
-Secondly, it is my personal choice that I don't like laying more than (-140) on any team. If I like a favorite that is in the (-130) to (-180) range, I will often play a "-1 Runline". Some books offer this, and some do not. However, you are able to easily make your own. There is a handy conversion that splits your bet between the moneyline and the -1.5 runline, generating a -1 runline. I use this often to cut down the juice I am paying, but also giving me the ability to push if the team I bet on only wins by one run. The link for this conversion is below, if you have any questions on how to use it, feel free to reach out to me on Twitter.
https://zcodesystem.com/runline_calc/
-Finally, I always "list" my pitchers when making baseball bets. This means that if I place a bet, both listed starting pitchers must actually start. If a pitcher gets scratched for any reason, that bet becomes voided and there is no action unless it is re-bet. Some books automatically list pitchers, some give off all bets as "action", meaning that no matter who starts, once the bet is placed, it gets graded based on the outcome of the game. Again, this is a personal preference, but it is something that you will definitely want to pay attention to. With COVID-19 still being an issue, pitching changes are still happening at an extremely high rate.
With that all being said, let's move into Tuesday plays after a profitable Monday and dive in.
MLB⚾️ 4/12: 2-1 (+0.93u)
Athletics -1 (+101)✅
Tigers/Astros U9 (-113)✅
Cardinals/Nationals O8.5 (-108)❌

— Bets By Bob (@BetsByBob) April 13, 2021
Cincinnati Reds (Luis Castillo) at San Francisco Giants (Kevin Gausman)
Pick: Reds (+100)
*Playable to (-115)
The Reds are out to a blistering start to their season. They come into this one with a 7-3 record, but their offense has been firing on all cylinders. Nick Castellanos and Tyler Naquin have both been raking, and they aren't the only ones. The Reds have a talented roster offensively, but the question coming into the season was going to be their pitching after failing to retain Trevor Bauer who departed for the Dodgers in free agency. Luis Castillo will be on the bump for the third time this season, and is looking to continue where he left off in his last outing. Castillo comes into this one with an ERA of almost 7, but that is all due to a disaster of a first start against the Cardinals where he gave up 8 runs on 8 hits in 3.1 innings without recording a strike out. He was able to bounce back nicely against the Pirates throwing 7 shutout innings while striking out 5. I like him to continue where he left off, and he will have the advantage of being in pitcher friendly Oracle Park for this one.
The Giants will be countering with former Reds pitcher Kevin Gausman. This will be his first time facing his old club since they non-tendered him in 2019, and while it is not entirely the same roster that it was then, there is still a good amount of familiarity the Reds hitters will be able to rely on. Gausman turned in an impressive performance against the Padres in his last outing, lasting 7 innings and only surrendering one run.
This should be a good pitching duel, but I like the Reds offense in this spot much more than I do the Giants. I am willing to take a shot on the Reds at a pick 'em.
Los Angeles Angels (Dylan Bundy) at Kansas City Royals (Danny Duffy)
Pick: Angels (-131)
*Playable to (-140)
This one caught my eye as soon as I was scrolling the board last night, and am still a bit surprised there hasn't been much of a line move. Dylan Bundy takes the ball today for the Angels and has been throwing it well to start the season. He has given up a few runs in each of his two starts, but should be noted that both were against solid offenses in the White Sox and the Astros. Both resulted in no decisions, but he kept the Angels in both games which is what you need out of your starter, especially against two good offenses. Today he gets to take on the Royals, which should be a much easier task than his previous two.
Countering Bundy will be Royals southpaw Danny Duffy. This will be Duffy's second start of the season, after a scoreless outing against the Indians his first time out. The Angels have a ton of right handed bats to throw in their lineup, and they should be able to find success against Duffy here. He has some control issues that can tend to get him in trouble from time to time, and the Angels are a disciplined team. I am not high on Duffy at all, and could see him getting roughed up early. I had this line being closer to -150, so I am more than happy to play the Angels here on what I see as a short price.
Pickswise is the home of free MLB Picks and Predictions. Check out the latest MLB Prop Bets and MLB Parlays as well as our MLB Best Bets from the experts.
Last updated: Tue 13th April 2021