MLB
Back
BetsByBob Wednesday MLB plays: Mets to even up series against Orioles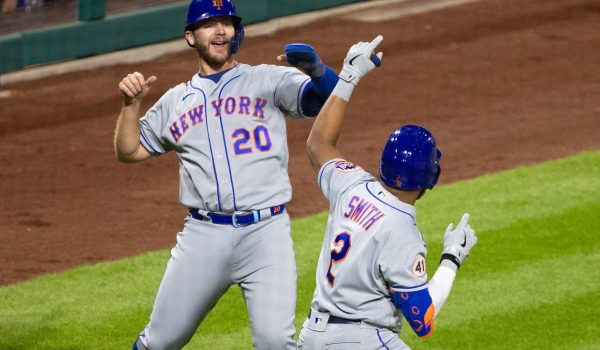 MLB
11:32AM
Wed 9th June 2021

MLB
11:32AM
Wed 9th June 2021
By BetsByBob

@BetsByBob
BetsByBob@gmail.com
We have a loaded MLB card today, with many games with close odds. Yesterday was filled with some heavy favorites on the board, and that makes it hard for me to find much action. I don't like laying a ton of juice in a sport that has a good amount of volatility. Days like today make it much more enjoyable to handicap all the games, as we have only two games with lines over -200, and most of the rest being -150 or lower. We still have to pick and choose our spots, and I believe I have found some good ones. Let's get after it!
New York Mets (Taijuan Walker) at Baltimore Orioles (Matt Harvey)
Play: Mets (-123)
*Playable to (-135)
The New York Mets take on the Baltimore Orioles in the last of a quick two-game inter-league set. The Orioles took the first game, romping the Mets on Tuesday. The Mets will look to get the split to keep the gap atop their division. Taijuan Walker will be throwing for the Mets, and has turned in a fine season so far. He has an ERA of 2.17 with a FIP of 3.07. There is a bit of regression coming his way, but the rest of his peripherals look good. Opposing batters are hitting only .181 against him, while Walker is striking out 23.7 percent of all he faces. He has also done an exceptional job limiting the long ball this season, giving up only two, giving him a 0.3 HR/9.
On the other side, it's Matt Harvey day for the Orioles. Harvey had a ton of potential earlier in his career, but has completely fallen off. The past few seasons haven't been good, and this one is no different. He comes into this game with an ERA of 6.62, and a FIP of 4.52. I guess he deserves some better luck, but he just isn't good. He leaves a ton of balls in the zone, and hitters seem to pick up the ball out of his hand really well. He has a low strike-out rate of 18.6 percent, and carries an extremely high BABIP of .343 largely due to the amount of hard contact he allows. The Mets should be able to jump all over Harvey today, and get out of Baltimore with the series split.
Chicago Cubs at San Diego Padres
Play: Over 7.5 (-110)
*Playable to over 7.5 (-120)
The Chicago Cubs look to wrap up their west-coast tour against the San Diego Padres today before heading back home to welcome the Cardinals into town. The Cubs were able to get the win on Tuesday night, but they face a tough task today against former Cub Yu Darvish. I went back and forth on how to play this game. I think the Cubs' familiarity would help them in terms of scraping a few runs off Darvish, but also think this Padres lineup should be able to take advantage of a declining Jake Arrieta. Instead of playing the Padres team total over, I decided to go with the full game total. The Cubs were able to score some runs off the Padres bullpen in the past two games, and they can muster up a few more today.
Arrieta has been in steady decline since his Cy Young campaign in 2015, and this season has been no better up to this point. He has an ERA of 5.26 and a FIP of 5.68, while allowing a hard-hit rate of 45.9 percent. Lucky for him, he carries a modest BABIP of .286 with the amount of hard contact he has, but in part has to do with all the home runs he has given up this year. He has allowed a HR/9 of 1.9, and just doesn't seem to have the stuff anymore. The strikeout rate is down, the walk rate is up, and hitters just seem to have him figured out. After a lackluster offensive performance yesterday, the Padres bats can break out today in what should be a favorable pitching matchup for them.
Pickswise is the home of free MLB Picks and Predictions. Check out the latest MLB Prop Bets and MLB Parlays as well as our MLB Best Bets from the experts.
Last updated: Wed 9th June 2021