Daily public money update: Bettors siding with 76ers on Friday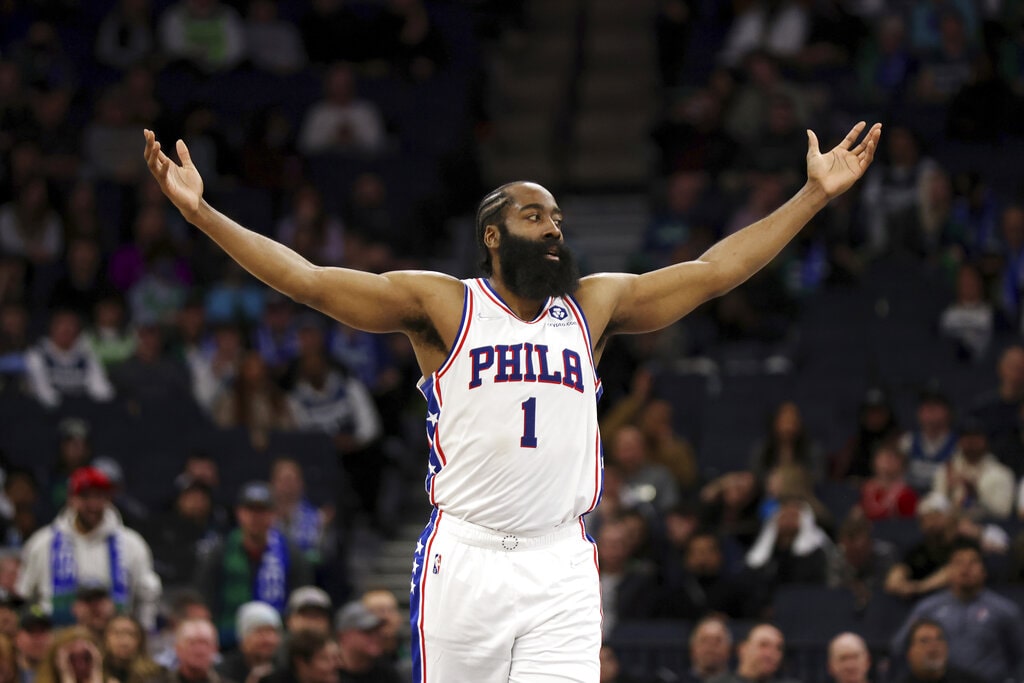 Unfortunately football season is done but basketball and hockey are in full swing and baseball is right around the corner. It's a lot, and we're grateful for it. There are some big contests coming up, which always create some big public sides. Let's take a look at where the public money is going as bettors once again try to beat the 'books, with the 76ers leading the way on Friday.
NBA: 76ers -6.5 vs Cavaliers
It didn't take long for the public to fully buy into the Joel Embiid/James Harden partnership. Bettors were on the 76ers for the duo's first game together, and the excitement is showing no signs of waning. A total of 75 percent of the bets and a whopping 88 percent of the public money are laying the points with them on Friday, per DraftKings' internal numbers shared with us.
The Cavs were cruising for a while but they've hit a rough patch as they've dealt with an onslaught of injuries. Bettors have officially hopped off the bandwagon it appears. We have this game as part of our Friday NBA mega parlay (+1039) and we just hit our mega parlay on Thursday at +1303, so let's make it two in a row!
NBA: Jazz @ Pelicans over 222.5
Elsewhere on the NBA card, there's an interesting dynamic to explore with this total. If you've read this column at all, you know there's nothing the public loves more than a good over. So I wasn't surprised to see 81 percent of the bet tickets coming in on the over for this showdown between the Jazz and Pelicans.
But what's interesting is that only 39 percent of the handle is on the over. That means that the larger volume bets have been coming in on the under, and the under could be the 'sharp' side here. Check out our full game preview for Jazz vs Pelicans to see which side our expert agrees with.
NCAAB: SE Missouri State @ #22 Murray State under 150
Shifting our attention from pro hoops to college hoops now. Right after I finish saying all that about the public and their overs we have something very rare, a public under! There's a small college basketball slate on Friday, and this is the only game involving a ranked team. And believe it or not, bettors are swarming toward the under.
A total of 73 percent of the bets and 87 percent of the public money are coming in on the under 150. Murray State is especially strong on defense and they've given up 62 points or fewer in seven of their past eight games, so I guess it shouldn't be too surprising that people think 150 is a touch high. Head over to our NCAAB page for our free picks for all the day's biggest games!
NHL: Golden Knights @ Ducks over 6.0
Wrapping things up with some hockey now, and order has been restored. The public is back to pounding overs. This is just the way it goes in the NHL. There are seven games on the docket for Friday, and the majority of bets are on the over for all seven games. It's especially notable here, as 88 percent of the bets and 91 percent of the public money are on the over 6.0.
The Golden Knights are a bit above average offensively overall, but they've actually been ice (no pun intended) cold recently. Over their past eight games they've scored only 15 goals, an average of less than two per night, so this one is a bit eye-brow raising. Make sure to check out our free picks on the side and total for all seven games tonight before making your wagers.
Pickswise is the home of free NFL predictions, NBA predictions , NHL predictions, and college basketball predictions.