Early 2020-21 NBA predictions  – Teams that could improve and regress
For a number of reasons, the 2020-2021 NBA campaign (or maybe just 2021 depending on when it actually gets underway) will look a lot different from what was on display this past season. Hopefully there will be no bubble necessary and teams can return to hosting games in their own arenas. Additionally, the standings are likely to undergo some drastic changes. The Golden State Warriors are expected to reload with their plethora of injured stars returning, while the Brooklyn Nets will almost certainly do the same in the Eastern Conference with Kevin Durant and Kyrie Irving.
We will take it as a given that the Warriors and Nets are going to make complete turnarounds next season. But what other teams could go in either the right or wrong directions? Let's take a look.
On the rise
Denver Nuggets
The Nuggets did not have quite enough left in the tank to seriously challenge the eventual champion Los Angeles Lakers in the Western Conference Finals, but their overall run in the bubble was outstanding. What happened in Orlando will do wonders for Jamal Murray's confidence, so it is now quite clear that head coach Michael Malone has two stars on his hands (also Nikola Jokic). Michael Porter Jr. stayed injury-free throughout his rookie campaign and should improve by leaps and bounds moving forward. The Nuggets finished an impressive third in the West in 2019-20, but they were much closer to sixth place (1.5 games ahead of Utah) to second (3.5 games behind the Clippers). They could be the top two in 2020-21.
New Orleans Pelicans
It should not be hard to figure out why the Pelicans are one of the teams expected to make strides next season. Zion Williamson will be entering year two and their young core that is also headlined by Brandon Ingram should be able to take the next step. It was a step that wasn't taken in 2019-20 because Williamson missed the first 44 games and by the time he made his NBA debut the Pelicans were 17-27. As long as the 2019 No. 1 overall pick is healthy, this team will get off to a much better start.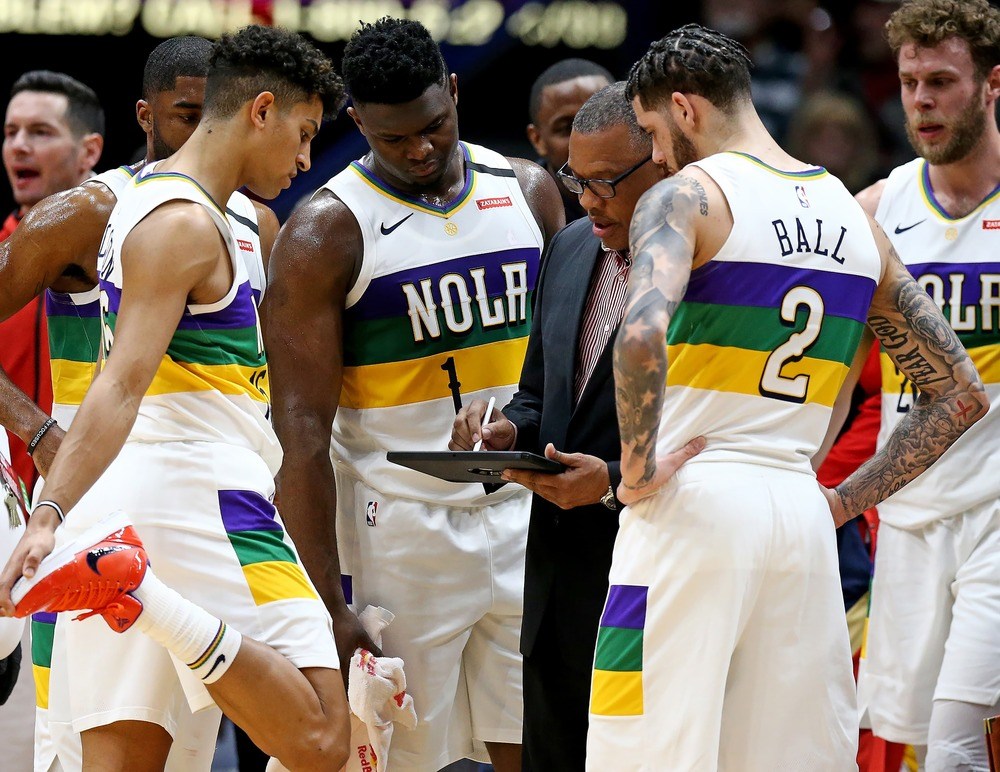 Atlanta Hawks
Also due to unforeseen circumstances, the Hawks never got going this past season. John Collins was suspended 25 games for a positive performance-enhancing drug test and his team started 6-27. At that point, of course, it was all over for Atlanta—especially given the eventual fact that invitations to Orlando were handed out after just 67 of 82 games were played. Trey Young will have his most important sidekick back full time in 2020-21, while Clint Capela is also returning from injury to join his new team.
On the way down
Milwaukee Bucks
Giannis Antetokounmpo got the nod over LeBron James to earn a second consecutive NBA MVP honor, but not even the Greek Freak is good enough to go it alone. That's not to say he has no help at all; Khris Middleton, Brook Lopez, and Eric Bledsoe are decent pieces. Once again, though, the Bucks' flaws were exposed in the playoffs. Especially with Brooklyn getting its guys back, Miami emerging, and neither Boston nor Toronto going anywhere, it is almost impossible to see Milwaukee compiling another .767 regular-season winning percentage.
Houston Rockets
A coaching change does not mean that regression is automatic. After all, the Pelicans have moved on from Alvin Gentry and they find themselves at the opposite end of the spectrum in this article. However, it's different when you are a veteran squad and there is a change at the top. James Harden and Russell Westbrook could not get over the hump with Mike D'Antoni at the helm and it is hard to think they will do so with whoever comes in as the replacement. The Rockets went small by trading Capela, and it didn't work. It's back to the drawing board for a team whose superstars are not getting any younger.
Oklahoma City Thunder
The Pelicans are a young team who needed a coaching change because they underachieved. On the other hand, the Thunder were the most overachieving team in the NBA this past season under Billy Donovan. Nonetheless, Donovan decided to jump ship and take over the Bulls. Now there is a coaching search in Oklahoma City as this franchise looks to replicate its surprising 2019-20 success. Chris Paul is 35 years old and even though OKC is a decent squad, it is not a realistic title contender and you have to wonder about Paul's motivation level when the Larry O'Brien trophy isn't in play.
Pickswise is the home of free NBA picks and predictions. We will be covering all of the offseason news before returning with daily coverage throughout the 2020-21 campaign.