Five top NFL Draft prospects to look out for at the 2021 Senior Bowl
The annual Senior Bowl will take place this weekend in Mobile, Alabama. Yes, even in the age of COVID-19 it's happening—unlike the NFL Combine. And because there is no combine this year, the Senior Bowl is even more important for pro prospects to flash their mettle.
Let's take a look at five of the top NFL prospects who will be participating in the 2021 festivities.
Mac Jones, QB, Alabama
No, Jones was not a senior when he led Alabama to the National Championship this past season. However, this showcase is for graduating juniors, as well—and therefore Jones qualifies as a redshirt, fourth-year junior. Jones passed for 4,500 yards with 41 touchdowns and only four interceptions in 2020. He was the Heisman Trophy favorite late in the year before being passed by teammate DeVonta Smith, who could be as high as a top-two pick in the NFL Draft. Projections on Jones fluctuate wildly; the Jacksonville, Fla. native could go anywhere from the top 10 to the second round.
Kadarius Toney, WR, Florida
Jones-to-Smith was the best connection in college football last season, but Kyle Trask-to-Kadarius Toney was no slouch. Toney finished with 70 receptions for 984 yards and 10 TDs, and he only got better and better as the year progressed. His final three games were as follows: eight catches for 108 yards and a touchdown against Tennessee; nine catches for 182 yards and a touchdown against LSU; eight catches for 153 yards and a touchdown against Alabama. It is sounding more and more like Toney could sneak into the first round.
Creed Humphrey, OL, Oklahoma
Humphrey, who just completed his redshirt junior year at Oklahoma, considered returning to school for one more go-around. In the end, the prospect of being a first-round pick in the NFL Draft was too much to pass up. Humphrey is not a lock, but a late first-round selection is by no means out of the question. The 6'5'', 320-pound center helped the Sooners compile a 9-2 record in 2020 with two losses coming by a combined 10 points before eventually thumping Florida 55-20 in the Cotton Bowl. As a team, OU rushed for 1,977 yards.
Carlos Basham Jr., DE, Wake Forest
Like Humphrey, Basham may be on his way to going off the board in the late first round. Both guys could use the Senior Bowl to springboard themselves into first-round lock status. At the same time, underwhelming performances in Mobile could leave them waiting until day two. Basham played in only six games for Wake Forest last season due to injury and then opting out of the bowl game, but he still racked up 20 solo tackles and five sacks. As a junior in 2019 he compiled 11 sacks and three forced fumbles.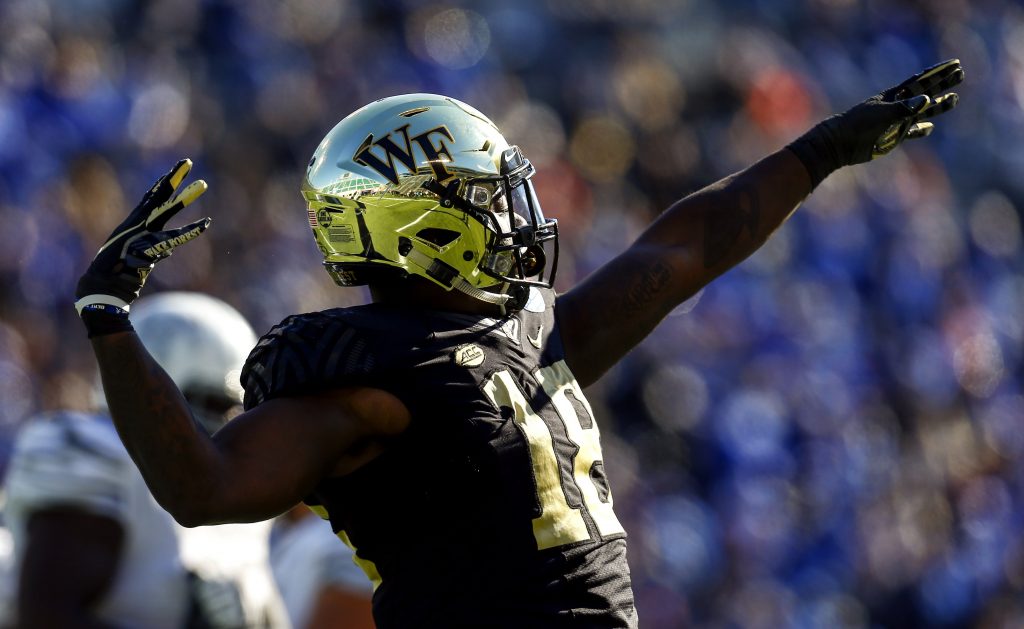 Chazz Surratt, LB, North Carolina
One of the more interesting dynamics in this draft class is the sibling duo of Chazz and Sage Surratt. Sage is a former teammate of Basham's at Wake Forest, although the receiver opted out of the 2020 season. Chazz, who is one year older, played his senior year at North Carolina and did not disappoint. He made 49 solo tackles to go along with six sacks, one forced fumble, and one interception. But he was even better as a junior, with 66 solo tackles, 6.5 sacks, one forced fumble, and one interception. Surratt figures to be selected in the second round…and win the sibling rivalry for first one picked.
Pickswise is the home of free Super Bowl Predictions. Our expert handicappers break down their best Super Bowl Picks, including our best free Prop Bets.