Jared Smith's NFL Super Bowl 56 best bets and market insights: Focus on the props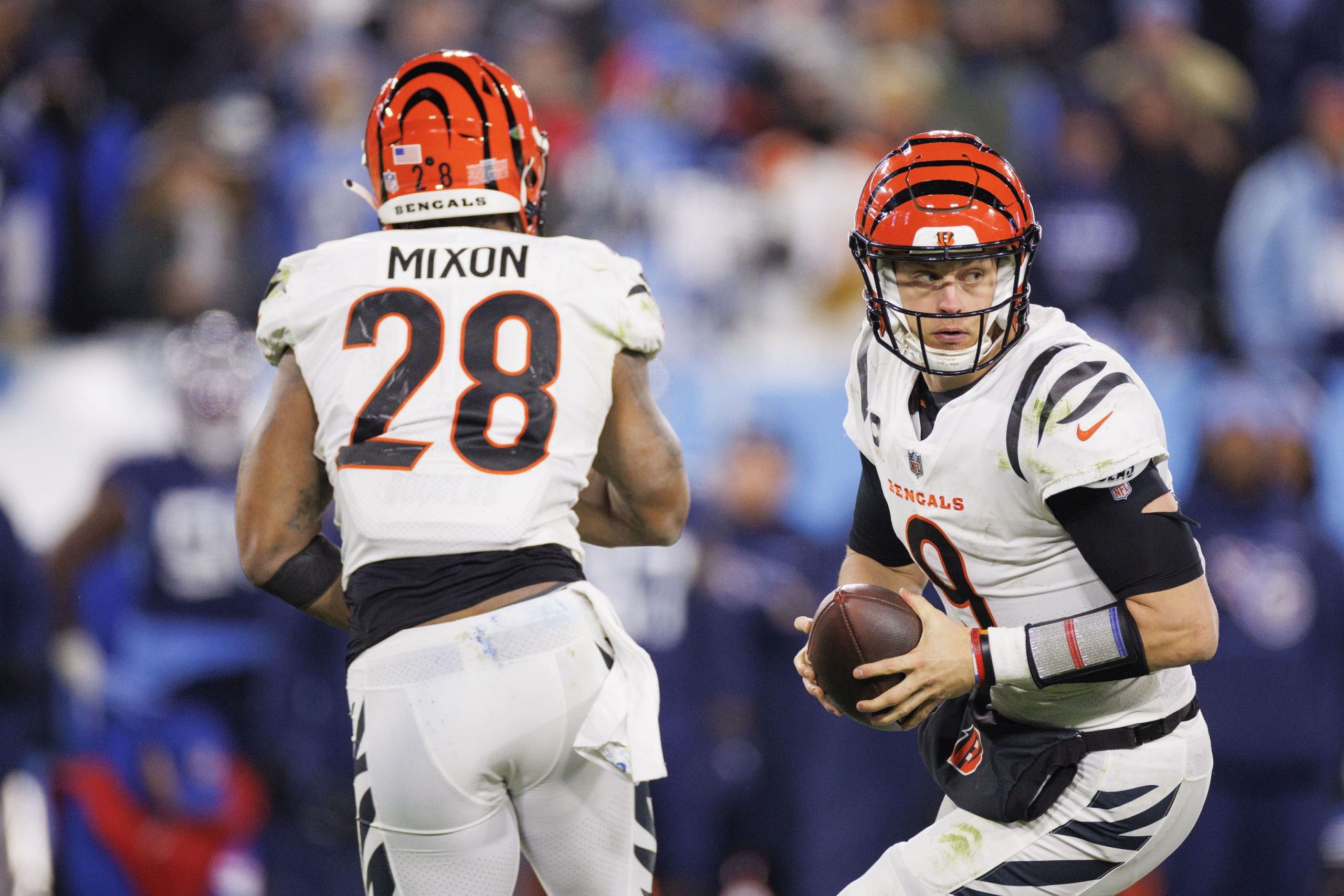 The seemingly endless 2-week gap between Championship and Super Bowl Sunday is almost over. As reported last week, there has been some fluctuation in the 3 core markets (spread, total, money line), with the public backing the favorite against the spread and underdog on the money line. The total has also dropped slightly from 49.5 to 48.5 despite the majority of early handle on the over.
As detailed last week in my opening lines column, there is some value on Rams ML at -185 or shorter, as the typical price for a 4-point favorite is around -190. At the time of publication Monday, the Westgate Superbook was pricing the Rams at -180, which is an appealing buy and fully taking into account the Burrow tax being levied on the Bengals.
"The 'Joe Burrow factor' is alive and well (in the public's mind at least) and we're making sure to keep our price in line with the global market while also managing our liability," said PointsBet Trading Analyst Michael Korn.
Oddsmakers are also paying very close attention to the vast market of props, which is a much stiffer challenge than pricing the core markets.
"I'd have to say keeping the props in order and in front of us is a grueling exercise," said WynnBET Senior Trader Motoi Pearson. "Keeping up with the game isn't challenging. The numbers are strong enough with all the information that we've acquired over the course of the season. Finding two-way action on each of these props is key, and with several upon several props to account for, keeping track of the action can be difficult."
That glimpse behind the counter helps guide my approach to betting on the Super Bowl. The books are being very clear that the spread and total have very little value at this stage, so we will look elsewhere.
I start my process as usual, capping it the same way I cap any other NFL game during the season. From there, I comb through all the props available and try to find favorable correlations and matchups. While I do have one bet on the side, the majority of my Super Bowl bankroll will be allocated to props.
So let's go through the process one last time this season. My final card along with one best bet can be found at the bottom as always.
Be sure to check out our full Super Bowl 56 preview for Los Angeles Rams vs Cincinnati Bengals
How I see the game playing out
Joe Burrow is going to get a lot of attention, and rightfully so, but the Rams front deserves some love too. Los Angeles leads the NFL in pass rush and run stop win rate this season, and overall their defense is 1st in success rate and 2nd in EPA/play during the playoffs.
The Bengals defense has also been feistier than expected after posting average numbers during the regular season, which is why the total moving lower makes sense despite the public's propensity to back the over in big games. If there is a path to victory for Cincinnati, it's forcing turnovers and limiting the Rams' explosive plays on offense.
That being said, I'm very torn on picking a winner here. My heart says don't fade Burrow and the Bengals, who have continued to post better results than the numbers indicate, but my brain says trust your cap and go with the team that is vastly better analytically and in the trenches.
I don't fully trust Matthew Stafford to play turnover-free, but I do trust the Rams pass-rush to put consistent pressure on Burrow and keep the Bengals offense off schedule. I also trust the weapons Stafford has at his disposal to come up big when called upon, especially Cooper Kupp and Odell Beckham, the latter having revitalized his career in Los Angeles.
If I do 1,000 mental simulations of this game, the most likely scenario I see playing out is Stafford getting off to a hot start, with Burrow leading a charge at some point, but falling short because of the talent gap up front for the Rams defense.
Can Joe Cool steal one late? Of course. He's done it several times already this postseason. But I don't believe that to be the most likely outcome. Rams win, game stays under.
Final score: Rams 24, Bengals 23

Read our Super Bowl 56 first touchdown scorer best bets, including at +2500 longshot!
Who will win MVP?
So now that we've established the Rams as winners, I can eliminate the Bengals side of the market, since a player from a losing team has not won MVP since Chuck Howley for the Cowboys in Super Bowl V.
I also think the game script sets up well to fade the quarterback. Just like betting on a horse race, if you're willing to go against the favorite, it opens up the market for potential longshot opportunities.
There is precedent for non-QBs, who have won 3 times in the last 8 years, 1 wide receiver (Julian Edelman) and 2 defensive players (Von Miller, Malcolm Smith). If you go back a little further, we saw a stretch of 3 WRs winning in a 5-year span (Santonio Holmes, Hines Ward, Deion Branch).
Based on my game script, here are the players I see value in for Super Bowl MVP:
Cooper Kupp +700: Kupp was overlooked in the regular season MVP race but I believe his value has increased dramatically during this Super Bowl run. He's also been virtually unstoppable all year, regardless of matchup, including 20 receptions for 325 yards the last 2 weeks. If he goes over his gaudy prop totals which are sitting at 8.5 receptions and 106.5 yards at FanDuel, he will get strong consideration.
Aaron Donald +2500: Donald is another player who could get a strong sympathy vote from the media after losing out on DPOY honors to T.J. Watt despite being the highest-graded defender in the NFL this season according to PFF. Donald has recorded 12.5 sacks during the regular season and 1.5 sacks in the playoffs.
Von Miller +5000: He's already won it, which might make some media members stay away if he registers similar numbers to Donald, but Miller has the best pass-rushing grade among defenders this postseason. He had 2.5 sacks and 2 forced fumbles in that Super Bowl win over the Panthers, which is likely the kind of numbers he would need to be a factor here.
Leonard Floyd +20000: I have to sprinkle on a longshot that fits my narrative. Similar to Miller, if Floyd registers a multiple-sack game and the Bengals' defense holds their own with the Rams winning a low-scoring game, Floyd could get consideration. He's had one game this season with 2 sacks and another with 1.5.
Get crucial betting info from our Rams vs Bengals tale of the tape
Other props that fit my game script
Joe Burrow Over 11.5 Rush Yards: This prop is at the top of my card, and will be the only 2-unit "best bet" in this week's column. Quarterback rushing props always have more value in the big games, as they are willing to take more risk going for the extra yard. I also expect Burrow to be under constant duress from the Rams pass-rush all game long, and will be forced to make some plays with his legs. I expected this number to be a little higher after Burrow's 25-yard effort in the AFC Championship game and I see strong value here.
Joe Mixon Under 64.5 Rush Yards: If the Rams jump out in front, the Bengals will likely abandon the run and put the ball in Burrow's hands. Mixon has only gone over twice in the last 8 games and one of those was by the hook. The other was his 88-yard outburst in the AFC Championship game against a Chiefs rushing defense that was 18th in EPA/play and 31st in success rate this season. The Rams defense ranks 6th and 11th in those categories and have only allowed 6 backs to eclipse this total all season, 2 since Week 12.
Sony Michel Over 18.5 Rush Yards: I expect the Rams to be run-heavy, especially late if they have the lead. Michel actually out-snapped Cam Akers in the NFC Championship, partly due to injury, but also partly due to ineffectiveness. Akers is averaging just 2.8 yards per carry in the playoffs with 2 fumbles. Michel also has big-game experience. As a rookie he rushed for 94 yards on 18 carries in the Patriots' Super Bowl win over the Rams, scoring the game's only touchdown.
Van Jefferson Over 17.5 Longest Reception: This might surprise you, but Jefferson actually leads the Rams in yards per reception this season (16.0) ahead of Cooper Kupp (13.4) and Odell Beckham (11.3). If the Rams move Kupp into the slot for a more favorable matchup against CB Mike Hilton, then Chidobe Awuzie likely draws OBJ on the outside. That leaves Jefferson 1-on-1 with Eli Apple on the opposite side, which is a matchup I think Sean McVay can exploit.
Total Sacks Over 5.5 +110: The Rams could go over this number on their own if Burrow holds onto the ball longer than he did against the Chiefs, when he was only brought down once. On the other side, don't count out the Bengals contribute to this total. Cincinnati got to Patrick Mahomes 4 times in the AFC Championship game, with Sam Hubbard and Trey Hendrickson combining for 3.5 of them.
Make sure you head over to our dedicated Super Bowl hub, featuring our best bets and picks across the big game!
Jared Smith's Super Bowl Card:
Joe Burrow o11.5 Rush Yds -110 (2u at Caesars) *BEST BET*
Rams ML -180 (1u at Westgate Superbook)
Joe Mixon u64.5 Rush Yds -110 (1u at Bet365)
Sony Michel o18.5 Rush Yds -110 (1u at SuperBook)
Total Sacks o5.5 +110 (1u at DraftKings)
Van Jefferson o17.5 Long Rec -120 (1u at DraftKings)
Cooper Kupp to win MVP +700 (1u at Caesars)
Aaron Donald to win MVP +2500 (1u at Caesars)
Von Miller to win MVP +5000 (0.5u at FanDuel)
Leonard Floyd to win MVP +20000 (0.5u at FanDuel)
—-
Last Week: 0-1, -2.40u (Sides: 0-0 / Totals: 0-0 / Teasers: 0-1 / Parlays: 0-0)
2021 YTD: 53-48-2, -1.55u (Sides: 32-25-1 / Totals: 3-4 / Teasers: 18-16-1 / Parlays: 0-2)
Pickswise is the home of NFL Picks. Check out our latest playoff picks and round-by-round analysis as well as our free Super Bowl predictions.