Jared Smith's NFL Week 11 best bets and market insights: Regression for the Titans, points in Chicago, Browns bounce back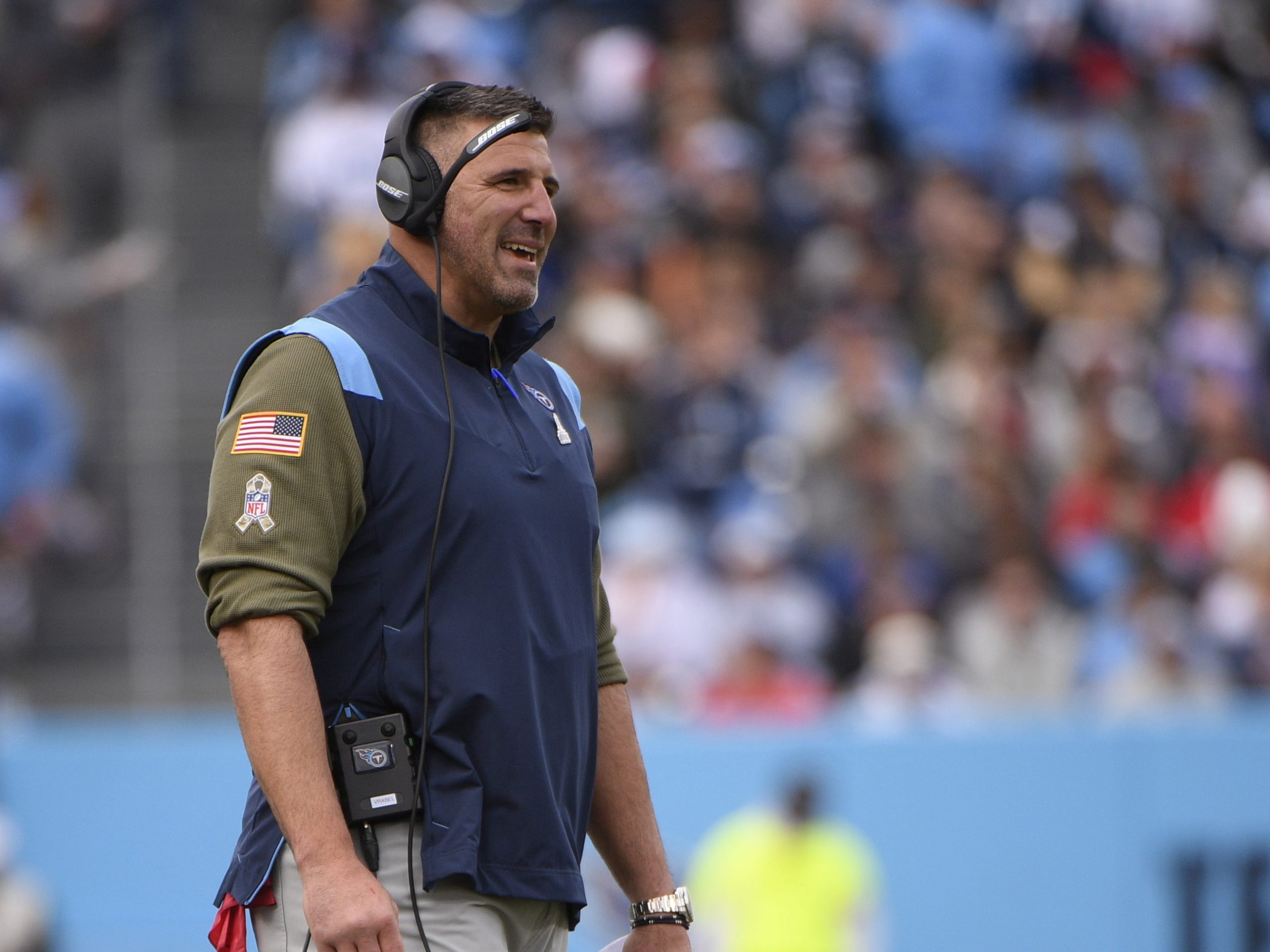 Week 11 begins Thursday night with a Super Bowl LI rematch between the Patriots and Falcons. From a spread perspective, all of the action is coming in on New England, which makes sense based on last week's results. However, I would be wary of laying a full touchdown on the road with a rookie quarterback on a short week, regardless of how good Mac Jones has looked. If you can find Falcons +7 anywhere in the market, it's worth a small nibble, but TNF did not make my card this week.
Another game that missed my card, but is vitally important to me from a futures perspective, is the Packers traveling to the Vikings. I advised opening a position on Green Bay in this week's "Back to the Futures" column, so I am obviously rooting for Aaron Rodgers and company, but I must admit Minnesota makes for an attractive teaser leg, moving through the key numbers of 3 and 7. It's also a game oddsmakers are keeping a very close eye on.
"It is a crucial matchup for the division as a whole," said WynnBET Senior Trader Grant Tucker. "If the Packers can pull this one out, they are destined to run away with the NFC North. If the Vikings can get a win, they will pull the Packers back a bit to the rest of the division and give potential for a shake-up as we turn to the final half of the season."
Let's move onto the selections that did make our card, which have admittedly been very poor the last three weeks. If you choose to fade, that's your prerogative, and frankly it's hard to blame you. I will say that I've tweaked my process a bit this week, relying a little less on stats and more on line analysis. At this stage of the season, the lines are super sharp, and sometimes paint a more obvious picture than data and trends.
Detroit Lions at Cleveland Browns
Browns -9.5 (-120)
*Bet on Tuesday at Unibet, would play up to -11.5
This line began to steam towards the Browns on Wednesday when it was announced that Jared Goff was battling an oblique injury. That means Tim Boyle could get the start under center against one of the most ferocious defensive lines in the NFL, who are also coming off an ugly loss last week to the Patriots. That's bad news for Boyle, who has attempted just four passes in his brief two-year career. The public is also slightly favoring the Lions, which makes me like the Browns even more.
"Feels like a good buy-low spot on the Browns," said TwinSpires Trading Analyst Zachary Lucas. "I love taking teams off blowout losses, especially against teams who covered the week prior. The line feels a bit low to me."
The Lions left it all out on the field in Sunday's tie against the Steelers, and I would be surprised if they had much left in the tank for this game.
Baltimore Ravens at Chicago Bears
Bears +6.5
Over 45
*Spread bet at Wynn, total bet at MGM, playable to +4.5 and 45.5
This line started to creep towards the Bears on Wednesday despite MGM's Darren Darby reporting even action on both sides. The move was likely predicated by the news that Lamar Jackson missed practice with an illness. On the other side, I like what I've seen with Justin Fields over the past two weeks, and David Montgomery returned with vigor last Monday night, averaging 4.8 yards per carry against a good Steelers defense. Both Fields and Montgomery should have success against a Baltimore defense allowing the 2nd most yards per play in the NFL over the last three games (6.7).
"The sharp money is on Chicago +6.5," said WynnBET Senior Trader Grant Tucker. "Matt Nagy has an atrocious record off a bye week during his tenure with the Bears, but a Ravens offense without Jackson is average at best."
Obviously I like the over a lot less if Jackson doesn't play, but we'll cross that bridge when we come to it. If the Ravens are fully healthy on offense, I would expect a big bounceback effort from them considering their lackluster performance last Thursday in Miami. Either way, I think Chicago keeps this close and we see some points from both offenses.
Be sure to check out our full game preview for Baltimore Ravens vs Chicago Bears
Houston Texans at Tennessee Titans
Texans +10.5 (1.5u)
*Bet Tuesday at MGM, line widely available at time of posting
Of all the bets on my card this week, this one is my favorite, which is why I bumped it up an extra half-unit. BetMGM's Darren Darby is reporting over 80% of the handle on the Titans, but the line has not moved an inch. WynnBET's Grant Tucker says he expects this to be a "Pros vs Joes game" and is confident "the public will lay the points with the hot Titans."
There's no denying how good Tennessee has been since that ugly loss to the Jets, but their last five games have all been against playoff contenders, and they have a huge reunion game next week with head coach Mike Vrabel returning to Foxboro to face the team he won three Super Bowls with. That makes this matchup against the lowly Texans a massive sandwich game.
"I keep thinking the Titans are due for a stinker but they keep proving me wrong," said TwinSpires Trading Analyst Zachary Lucas. "With the Pats on deck I doubt the Titans will keep their foot on the gas. Feels like a few too many points."
Vrabel is a legit Coach of the Year candidate, but the Titans are just 2-3 ATS as a favorite this season, and 14-18 during Vrabel's tenure with Tennessee.
Be sure to check out our full game preview for Houston Texans vs Tennessee Titans
6-Point Teaser (-120)
Saints +7.5
49ers -0.5
*Bet Tuesday at DraftKings, lines widely available at time of posting
The Saints are my favorite teaser leg of the week, and in a low-total game, it's very appealing to move them through both the key numbers of 3 and 7. New Orleans has been snake-bitten the last two weeks, losing each game by two points, which is not an oft-landed-on number in the NFL. They should get back Alvin Kamara this week, but keep an eye on both starting tackles, Ryan Ramczyk and Terron Armstead, who missed Wednesday's practice due to injuries.
"The Saints are definitely the sharp side in this one," said WynnBET Senior Trader Grant Tucker. "We opened this one looking for Eagles' money and we certainly got what we were looking for. I think the Saints are due to pull through for a win."
I'm a little concerned about a possible letdown for the 49ers after a resounding win on Monday night against the Rams, but the Jaguars were gashed by Jonathan Taylor and the Colts running game last week and I can't see them slowing down this dynamic San Francisco attack, which leads the NFL in yards per play over the last three games (6.5). I wouldn't lay a touchdown here, but I'm confident the Niners leave Jacksonville with a win, and they need to if they want to stay alive in the playoff race.
Good bets but not "Best Bets"
*Would play up to a 0.5-unit each
Jets +3.5: Starting Joe Flacco is a puzzling move, especially considering how good Mike White looked against the Bengals and Colts before the injury. Sure, he was really bad against the Bills, but Buffalo is arguably the best defense in the NFL and was in a prime bounceback spot after their embarrassing loss to the Jaguars. Regardless of who is under center for the Jets, laying over a field goal on the road with Tua does not seem like a winning long-term strategy. I'm taking the zig-zag approach here, betting on a team that didn't cover last week against a team that did, which has been a highly profitable strategy this season.
Washington +3.5: This game has more drama than a reality TV show. Not only is it a revenge spot for Ron Rivera, but also Taylor Heinicke. It's also the first start in the sequel of Cam Newton's tenure with Carolina. The former league MVP burst onto the scene Sunday in an upset win over the Cardinals but I don't trust him to have the entire Joe Brady offense down pat after just one week of practice time. I loved the heart Washington showed last week in a rousing upset over the defending Super Bowl champs and I really love getting the hook here at home.
—
Last week: 0-3, -3.40u (Sides: 0-2 / Totals: 0-0 / Teasers: 0-1)
2021 season: 27-28-1, -5.25u (Sides: 18-18-1 / Totals: 1-3 / Teasers: 8-7)
Pickswise is the home of NFL Picks. Check out our latest playoff picks and round-by-round analysis as well as our free Super Bowl predictions.