Jared Smith's NFL Week 10 best bets and market insights: Can the Jags make it two wins in a row?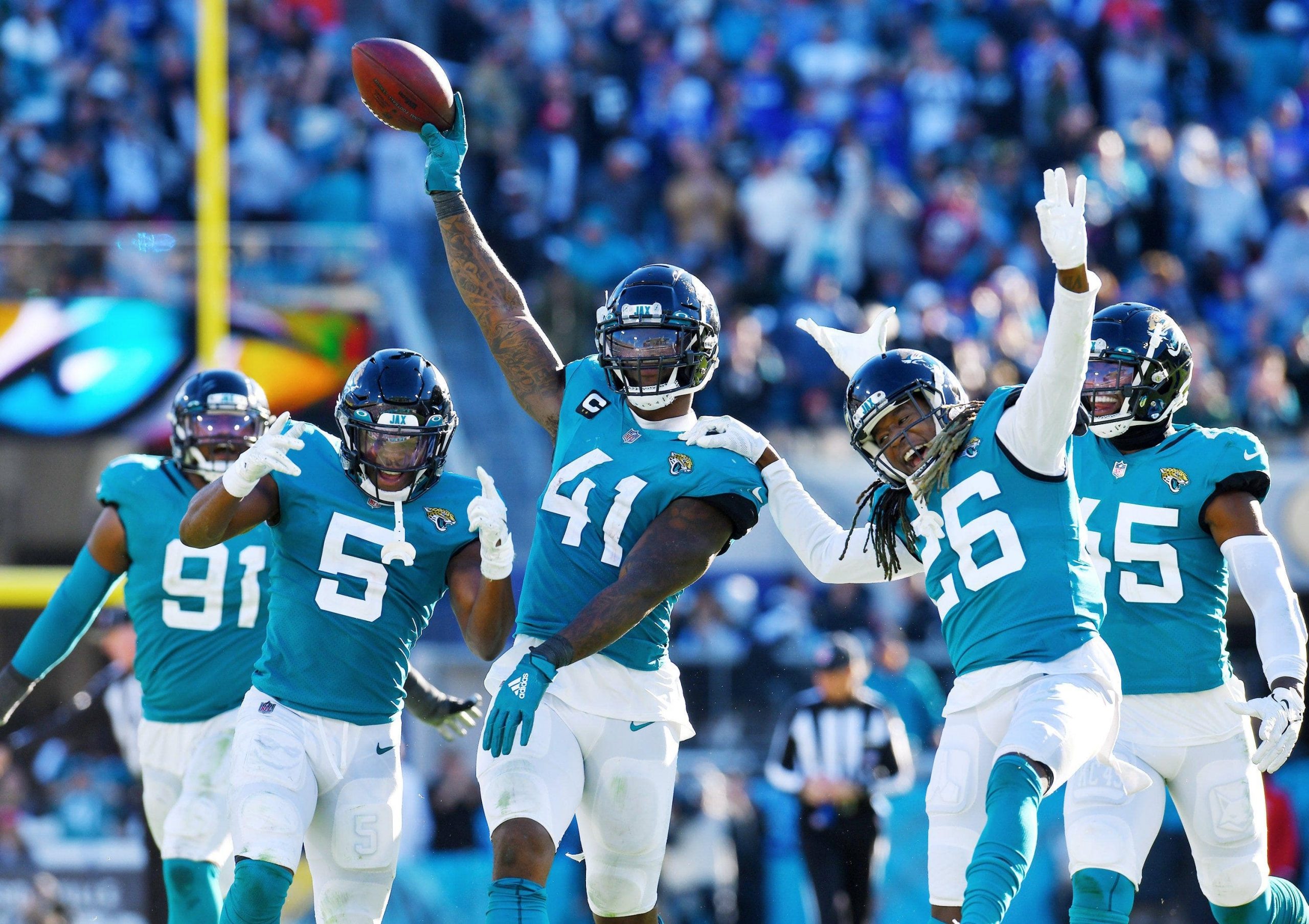 Week 10 begins on Thursday night with the Ravens traveling to face the Dolphins in a game that has seen one-sided action thus far. The public is hammering Baltimore, with over 80% of the tickets at DraftKings and 75% at FoxBet favoring the Ravens to cover. This game was close to making my teaser card this week, but Baltimore's defensive struggles kept me off. However, it's worth noting that this is a homecoming game for Lamar Jackson, who played high school football in Boynton Beach, which is about an hour's drive from Hard Rock Stadium. The last time Jackson played in Miami was Week 1 of the 2019 season, the Ravens rolled 59-10 and he threw five touchdown passes, so if I were to sprinkle on this game, I would look to play Jackson's props.
Before I get to the games that did make my card, a personal note about the last two weeks, which were admittedly very rough on my NFL bankroll. It's obviously my goal to win every bet that I make, but a more important goal of this column, and all of the content I create, is to educate and entertain. There is no magic bullet when it comes to betting. I made my first sports wager when I was 16, and obviously my approach has matured dramatically since. I've had some amazing nights where I felt like I'm on top of the world and will never lose again. But I've also had plenty of rough weeks where I feared I might never win again.
How we respond to losing is a vitally important mindset, in life and in betting. Mike Tyson once said "everybody has a plan until they get punched in the mouth" and it's something I encourage all of you to think about. The plan is to win every bet I make this week, but how will I react if I don't? Will I chase it with more bad bets? Or, will I hit pause, repeat my process, and try to get back on a winning path next week?
When you gamble practically every day like I do, there will always be good and bad nights — hopefully more good than bad — but if you love the grind and stay as consistent as humanly possible, I promise, win or lose, we will always learn something and have fun while doing it. With that said, let's move onto the selections.
Jacksonville Jaguars at Indianapolis Colts
Colts -10
*Bet Sunday at FanDuel, line widely available at time of posting
Last week I picked the Bills laying a big number against this Jags team, which turned out to be one of the most embarrassing and extreme results I've experienced in recent memory. So why go back to the well again this week? Well, I trust my original handicap on Jacksonville more than I trust their ability to handle prosperity. Also, if you examine Indy's win over the Jets last Thursday, the line analysis flashes value on the favorite. "I would rate the Jets a bit higher than the Jags and Colts are laying the same number," said TwinSpires Trading Analyst Zachary Lucas.
Even after their big upset win last week, the public still isn't sold on the Jags, with most of the action backing the Colts. "It's been heavy money on Indianapolis so far," said WynnBET Trader Sawyer Johnson. "I agree that this is a great spot for the Colts. The Jags can keep it close only if they play an amazing defensive game, but that's a lot to ask two weeks in a row."
On the injury front, if the Colts get T.Y. Hilton (concussion) and Xavier Rhodes (calf) back from injury, then I like this pick even more, so be sure to check the reports this weekend.
Be sure to check out our full game preview for Jacksonville Jaguars vs Indianapolis Colts
Tampa Bay Buccaneers at Washington Football Team
Buccaneers -9
*Bet Tuesday at Unibet, would play up to -9.5
I was surprised to hear from oddsmakers that action has been relatively split in this game at some of the major shops. According to Sawyer Johnson at WynnBET, "it's been pretty even on the amount of money we've taken so far", however, MGM's Darren Darby said "over 80% of the bets are on the Bucs to cover", and at DraftKings it's over 85% of tickets on Tampa Bay and 90% of the money. My guess is the handle will keep tilting towards the Bucs throughout the week, which could push this line to double-digits by Sunday.
Both teams have had two weeks to sit and stew after losses heading into the bye, which doesn't factor much into this handicap, instead it's the massive gap in talent on both sides of the ball which should be the difference here. "I don't buy into the angry team theory but I can't see how WFT stops this passing attack," said TwinSpires Trading Analyst Zachary Lucas.
Injury-wise, Washington will be without C Chase Roullier and DE Montez Sweat this week, two huge losses in the trenches. Meanwhile, the Bucs are still awaiting the return of WR Antonio Brown and TE Rob Gronkowski from injury, but they will be getting back CB Sean Murphy-Bunting and WR Scotty Miller.
Be sure to check out our full game preview for Tampa Bay Buccaneers vs Washington Football Team
6-Point Teaser -120
Saints +8.5
Browns +8.5
*Bet Tuesday at DraftKings, lines widely available at time of posting
The Browns are facing COVID concerns, with five players on the list this week including running backs Nick Chubb, Demetric Felton and John Kelly. That could mean another big week for D'Ernest Johnson, who has already shown he is not afraid of the spotlight. Despite RBs not affecting the point spread much, if at all, some books are reporting movement towards New England after the COVID news broke in Cleveland. "I think with a lot of these COVID cases you often see a bigger move than expected as you don't know if others may also test positive," said Fox Bet Commercial and Integration Specialist Jacob Blangsted-Barnor.
That's a very sound analysis about how the market reacts to COVID news, and why it's best to look for value on the other side of the move. The Pats played well last week and continue to show improvement with Mac Jones under center, but on paper, the Browns are the superior team in terms of overall roster talent. If the line continues to move towards New England, I might even be willing to take a piece of the Browns on the spread. But for now, teasing through two key numbers in a low-total game is an appealing play.
Last week, if you bet on a team that didn't cover the spread the previous week facing a team that did cover in that previous week, you went 7-0 against the number. This Saints/Titans game is one of the few this week that fall into that category (Panthers/Cardinals and Eagles/Broncos are the other two). I love how the short line is inviting a lot of Tennessee money after their impressive win over the Rams. Another trend to consider in this game is that Mike Vrabel has been great in the underdog role since taking over as the Titans head coach, going 17-9 ATS when his team is not expected to win. However, when the Titans are favored, Vrabel is just 14-17 ATS. Meanwhile, New Orleans covered both games after their earlier setbacks this season and are 22-10 ATS in bounce-back games since 2015. Considering this is also a low-total game and we can move the line through 3 and 7, the Saints are another appetizing teaser leg this week.
Good bets but not "Best Bets"
*Bet up to a 0.5-unit on each
Vikings +3: This game was the closest of all the 0.5-unit plays to being a "best bet" as I really like the Vikings' run game against a Chargers defense ranked 32nd in DVOA against the rush this season. However, the market and oddsmaker reaction to this game was mixed, which pushed it down to the undercard. Sawyer Johnson of WynnBET says " I expect the Chargers to roll and the sharps to push that line throughout the week", meaning if you do like the Vikings, it makes sense to wait until Sunday to try and get a better number. However, TwinSpires' Zachary Lucas says the Chargers are the public side and "our biggest liability of the week", adding he thinks Minnesota will win outright. I agree with the latter, but I did see some slight movement towards LAC on Wednesday, perhaps because of the uncertainty surrounding Dalvin Cook's status, so tread lightly here.
Be sure to check out our full game preview for Minnesota Vikings vs Los Angeles Chargers
Chiefs -2.5: Kansas City is just 6-14 ATS over its last 20 games despite going 14-6 SU during that span. However, this will be the Chiefs' shortest number of the season. They were also laying just 2.5 points against the Bills at home in Week 5, which obviously did not end well for KC, but I hold Buffalo in much higher regard than I do the Raiders, who did not play well last week without star wideout Henry Ruggs. Now this week it's their other 2020 first-round pick, CB Damon Arnette, getting waived after a video surfaced of him making death threats while brandishing firearms. Vegas was a great story earlier this season, but the off-field issues continue to pile up, and if you're going to let me lay less than a field goal with Patrick Mahomes in primetime against a team he is 5-1 SU against in his career, I'll bite on KC.
Be sure to check out our full game preview for Kansas City Chiefs vs Las Vegas Raiders
Jets +13.5: The Mike White experience returns! I saw line movement towards the Jets on Wednesday after Robert Saleh announced White would get another start, so the smart money clearly liked what they saw last Thursday against the Colts before his untimely injury. The Bills are definitely primed for a bounce-back after their dreadful performance against the Jags, but something just seems off with them, especially along the offensive line, which seems to be affecting Josh Allen's decision-making. Since the bye, the Bills have played just one good half of football in two games, and they will need to put together a full 60 minutes to cover a big number against a feisty Jets squad playing with more confidence than they have all season.
Be sure to check out our full game preview for Buffalo Bills vs New York Jets
—
Last week: 1-4, -4.20u (Sides: 1-2 / Totals: 0-0 / Teasers: 0-2)|
2021 season: 27-25-1, -1.85u (Sides: 18-16-1 / Totals: 1-3 / Teasers: 8-6)
Pickswise is the home of free NFL Picks and NFL Odds. Check out the latest NFL Prop Bets and NFL Parlays as well as expert NFL Underdog Picks and NFL Computer Picks.