NFL
Back
Los Angeles Chargers: What will their 2020 record be?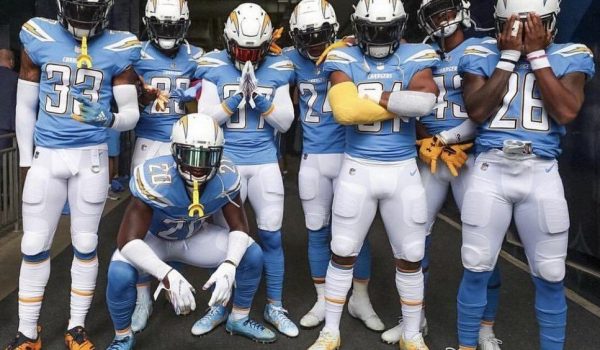 NFL

NFL
Alex Alarcon
See Bio
Content Manager for Pickswise.com The home of free sports picks and experts best bets.
See Bio
Content Manager for Pickswise.com The home of free sports picks and experts best bets.
Head coach Anthony Lynn is ready to showcase the brand new Los Angeles Chargers as they could be a potential dark horse in the NFL. At the moment, all eyes will be on veteran QB Tyrod Taylor to see if he can lead this new look Chargers offense. His leash will be short as the Chargers also drafted QB Justin Herbert out of Oregon in the 2020 NFL Draft.
Let's see if the Chargers can move on from QB Phillip Rivers, as Pickswise takes a look at each game-by-game and predicts the outcome for the Los Angeles Chargers this upcoming season.
Week 1: @ Cincinnati Bengals
It's the very first game for rookie quarterback Joe Burrow. Los Angeles enters the new season with one of the best secondaries in the league and will cause problems. Win
A tough home opener to start the season as they bring in the defending champions. Even though the Chargers should hold down Mahomes from throwing four touchdowns, they will not be able to stop Kansas City from winning. Loss
Week 3: vs. Carolina Panthers
The Carolina Panthers are a one-note team. Once the Chargers slow down CMC, they will be able to control this ball game. Win
Week 4: @ Tampa Bay Buccaneers
A momentum-swinging game for the Los Angeles Chargers. With the amount of experience on the side of the Buccaneers, it's hard to fade them, especially at home. Loss
Speaking of experience, the Chargers have back to back tough road games as QB Drew Brees will slowly pick apart the secondary. Loss
Week 6: vs. New York Jets
New York lost its best wide receiver in Robby Anderson during the free agency. Can Le'Veon Bell save the day? Nope Win
Expect a low scoring game here as both the Miami Dolphins and Chargers have one of the best secondaries in the league. Not sure I can trust Tua though. Win 
Week 8: vs. Jacksonville Jaguars
Last year the Chargers beat the Jaguars by 35 points. This season they beat them by 40. Win
Week 9: vs. Las Vegas Raiders
Four game winning streak on the line. The Chargers secondary is so dangerous I'm unsure the average Derek Carr or Marcus Mariota can do any damage. Win
Week 10: BYE
Week 11: @ Denver Broncos
The Chargers are caught napping from the bye week as Drew Lock has one of those games where you scratch your head and wonder how he did it. Loss
Week 12: @ Buffalo Bills
Speaking of napping, the Buffalo Bills have one of the toughest defenses in the league and might question if its time for Herbet in Los Angeles. Loss
Los Angeles will not lose three straight games as they come up on the inexperienced QB of Jarrett Stidham. Win
Week 14: vs. Atlanta Falcons
QB Matt Ryan loves to get hot late in the season as it does not favor the Chargers here near the end of the regular season. Tyrod Taylor nor Herbet will be able to play catch up. Loss
Week 15: @ Las Vegas Raiders
One of those tough divisional games where the home side is in it until the last snap. Series gets split as they usually do as the Raiders take this one. Loss
Week 16: vs. Denver Broncos
A strong running game is a difference here as Austin Eckler shows Melvin Gordon they are fine without him. Win
Week 17: @ Kansas City Chiefs
Los Angels might have taken one away from the Chiefs recently, but not this season. Chargers get with a tough defeat. Loss
Taking an early look at the 2020 Los Angeles Chargers season, I have them finishing with an 8-8 record. In 2019 they finished with a 5-11 record and finished last in the division. In 2020 I expect them to turn it around but still behind a bit in the standings.
Last updated: Wed 20th May 2020