NFL
Back
Major league sports can return in Arizona without fans starting May 16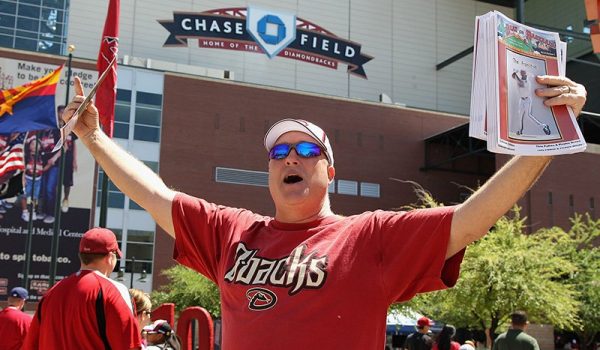 NFL
11:34AM
Wed 13th May 2020

NFL
11:34AM
Wed 13th May 2020
Alex Alarcon
See Bio
Content Manager for Pickswise.com The home of free sports picks and experts best bets.
See Bio
Content Manager for Pickswise.com The home of free sports picks and experts best bets.
Major league sports are finally coming back in the states. Arizona Gov. Doug Ducey announced on Tuesday that major league sports can return in Arizona after Friday which results in Saturday, May 16. This is a huge step forward for the state of Arizona as there have been talks of the MLB and NFL possible hosting a majority of their games in the state. With the state opening up for major league sports, teams located in the states which include the NFL, MLB, NBA,  NHL, and Major League Soccer, can resume practicing and playing. Of course, Arizona will still be very cautious heading forward as games played in the state will be played without fans for now.
Gov. Doug Ducey spoke during his press conference on Tuesday and said the following about the transition to open up the state for sports.
"This is not a green light to speed, This is a green light to proceed, and we're going to proceed with caution."
At the moment, Nascar, UFC, and KBO are a few of the major sports leagues to slowly come back to life following the pandemic. With the opening of Arizona, could other major league sports teams travel to start practicing? It's been thrown around that the Los Angeles Angels, Dodgers, San Francisco Giants, and Oakland Athletics could practice and play their regular-season home games at their respective Cactus League Stadiums.  Or could fellow states slowly open up as well and allow the full proposal for the return of MLB to work out? There are a lot of unknowns at the moment, but this is a great step forward to possibly having multiple sports leagues back one day.
On the flip side, this also bolds well for the NFL. With Arizona the safe zone at the moment, the Arizona Cardinals could start training camp on time. The thought of QB Kyler Murray throwing a deep pass to new wide receiver DeAndrew Hopkins can finally happen. That same connection is one of the reasons why the Cardinals are our week 1 favorite NFL bet. Arizona might even open up their facility to rivals San Francisco 49ers. Fellow California teams, Los Angeles Rams and Chargers could relocate to Las Vegas as well.
There might be a light at the end of this long dark tunnel, as Arizona is ready to welcome any major league sports that are ready to go without fans.
Last updated: Wed 13th May 2020