March Madness First Day Reaction: Max Abmas is your breakout star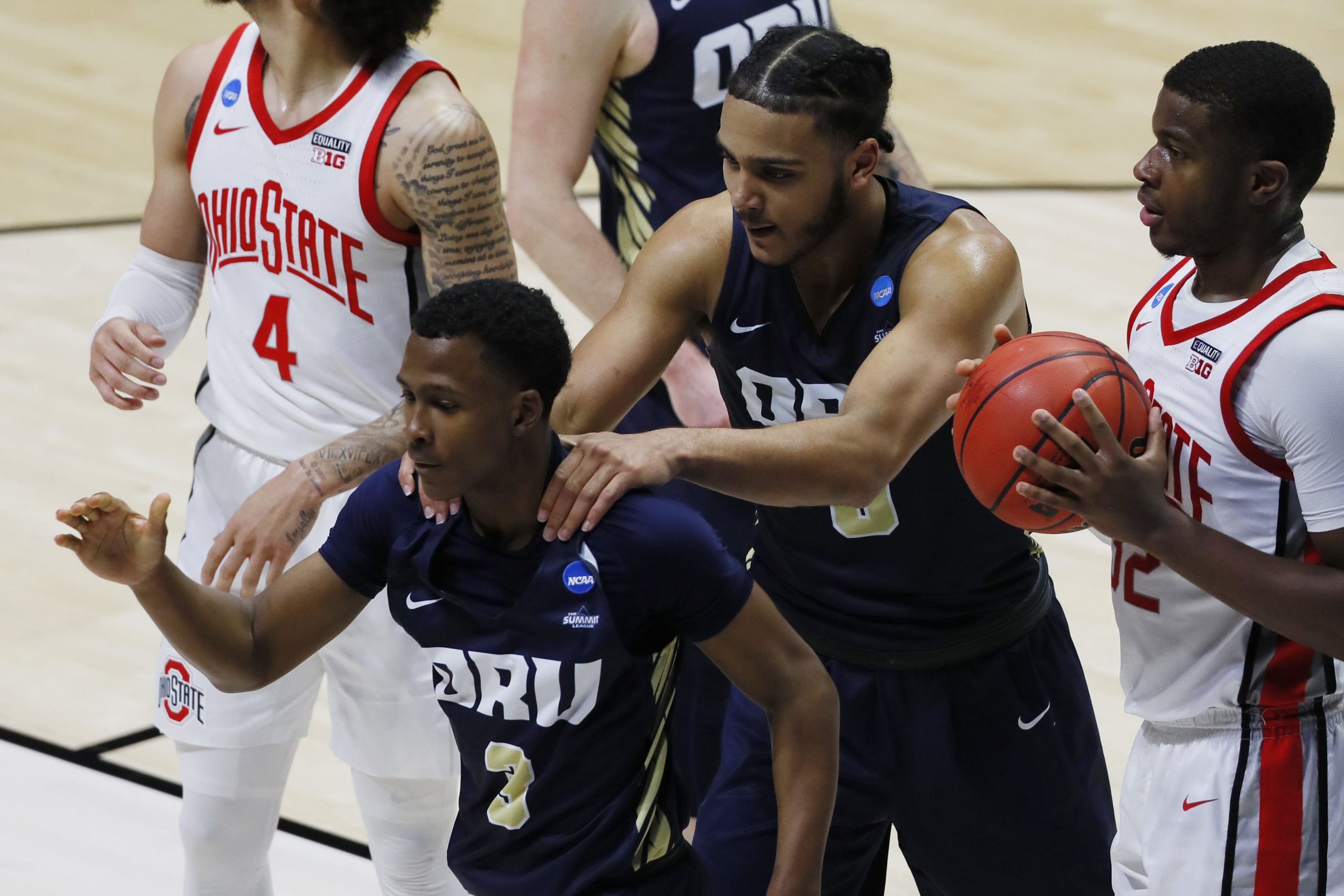 What a day it was. The first day of the 2021 NCAA Tournament is officially in the books, and the action was truly jam-packed. We had last-second heroics, multiple overtimes, everything you could hope for and more. We've got a big Day 2 coming up on Saturday, so be sure to check out our March Madness hub to stay on top of everything that goes on. Also, be sure to check out our picks on the side and total for every single game in the tournament.
But before you start thinking about your Saturday wagering, let's take a look back at what just happened and digest a few of the main takeaways. Here's where my head is at after Friday's games:
Max Abmas is your breakout star
Seemingly every year in the tournament, there's a small school guard that puts his team on his back and captures everybody's hearts along the way. This year, that guard is Max Abmas of Oral Roberts. Only people who follow college basketball really closely were aware of what Abmas was doing in the Summit League this season, but that all changed on Friday. He put his name firmly on the national map by leading Oral Roberts to an improbable upset over Ohio State in their #2/#15 matchup.
Abmas hit big shot after big shot, scoring 29 points in the overtime win. He never came off the floor, and is the heart and soul of America's new Cinderella team. He's not the only elite scorer on the team, as Kevin Obanor had 30 and 11 against Ohio State. They've got a matchup with Florida in the Round of 32, and I think the Golden Eagles have a very good shot of advancing to the Sweet 16.
Oregon State isn't a fluke
This Beavers team isn't messing around. Right before the PAC 12 Tournament started, I suggested you sprinkle a few bucks on Oregon State to win the conference at 50/1. They pulled it off, but a lot of people were quick to write them off as a fluke. They silenced all those people on Friday. Not only did they knock off Tennessee in their #5/#12 matchup, they outright dominated them.
Oregon State led the entire game, and by double digits for most of it. They smothered their SEC opponent, and repeatedly stepped into big threes with lots of confidence. This team is playing with a serious swagger right now, and it's contagious. Their defense is tenacious, and I think they've got what it takes to slow down Cade Cunningham and Oklahoma State in the Round of 32. No matter what happens next, they proved their March Madness spot was well deserved and they didn't just get lucky to be here.
Was the Big Ten overhyped?
Wisconsin took care of business against North Carolina. The Big Ten's other teams? Not so much. Ohio State obviously embarrassed the conference with their aforementioned loss to Oral Roberts, and so too did Purdue with their loss to 13-seed North Texas. Michigan State didn't do their job either in their opening night First Four loss to UCLA. The Big Ten was widely considered the dominant conference in college basketball this season.
They had four of the top seven teams on Kenpom, which is pretty incredible. But with the shocking defeats of Purdue and Ohio State, it's fair to question that status. It's also fair to now wonder how legit of title contenders Michigan and Illinois are moving forward. With the COVID-19 impacted schedule, most teams had very limited non-conference slates. This tournament is one of our first real glimpses into what was real and what was fake, and it'll now be very interesting to see what the Wolverines and Fighting Illini look like in the coming days.
Pickswise is the home of March Madness Predictions. Check out all of our March Madness Picks, including daily March Madness Parlays throughout the NCAA Tournament.