The Masters Day 1 reaction: Top guys playing like legends of the fall
The only bad part about Thursday at The Masters is that an almost three-hour rain delay means the first round didn't come close to being completed. So the leaderboard is not entirely straightforward at the moment; some golfers completed the first round, others finished nine, and less fortunate guys are done with only seven holes.
Other than that, however, Day 1 in Augusta, Ga. was a smashing success. The inclement weather fled the scene much earlier than expected and gave way to an extremely pleasant afternoon. The next three days are expected to bring a whole bunch of sunshine, as well. In good weather and playing on a soft, rain-soaked course, many of the top players in the world made mincemeat out of August National on Thursday. If the leaderboard on Sunday looks like it already does right now, very few golf fans will complain.
A stacked leaderboard
Here are the first 11 names on the leaderboard, in order: Paul Casey, Webb Simpson, Xander Schauffele, Justin Thomas, Hideki Matsuyama, Lee Westwood, Louis Oosthuizen, Patrick Reed, Tiger Woods, Matthew Wolff, and Adam Scott! If you don't like that cast of characters, you simply don't like golf.
Also lingering not too far behind are Jon Rahm, Tony Finau, Rickie Fowler, Dustin Johnson, and Justin Rose (all at 3-under). Bryson DeChambeau is within striking distance at 2-under and would be even better if he had not been 2-over at one point following a double-bogey disaster on 13. Fowler, Johnson, and Rose still have plenty of time to improve on their 3-under number as round one continues for them on Friday morning. Thomas, Wolff, and Scott are also nowhere near finished. In fact, Thomas (5-under through 10) is +150 to overtake Casey as first-round leader (Casey is +120 to hang on, while nobody else has better than +1000 odds).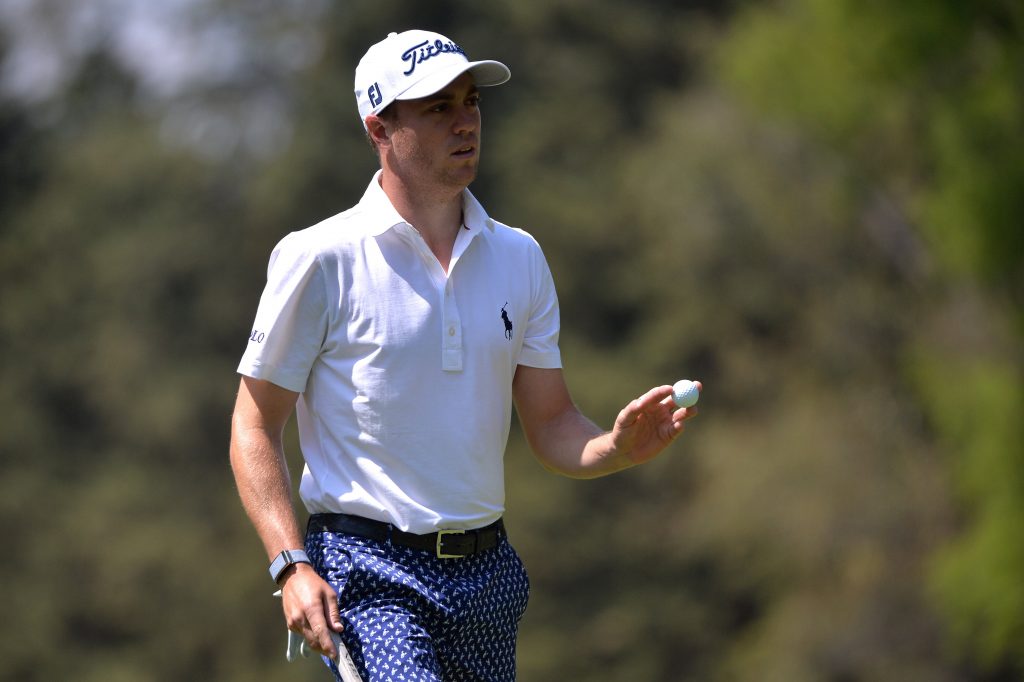 Two if by sea
The British are coming! Since 1996 (Nick Faldo) only one Englishmen has donned the green jacket (Danny Willett in 2016). In fact, only two Europeans have won the Masters during this stretch—and both of them hail from Spain (Jose Maria Olazabal and Sergio Garcia).
However, it would not be a huge surprise if another Englishman finally etches his name in history. Two in particular have a good chance this week. Casey is in the lead at 7-under and Westwood is not far behind at 4-under. Both veterans have been in stellar form of late and have also been top-10 machines at majors despite having never gotten over the hump.
Casey is +1800 to win, while you can still get Westwood at +5000. There is good value on both—especially the latter.
What to make of Tiger?
From completely out of nowhere, Woods played his first bogey-free round at Augusta National since 2008. Even in his prime, bogey-free rounds for Woods were few and far between. Now they are borderline unheard of. Nonetheless, course familiarity clearly outweighed current form on Thursday. The 15-time major champion (five at The Masters, including last year) carded a 4-under 68 and deserved every bit of it, playing rock-solid from start to finish and even having some opportunities to go lower.
Obviously Woods should make the cut now, which going into the week would have been considered a big success. With scoring conditions sure to be favorable again on Friday, the 44-year-old will likely be able to navigate his way around Augusta without too much stress. When the course firms up this weekend, though, optimism surrounding Woods should probably diminish. It would be crazy to completely dismiss him at this event in particular, but he remains a longshot (longer than his current +1800 odds, it can be argued).
Americans with better value are DeChambeau now that he is down to +1400 and Tony Finau at +4000. Finau is one of our best 3-ball bets for Friday.

Pickswise is the home of free expert Golf Picks and Predictions. Our outright PGA expert picks go live every Tuesday, so check out our latest golf picks, best bets, and analysis for this week's PGA tournament now. We will also have our 2020 Masters 3-ball picks and our best golf prop bets for each round of the 2020 Masters.