Most NFL touchdowns scored in 2022 predictions, odds & picks: Davante Adams is a catch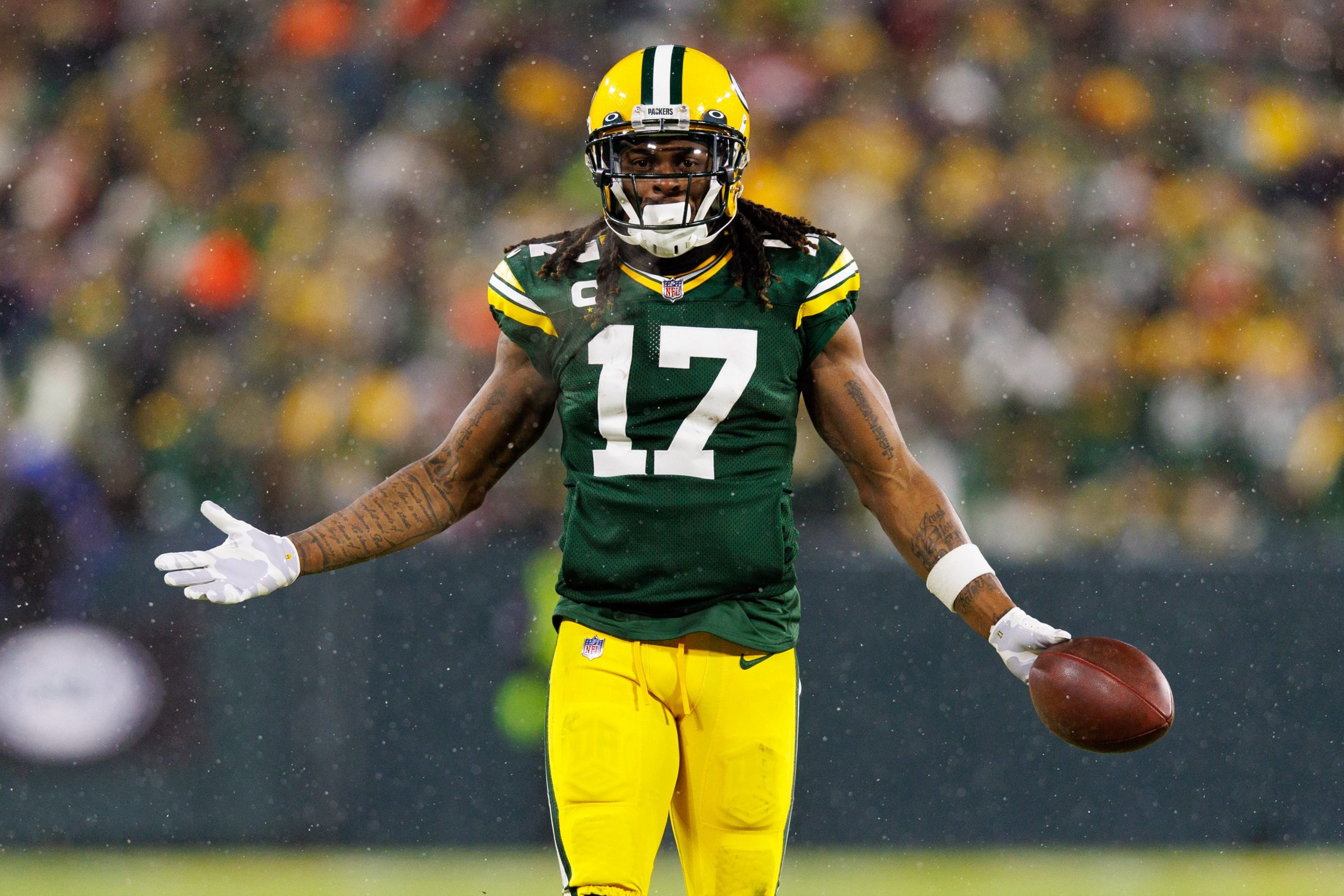 Jonathan Taylor and Cooper Kupp led the way for most touchdowns for their positions in 2021. Taylor literally ran away with the award for most touchdowns as a running back in 2021 as he ran for nearly 2,000 yards and totaled 18 rushing touchdowns. Kupp demonstrated a incredible connection with Matt Stafford and accumulated 16 receiving touchdowns on his way to becoming the Super Bowl MVP. For 2022, we have our best bets for which wide receiver and running back will have the most touchdowns.
Check out our picks to win Super Bowl 57, including a +4500 longshot
Most regular season receiving touchdowns
Odds
Mike Evans (+700)
Cooper Kupp (+700)
Travis Kelce (+900)
Ja'Marr Chase (+900)
Justin Jefferson (+900)
Davante Adams (+900)
Stefon Diggs (+1400)
Tee Higgins (+2000)
Tyreek Hill (+2000)
Mark Andrews (+2000)
What to look for
There have been a lot of offensive changes this offseason. Veteran quarterbacks such as Matt Ryan and Carson Wentz will be making their debuts with new teams and it can take some time for them to gain chemistry with members of their new receiving corps , so it's important to keep that in mind when looking at this bet. It's also important to recognize which receivers are used the most in the red zone as they have a higher chance of scoring. Cooper Kupp led the league in total red-zone targets with 38 and average red-zone targets per game at 2.2, so it makes sense that he is one of the favorites to win. There are plenty of other star receivers to choose from, but I've found my best bet for this prop bet.
Best bet: Davante Adams (+900)
Davante Adams can make a statement in his first season not in Green Bay. He will no longer have Aaron Rodgers throwing the ball to him, but people underestimate Derek Carr. Carr has been managing with Hunter Renfrow as the deep-ball and red-zone target in Las Vegas, so having Adams added into the mix creates better opportunities for the Raiders. Renfrow was targeted 24 times in the red zone last season and had a 72.7% catch rate, but the 5′ 10″ wide receiver will make way for Adams in 2022. Adams ranked 3rd in red-zone targets and 4th in red-zone catches in 2021, so he will likely become the primary red-zone target while Renfrow is used as a deep-ball threat and the backup option in the red zone. Adams has played in at least 14 games in 6 of his 8 seasons since he has avoided any major injury, so I'll hope he continues in good health and leads all wide receivers in touchdowns.
Could this +7500 bet on Defensive Player of the Year have value?
Most regular season rushing touchdowns
Odds
Jonathan Taylor (+500)
Derrick Henry (+600)
Nick Chubb (+1000)
Joe Mixon (+1000)
Dalvin Cook (+1000)
Najee Harris (+1400)
Christian McCaffrey (+1600)
Leonard Fournette (+1600)
Austin Ekeler (+2000)
Ezekiel Elliot (+2000)
What to look for
With the turnover at quarterback this season, play-callers will need time to gain chemistry with the receivers in a game setting. For the first few weeks, we could see some running backs getting heavier usage than normal. Looking back at last season, Jonathan Taylor of the Colts absolutely dominated on the ground as he won the rushing title and had the most rushing touchdowns. He finished with 18 touchdowns, and 14 of those scores came in the red zone. However, some running backs won't run for half the amount of yards Taylor will this season and they could still end up with nearly the same amount of touchdowns. James Conner is an example of this as he finished with 15 touchdowns in 2021, just 3 fewer than Taylor, but he ran for 1,059 fewer yards than Taylor. Taking all of this into consideration, I've found my best bet for which running back will have the most rushing touchdowns.
Best bet: Derrick Henry (+600)
The King is back in 2022. I expect Derrick Henry to have a monster year after an injury forced him to miss most of the 2021 season. That's why I also believe Henry will lead the league in rushing yards this season and regain the rushing title that he won in 2019 and 2020, and was on pace to win in 2021. In just 8 games last season, Henry had 219 attempts, 937 yards and 10 touchdowns. He was on track to break numerous records, but instead, he broke a bone in his foot. Fortunately for the Tennessee running back, he is back to full health and will once again be the main power source for the Titans' offense. QB Ryan Tannehill will be without AJ Brown and Julio Jones this season, who were two of his favorite targets last year. Instead, he will have Robert Woods and tight end Austin Hooper as part of his new receiving corps and that is an obvious step down from last season's group. If the Titans are going to be successful in 2022, Henry will be the reason why. Tennessee will run their red-zone offense through the 6'3″ running back, so he will have ample opportunities to score.
Pickswise is the home of free expert NFL Picks and NFL Odds. Be sure to check out all of our season previews and NFL Futures Bets leading up to the 2022 NFL season.