NBA Christmas Day parlay: Nets, Clippers, Heat (+586 odds)
More than a few folks—LeBron James included—thought the NBA's 2020 offseason was too short. But if we were going to have an NBA Christmas in 2020, commissioner Adam Silver had no choice but to speed things up after the Finals concluded in October instead of June. And, really, what is Christmas without the NBA?
Sure it's always bowl season this time of year (there's one game on Friday) and even the NFL is trying to steal some of the show with Vikings vs. Saints, but sports on Christmas Day have always been all NBA all the time. Even in a most unusual year, 2020 is no exception. Five games are on the upcoming slate, and we have chosen three of the five for our Christmas Day NBA parlay.
Miami Heat -5 (-110)
Brooklyn Nets -2.5 (-110)
Los Angeles Clippers ML (-110)
Parlay odds: +586
We are going with two favorites ATS plus another slight favorite on the money line. Both the Brooklyn Nets and Los Angeles Clippers looked good in their respective openers, while the Miami Heat should be poised to wake up and bounce back from a lackluster performance on Wednesday. Let's break down each of the three legs one by one.
Miami Heat -5 over New Orleans Pelicans (-110)
New Orleans is coming off an upset of Toronto in its 2020-21 opener. Combine that result with Miami's surprising loss to Orlando and what you get is a deflated spread for this Christmas Day opener at noon. The Pelicans surrendered only 99 points on Wednesday, but the Raptors were missing open shots to a greater extent than what New Orleans was forcing them to miss. It wasn't like a virtuoso defensive performance by the underdogs. Moreover, Zion Williamson was held in check and he may not have much success around the rim in this one with Bam Adebayo manning the paint for Miami.
The Heat are the defending Eastern Conference champions for a reason and they will likely treat their opener as a wakeup call. With a game under their belt on the heels of little to no real offseason, the Heat should improve dramatically on Friday.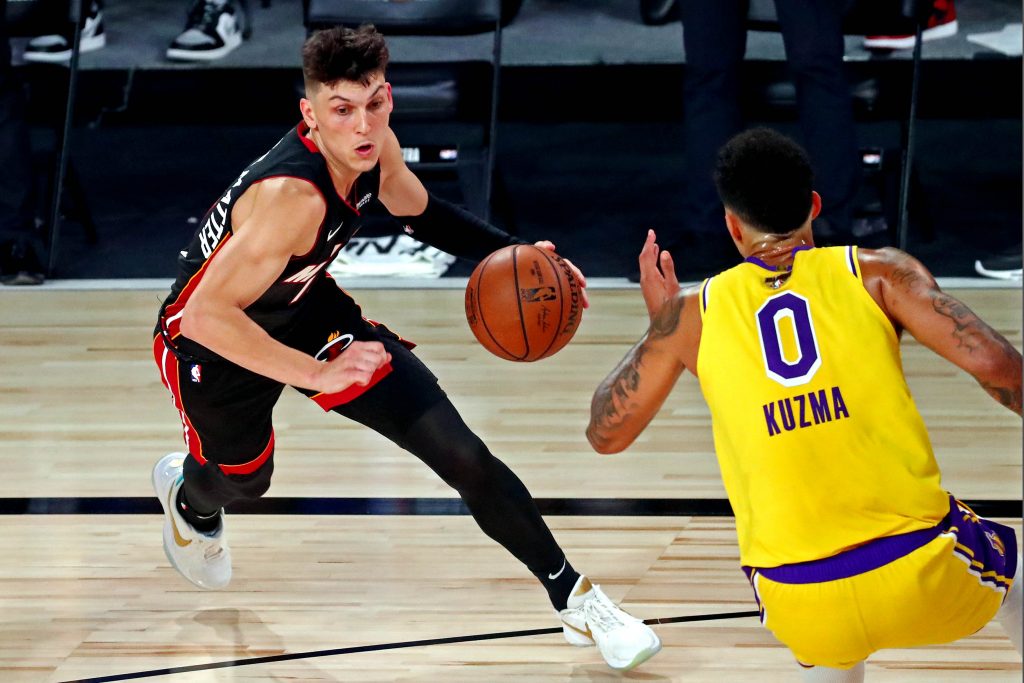 Brooklyn Nets -2.5 over Boston Celtics (-110)
After being sidelined from this matchup last season, Kyrie Irving will finally be making his much-anticipated return to TD Garden. These two teams actually met in Boston in their last preseason game, as well, and it resulted in a 24-point beatdown for the Nets in which they led by as many as 36. While there probably won't be that same kind of margin in a meaningful game, we still think Brooklyn can win comfortably here.
On paper, it's obvious that the Nets boast more firepower both in their starting lineup and—especially—coming off the bench. In Boston's 122-121 thriller against the Bucks, Jeff Teague was the only bench player to score in double-digits (19); no other reserve had more than five. The Nets, on the other hand, have one of the deepest and most balanced rosters in the NBA and it showed in Tuesday's humiliation of Golden State. Three bench players reached double-digit points, led by Caris LeVert with 18. Looking at the starters, Kevin Durant should have his way with Jayson Tatum and Celtics' guards Marcus Smart and Jaylen Brown may have a long night on their hands trying to contain a healthy and motivated Irving.
Los Angeles Clippers ML over Denver Nuggets (-110)
Paul George and the Clippers impressed a lot of folks on opening night, as they ruined the defending champions Lakers' ring ceremony with a 116-109 victory. With 33 points on 13-18 shooting from the field, George was the main reason for the win. If the Clippers want to start 2-0 on the season,  he will need to step up once again against an opponent that eliminated them in the playoffs this fall. The Nuggets suffered a surprising overtime loss to visiting Sacramento in their opener despite five players scoring in double-digits. It was a truly absurd loss with an absolutely wild finish, from which it could take more than a few days to recover. Jamal Murray had a night to forget with just nine points on 1-for-9 shooting; he was also 0-for-5 from three-point land.
With revenge on their minds, I think the Clippers will be the more motivated team here. The addition of Serge Ibaka will help in containing Denver big man Nikola Jokic, who was one of the key factors in last season's playoff comeback from 3-1 down for the Nuggets. It should also be noted that the Nuggets lost Jerami Grant and Mason Plumlee—two very important players in the frontcourt.
Pickswise is the home of free NBA picks and predictions. We will cover all the big offseason news before making picks for every game during the 2021 season.