NBA Eastern Conference Finals series predictions: Boston Celtics vs Miami Heat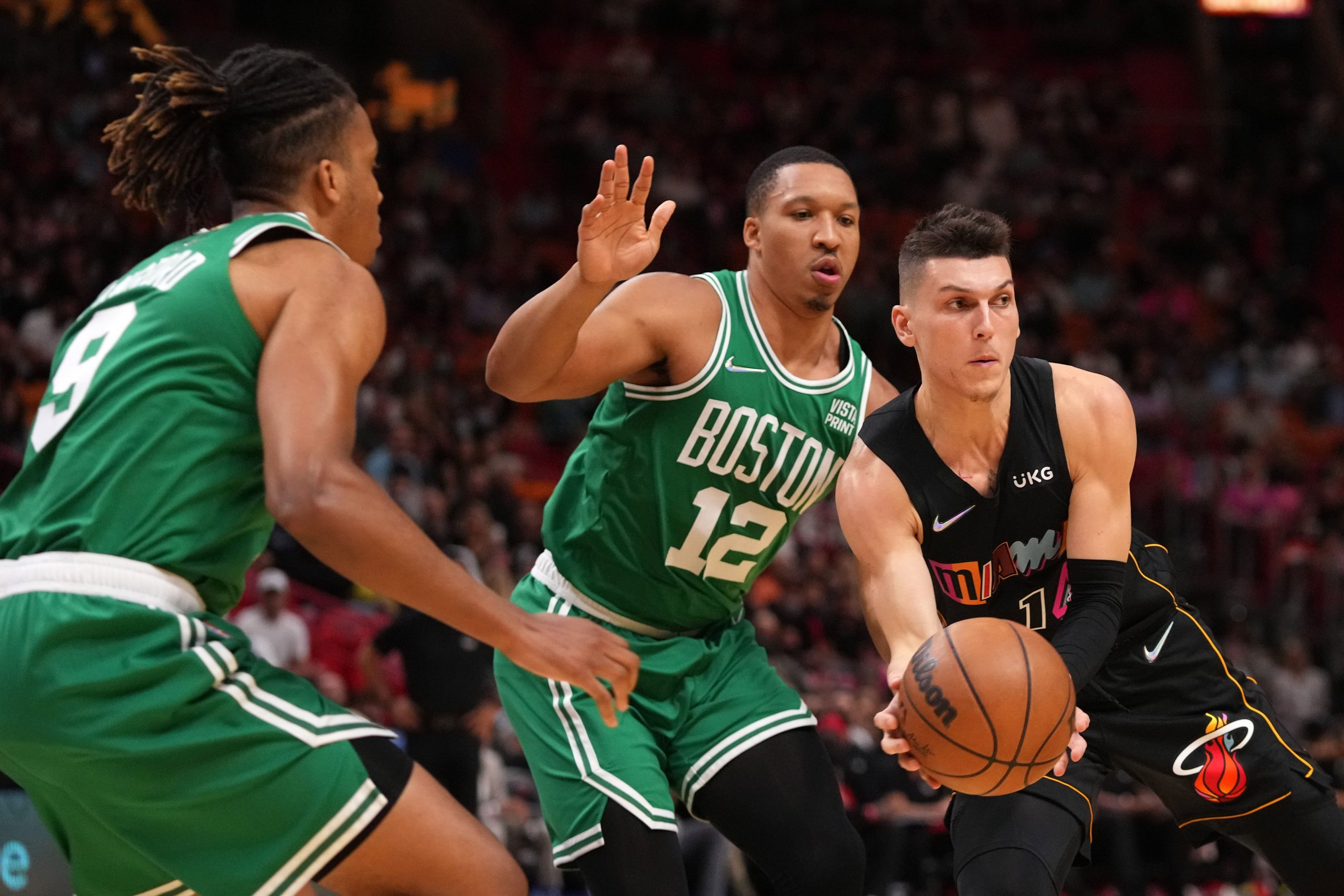 And then there were two…. The Boston Celtics and Miami Heat will battle it out for a place in the NBA Finals in what will be a re-match of the 2020 Eastern Conference Finals.
Will the Celtics get revenge for that loss in the bubble? Or will the Heat book a place in the finals for the 2nd time in 3 seasons?
Let's break down this series!
Miami Heat analysis: Can Jimmy Butler keep carrying the offense?
After averaging just 21.4 points per game during the regular season, Butler has really stepped up during this postseason run and is basically carrying the Heat offense on his own. He is putting up 28.7 points per game on better than 52% shooting from the field and 36% from three while also hitting 80% of his free-throws. The Heat are so reliant on Butler that when he is off the floor their offensive rating drops from 120.1 to 104.4 making them a bottom 5 team in the conference. The same goes for their Net Rating, which drops from a +16.2 to -3.7 when Butler isn't playing.
The Heat might be too reliant on their superstar and that could become an issue in this series because they are yet to face a team with the perimeter defense as good as that of the Celtics. Way better offensive players like Kevin Durant and Giannis Antetokounmpo have had problems scoring against them, so I'm interested to see how Butler reacts to everything the Celtics throw at him.
Don't forget to check our Game 1 Predictions for Boston Celtics vs Miami Heat
Boston Celtics analysis: Jayson Tatum is growing up, but….
Right now, the way Tatum is playing I'd argue he is the 2nd-best player left in these playoffs behind Luka Doncic of the Dallas Mavericks. After dropping 30+ in 3 consecutive games against the Bucks, including 46 in Game 6 on the road facing elimination, Tatum has once again proved his future is very bright in this league.
However, facing Miami hasn't been a pleasant experience during the regular season. In 3 meetings he averaged just 17.7 points on 42% shooting from the field and just 29% from three-point land. In the lone game played in Miami he had just 10 points on 3-for-13 shooting from the field. Was that just a fluke, or do the Heat have him figured out? Only time will tell, but I am really excited to see how he adjusts his game for this series.
What will be the deciding factors of Boston Celtics vs Miami Heat?
One deciding factor will definitely be the Celtics' three-point shooting. In the series against the Bucks they made 53 more shots from beyond the arc and as we saw in Game 7 that was the difference — along with the Celtics' depth. Coming into this series Boston is averaging 14.5 threes compared to Miami's 11.2 per game. They also have the edge in accuracy, making 37% of their long-range shots, while Miami is at just 32.1% — which ranks 13th out of the 16 teams that made the postseason.
Depth is another area where I feel like the Celtics have the edge. Miami went through the Hawks and Sixers without doing deep into its bench. Players like Duncan Robinson weren't used very often and that could come to haunt them as this series progresses. On the other hand, the Celtics just had a rookie lead them in scoring in a Game 7 against the defending champions. Grant Williams probably played the game of his life on Sunday, scoring 27 points, and on top of that the Celtics are also likely getting Robert Williams III back from injury. Therefore I'm giving them the edge in the depth department.
Boston Celtics vs Miami Heat series prediction: Celtics 4-2
Losing 4-2 in the bubble will certainly be on the minds of the Celtics players, as the core of that team is pretty much unchanged and that's one motivating factor the Heat don't have. Health could also play a big part in the series, Miami is already rumored to be without Kyle Lowry in Game 1, he hasn't been himself in the first two series. Tyler Herro is also another guy who has been inconsistent, which is a big blow because he lead the Heat in scoring during the regular season. To me, Boston looks like a well-oiled machine and its defense has been unmatched over the past 4 months or so.
I'm picking the Celtics to come out of the series, but they will need to win at least once in Miami since the Heat have home-court advantage.
Back Boston Celtics to win series 4-2 at +290 on FanDuel.
Pickswise is the home of free NBA picks and predictions. Make sure to also check out our NBA parlays and NBA prop bets tabs for more expert picks.