NBA Finals Game 5 Boston Celtics vs Golden State Warriors same game parlay (+1241 odds) 6/13: Wiggins cleans the glass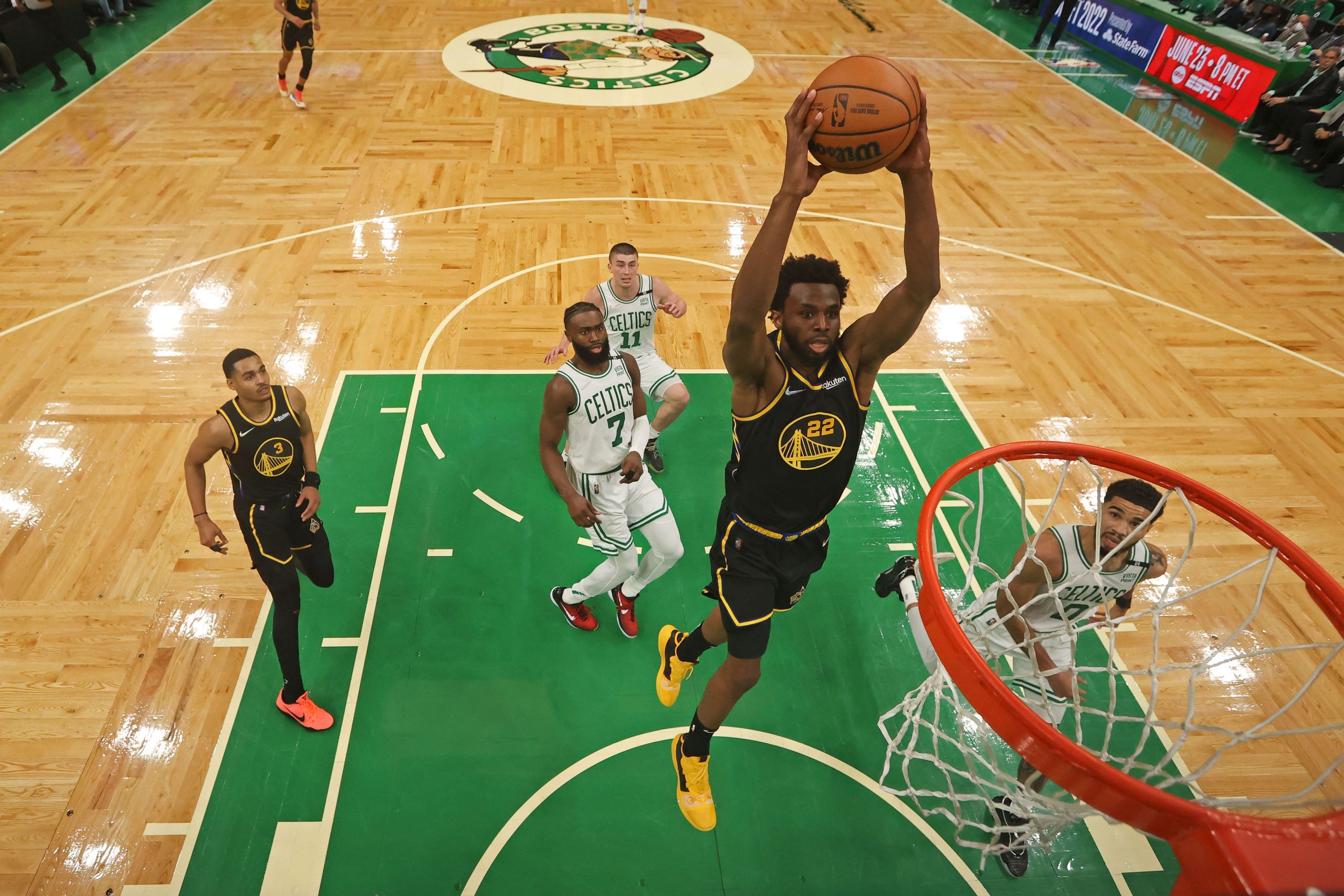 Stephen Curry made sure the Warriors wouldn't go down 3-1 before going home and now, with Golden State and Boston tied at 2-2, we have ourselves a best 2 out of 3 series with the Warriors still having home-court advantage. Game 5 is set to tip off at 9:00 pm ET on ABC on Monday, and I've prepared same game parlay which is available below.
Let's get into in!
Andrew Wiggins to record 10+ rebounds (+280)
Marcus Smart to record 6+ assists (-108)
Klay Thompson to score 20+ points (-106)
Andrew Wiggins to record 10+ rebounds (+280)
After getting destroyed on the boards in the first 3 games you'd think the Warriors would have gone big in Game 4 to try to compensate. Instead, they started Andrew Wiggins at the five and sped things up quite a bit which resulted in a 107-97 win on the road and now the series is tied at 2-2. Wiggins played a huge part in the rebounding in that game, finishing with 16 of them, with 3 coming on the offensive end. He also led his team in minutes played with 43 and only Kevon Looney had a better +/- than him on Friday. I'm expecting Steve Kerr to stick with what is working for Game 5. Wiggins doesn't have the physical strength like Al Horford or Robert Williams III, but the speed with which he goes up and comes down is unmatched by the Celtics' big men and that's his opportunity to have another strong presence on the boards. He is averaging 8.5 in the series and in the last 2 series against Dallas and Memphis he has gone into double digits at least twice.
Marcus Smart to record 6+ assists (-108)
Marcus Smart let us down on our last same-game parlay as we were just 2 points short of landing it, so I'm hoping he can make amends. He has continued playing well offensively in the series. Right now he is averaging 4.8 assists per game for Boston and on a streak of 3 straight games of 5 dimes. That number has to go up on the road in Game 5, and he had 12 assists in Game 2 of the Miami series. A performance like that would do the Celtics really well, especially if Jayson Tatum continues to struggle with his efficiency. There's no doubt Smart has it in him. He averaged 8 dimes per game in the regular-season meetings with the Warriors. Golden State has done a solid job of denying him the ball so far, but he has to have a breakout game at some point and I am hoping that is on Monday.
Klay Thompson to score 20+ points (-106)
The Warriors have to be really encouraged with the way Klay Thompson has performed over the past several games of this series. After opening the series with 15 and 11 at home, he went to Boston and dropped 25 and 18 over the last 2 games. Klay has had at least 1 game of 30+ points in each series so far this postseason, so just like Marcus Smart I am expecting him to get going in at least one of the 3 remaining games of this series. He's drained 9 threes over the past 2 games, which is another encouraging factor. After Curry destroyed them in Game 4 with 43 points, you'd think the Celtics will focus a lot more on him in Monday's game, so I think that's a chance for Klay to shine. For a player averaging 19.3 points per game this postseason, scoring 20 shouldn't be too difficult of a task, so let's go with Klay.
Pickswise is the home of free NBA picks and predictions. Make sure to also check out our NBA parlays and NBA prop bets tabs for more expert picks.