NBA first basket predictions & best bets for Heat vs Celtics Game 6 on Friday, May 27: Jayson Tatum shows up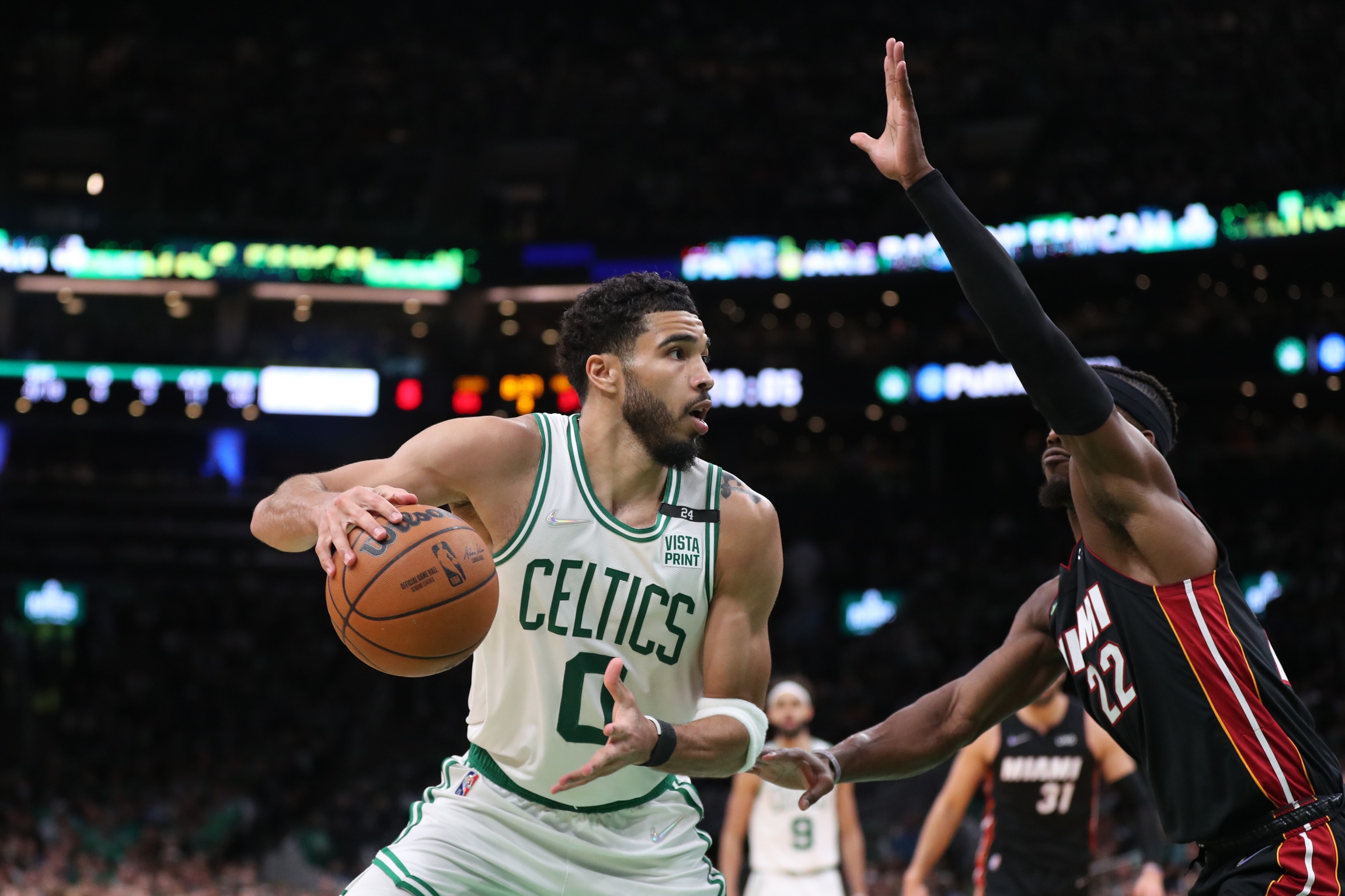 With the Golden State Warriors booking a place in the NBA Finals last night, now it is up to the Boston Celtics to do the same as they host the Miami Heat, holding a 3-2 lead in their Eastern Conference Finals series.
Luck has avoided us a bit on my last two 1st basket bets in both Conference Finals series, as both Luka Doncic and Jaylen Brown missed shots that would land the bet. But, let's not get discouraged by that. These bets are fun to do and the reward is just massive when they land. Here at Pickswise we landed a 2-leg +5500 parlay featuring Kyrie Irving and Anthony Edwards not too long ago. We've also landed a Donovan Mitchell bet twice, Mikal Bridges, Joel Embiid and Desmond Bane once. Let's try and keep the momentum going with tonight's bet.
Be sure to check out our full Game 6 preview for Miami Heat vs Boston Celtics
Heat vs Celtics first basket best bet: Jayson Tatum +550
Despite losing the opening tip against Bam Adebayo, the Boston Celtics were able to score the first basket in Game 5 of this series. Both teams went cold from the field to start the game and it took almost 2 and a half minutes for the first field goal to be made – a two-point shot by Robert Williams.
With Miami winning the past 2 tips to start the game and Adebayo holding a 5-2 lead over Williams this season, I think there's a solid chance the Celtics revert back to Al Horford to jump it up as he won the tip back in Game 3 in front of the home fans.
Right from the get-go in Game 5, the Celtics went to their two best players to get on the scoreboard, but Brown wasn't able to convert on a two-pointer from close range and then Jayson Tatum followed that up with a missed three-point attempt. That's a clear indicator to me that the Celtics aren't wasting any time and are going straight at the banged-up Miami backcourt which is clearly not playing its best, especially on defense.
This being an elimination game, I think Tatum has to assert himself early after that 7-for-20 performance in Game 5. Starting off the game aggressively is the way to go — in the last 2 of 3 games he had a field goal attempt in the opening 2 minutes of the game. Let's also not forget that 37% of first baskets allowed by the Miami Heat this season have come from the shooting guard and small forward positions. I'm hoping that trend continues tonight and with a bit luck, we'll have ourselves a big winner on this bet.
Be sure to also check our our Heat vs Celtics same game parlay (+555 odds!)
Pickswise is the home of free NBA picks and predictions. Make sure to also check out our NBA parlays and NBA prop bets tabs for more expert picks.