NBA Play-in Tournament best bets and opening lines: Don't underestimate Curry and company
The second annual NBA play-in tournament has arrived, set to tip-off on Tuesday night before the postseason action continues into Wednesday. Up first is the Indiana Pacers hosting the Charlotte Hornets before the Boston Celtics entertain the Washington Wizards. Wednesday's action will see the San Antonio Spurs travel to the Memphis Grizzlies and then it's the big one: the Golden State Warriors vs. the Los Angeles Lakers. Be sure to check out our picks on the side and total for each of those games.
But for now, let's take a look at where some value can be found in the playoff round.
Indiana Pacers -3.5 vs. Charlotte Hornets
Will the Pacers have Domantas Sabonis and Malcolm Brogdon available on Tuesday? That is the question. Both are questionable, but even if just one of that duo is able to suit up you have to like Indiana's chances. If both guys are a go, the home team has even more reason to take care of business. After all, the Hornets are not inspiring any kind of confidence at the moment. They have lost five games in a row and Gordon Hayward is still unavailable because of a foot injury. Small forward Cody Martin is also sidelined. Keep an eye on the injury report, but right now the Pacers have to be the choice—if only by default.
Check out our full game preview and picks.
Washington Wizards +2 vs. Boston Celtics
The top seeds in the Eastern Conference (the Philadelphia 76ers and Brooklyn Nets) may not be in the same kind of trouble as the Utah Jazz and Phoenix Suns out West, but neither Philadelphia nor Brooklyn will want to meet Washington in round one. The Wizards were left for dead after beginning the season 3-12. Since then, though, they have gone 31-26. Bradley Beal finished second behind Stephen Curry in the scoring race at 31.3 ppg. Russell Westbrook averaged a triple-double (again) with 22.2 ppg, 11.7 apg, and 11.5 rpg, and just broke Oscar Robertson's all-time record for career triple-doubles. Meanwhile, the Celtics are without Jaylen Brown.
Check out our full game preview and picks.
Memphis Grizzlies -3.5 vs. San Antonio Spurs
San Antonio ended the regular with four straight losses. Will head coach Gregg Popovich's squad be able to get back on track just in time? Maybe not. The Spurs went 1-2 against the Grizzlies during the 2020-21 campaign now Memphis holds home-court advantage in this fourth matchup. Memphis missed out on the No. 8 seed by dropping its final game to Golden State, but that was only because Curry went wild. Ja Morant is averaging 25.3 ppg on 62 percent shooting against San Antonio this year. The second-year star will likely have too much game for a Spurs team that just isn't overly talented.
Check out our full game preview and picks.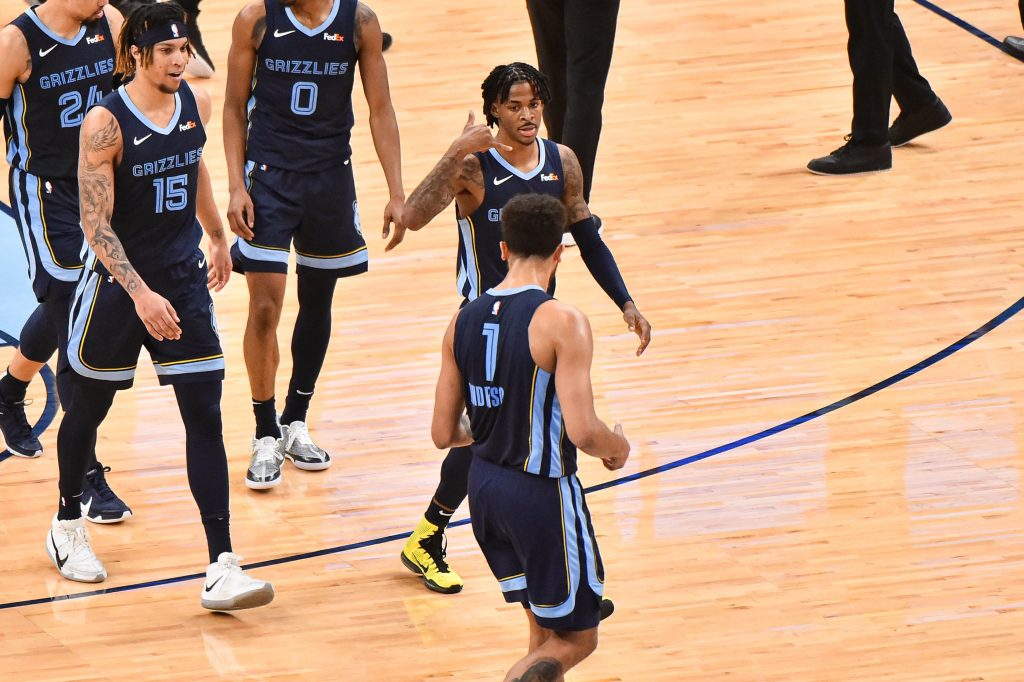 Golden State Warriors +5 vs. Los Angeles Lakers
The Phoenix Suns' reward for getting the No. 2 seed in the Western Conference is a first-round date with either the Lakers or Warriors…. Good luck with that! Both challengers are obviously dangerous, as the L.A. will have both LeBron James and Anthony Davis on the court while Golden State is obviously led by Curry, the 2020-21 scoring champion. Combined, these two teams are on an 11-game winning streak (six for the Warriors, five for the Lakers). With both squads on fire, this contest feels like a toss-up and you have to like the five points with the visitors. Curry has been going crazy of late—even by his lofty standards—and if he does so again on Wednesday even an outright win for Dub Nation is possible.
Check out our full game preview and picks.
Pickswise is the home of free NBA Picks and Predictions. Check out the latest NBA Prop Bets and NBA Parlays as well as NBA Best Bets from our NBA experts.