NBA Playoffs Predictions - First basket best bets for Saturday: Like Mike
The last of the Game 3s in round one of the NBA playoffs will take place on Saturday. The Philadelphia 76ers will try to seize a commanding 3-0 lead over the Washington Wizards, while the Utah Jazz and Memphis Grizzlies are deadlocked at 1-1. Meanwhile, Game 4 between the Denver Nuggets and Portland Trail Blazers is tipping off.
Speaking of tipoffs, let's take a look at some intriguing first-basket bets for Saturday's postseason action on the professional hardwood.
Denver Nuggets at Portland Trail Blazers – Michael Porter Jr +700
Philadelphia 76ers at Washington Wizards – Joel Embiid +320
Utah Jazz at Memphis Grizzlies – Mike Conley +750
Let's break down the three prop plays one by one.
Nuggets at Trail Blazers – Porter Jr +700
Porter Jr was a +600 first-basket winner for us in Game 3, and now he comes in at +700 odds. Why get off the bandwagon now? Well, we won't … Nuggets center Nikola Jokic is 4-2 in jump balls against Portland this season, including 3-0 in this series. The jumps in both Game 1 and Game 2 saw Jokic tip it to teammate Aaron Gordon before Fernando Campazzo corralled it on Thursday. Porter Jr has been involved early in each of the first three contests and more of the same will likely take place on Saturday.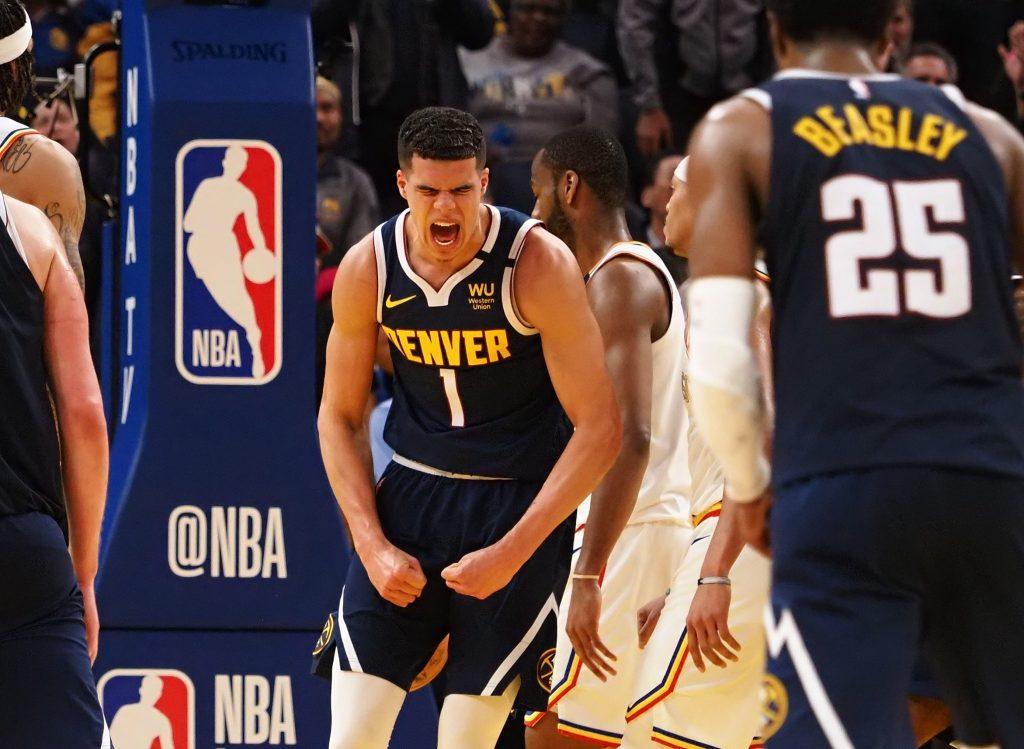 76ers at Wizards – Embiid +320
Admittedly, every first-basket bet is relative longshot—and a parlay with a several such props has especially long odds. So let's go with a favorite for at least one of the props and parlay legs, and that favorite is Embiid. Philadelphia's big man is 2-0 in tips so far in this series at the expense of Washington center Alex Len, dropping it off to Tobias Harris in the opener and to Seth Curry in Game 2. Embiid scored the first basket of Game 1 and also made a basket less than two minutes into Thursday's contest. The Wizards really don't have an answer for him down low, so expect Embiid to have his way with them early and often.
Jazz at Grizzlies – Conley +750
Utah vs. Memphis is all tied up at one win apiece as the Grizzlies pulled off a Game 1 upset before Donovan Mitchell returned for the Jazz and restored ordered to the proceedings in Game 2. Less importantly (well, more importantly for this piece), the jump balls are also 1-1. Jonas Valanciunas won it for the Grizz in Game 1 before Rudy Gobert got payback in Game 2. If I had to throw my eggs into one of those baskets, it has to be Gobert's. Either way, I like Conley's chances of scoring the first bucket, especially at +750 odds. The veteran point guard was the first-basket scorer on Thursday after scoring one minute and 32 seconds into the series opener. Look for him to get things going early once again.
Parlay odds: +28460
Why not sprinkle a few bucks on a parlay with all of these bets? It pays out at more than +28000 odds at FanDuel. It's the playoffs, so it's time to go big or go home.
Pickswise is the home of free NBA picks and predictions. Make sure to also check out our 'NBA parlays' and 'NBA prop bets' tabs for more expert picks.