NBA Western Conference Finals series predictions: Dallas Mavericks vs Golden State Warriors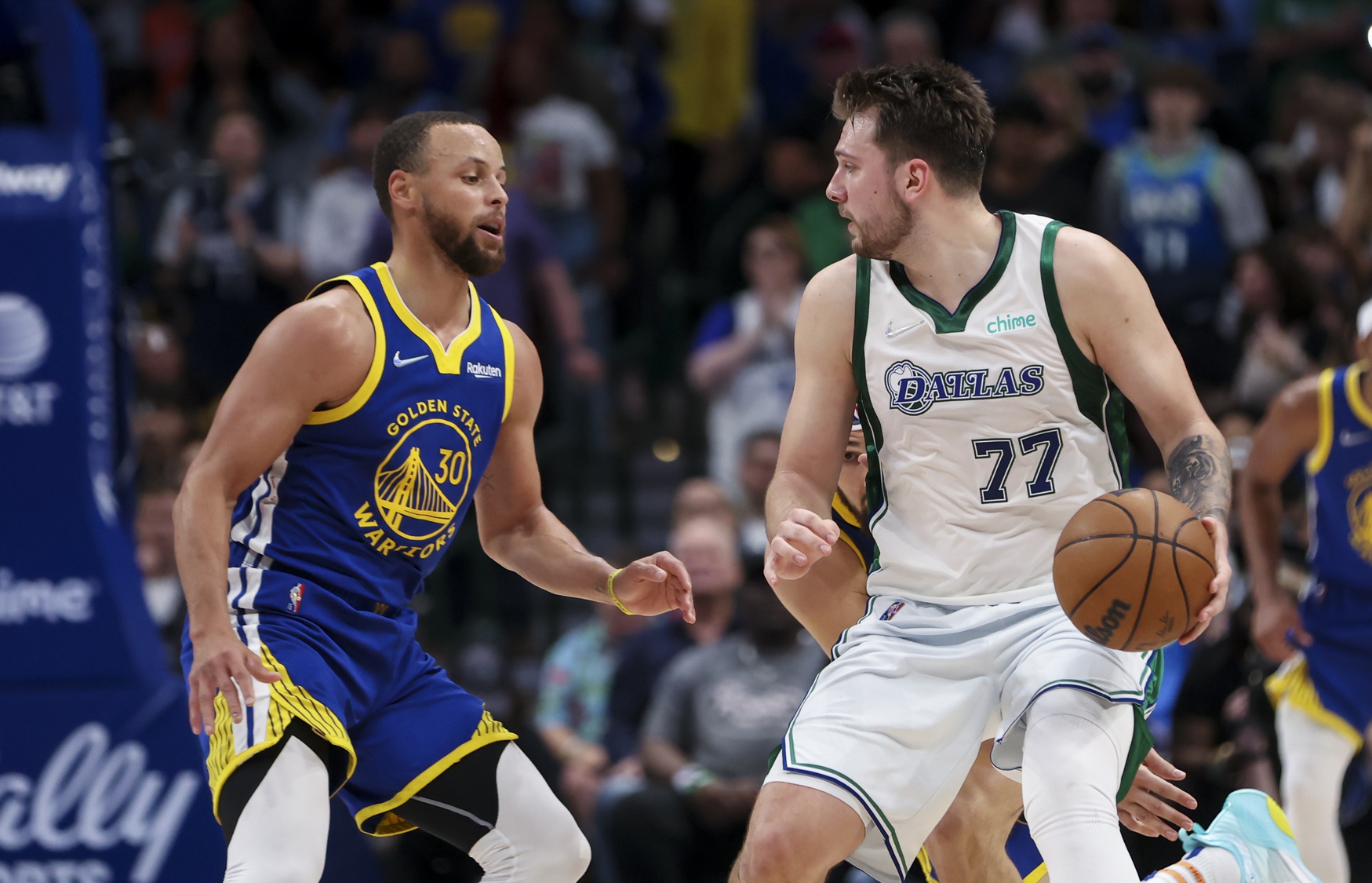 After shocking the Phoenix Suns on their home court in Game 7 on Sunday, the Dallas Mavericks booked a spot in the Western Conference Finals for the first time in over a decade. Standing in their way now are the Golden State Warriors who went through Memphis in 6.
Can the Mavericks shock the World with another series upset? Or will the dynastic Warriors advance to their 6th NBA Finals appearance in 8 seasons?
Let's break it all down!
Dallas Mavericks analysis: Can Luka Doncic get enough help in this series?
Let's face it, as good as Luka Doncic has been in these playoffs, it would be delusional to think he can singlehandedly beat these Golden State Warriors. Dallas did win 3 of the 4 meetings during the regular season, but in all 3 of those wins Luka got a ton of help in the form of either Jalen Brunson or Spencer Dinwiddie. Both of those guys have had their moments so far in these playoffs, especially Dinwiddie who just dropped 30 in the closeout game against Phoenix on the road, but they'll have to up their level of play vs the heavily favored Warriors.
Doncic averaged 31.5 points per game in 4 meetings with Golden State during the regular season on solid shooting splits. His stats are going to be insane at the end of the series, but they won't mean much if his team ends up losing. At just 23 years old, imagine what would it mean for his legacy if he is able to beat this Warriors team.
Don't forget to check our Game 1 Predictions for Dallas Mavericks vs Golden State Warriors
Golden State Warriors analysis: Youth & Experience the winning formula?
The core of the Warriors roster has remained mostly the same from the team that made it to the Finals in 5 straight seasons. Stephen Curry is leading the team in scoring with 26.9 points per game, while Klay Thompson is dropping 20.4 a night. Draymond Green isn't involved as much on offense, but he does the dirty work down low and will certainly be a huge factor in this series.
But what has stood out for me in this Warriors postseason run so far is the emergence of players like Jordan Poole who has been exceptional so far in both series. Against the Nuggets, Poole started a few games with Curry on the bench recovering from his injury, and against Memphis he returned to his bench role while averaging 19.3 points per game on 50% shooting.
Andrew Wiggins has also had a significant role with 14.5 points per game, and he is expected to be the primary defender on Luka Doncic in this series. And if that doesn't work, the Warriors can turn to rookie Jonathan Kuminga, who is their most athletic player by far. Kuminga is playing only 11.2 minutes per game, but if Wiggins struggles to stay in front of Luka we might see the rookie get extended playing time here.
The Warriors have a mixture of youth and experience on their roster and unlike Dallas who relies mostly on Doncic to create offensively, the Warriors like to spread out and get everyone involved. This team has been around long enough to know how to take advantage of that.
What will be the deciding factors of Dallas Mavericks vs Golden State Warriors?
Home court advantage could be a big one. Although the Mavericks closed out both of their series on the road, having to play a potential Game 7 on the road will be a really difficult task. The Warriors are undefeated in the postseason currently with a 6-0 record and during the regular season they went 31-10 at Chase Center. Dallas did win once there during the regular season, but the Warriors were up by 21 points in that game. Golden State also won the other game played there by 38 points.
Which version of Klay Thompson shows up here will also mean a lot in this series. After struggling for most of the 2nd round against Memphis, Klay finally woke up in the Game 6 win with 30 points and 8 threes made. Prior to that he averaged just 16.2 points per game in the first 5 games of the series on just 38% shooting from the field and 29% from three. He had a really decent series against Denver, but people were starting to question whether or not we will ever see the Klay of old. If Thompson can provide a secondary scoring option on a consistent basis, I really like the Warriors' chances here.
Dallas Mavericks vs Golden State Warriors series prediction: Warriors 4-2
We've seen experience be a huge factor in a lot of these series and entering this series it is clearly on Golden State's side. This team has been to the finals 5 times already, while the Mavs just made their first Conference finals in over a decade. Combine that with home court advantage, it's hard to look past Steph and co. even after seeing what Luka did to the Suns in Game 7 this Sunday. Just like the series in the East, this one should also be a long one, but I think ultimately the Warriors get the job done in either 6 or 7 games.
Back Golden State to win series 4-2 at +420 on FanDuel.
Pickswise is the home of free NBA picks and predictions. Make sure to also check out our NBA parlays and NBA prop bets tabs for more expert picks.