NFL Playoffs Wild Card reaction: Ravens finally earn a playoff win in the Lamar Jackson era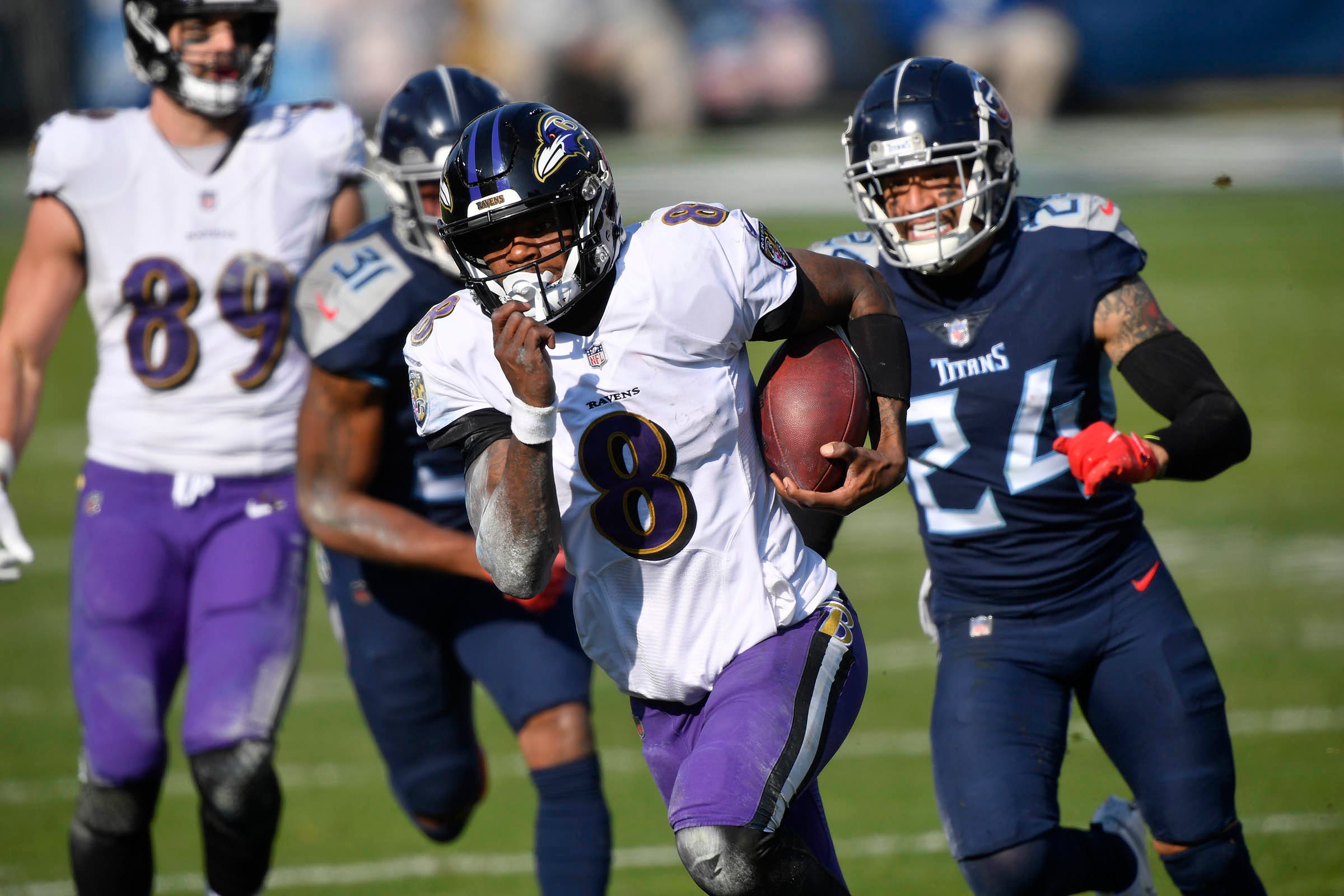 It came a lot later than he would have wanted, but Lamar Jackson has finally won a playoff game as a Baltimore Raven. After being dominated by the Chargers as a rookie and being shocked by the Titans in last year's divisional round, Jackson and the Ravens got their revenge as they came out on top 20-13.
It was a game that wound up being much more of a defensive battle than people anticipated, and full props need to go to the Baltimore defense. They did their job and kept Derrick Henry in check — that ultimately led to Tennessee's downfall.
Ravens peaking at the right time
There was a point this season when it looked like the Ravens could be done. They lost three straight (including against the Titans) and were struggling to get anything going on offense. They were dealing with all kinds of COVID-19 issues, and were put in a position where they would have to win out to make it into the playoffs. But they did.
Baltimore has now won its last six games, including a 47-42 thriller over Cleveland, and this team is once again looking like the franchise that went 14-2 last year and was untouchable on offense.
Sure, their offense didn't quite reach those same heights in this game in terms of putting points on the board, but they did continue to master the run game. Lamar Jackson had an incredible 136 rushing yards and a touchdown, while J.K. Dobbins and Gus Edwards also combined for 81 yards on the ground and a score.
There's no question that Jackson is back in the same form that made him so deadly last year, and defenses have no idea how to stop him. If Baltimore winds up playing Kansas City next week (which they will if Pittsburgh beats Cleveland) then their only option could be to try and outscore the Chiefs.
The Ravens lost to Patrick Mahomes and company 34-20 in Week 3, but this feels like a different Baltimore team. I think they've got what it takes to go toe-to-toe with the Chiefs, and I can't wait to see it if that is the divisional round matchup we get.
Look at Lamar man, so inspirational 😳

Lamar Jackson puts #RavensFlock back into position and just ripped out a huge chunk of his rushing yard total with a 48 yard TD 👀pic.twitter.com/0ZgdQjLJHx

— Pickswise (@Pickswise) January 10, 2021
Defense getting it done
While Lamar Jackson and the Ravens offense has certainly been getting it done, you can't help but admire how much this defense has improved, and also how much it goes under the radar.
You often hear about how elite the Rams, Bucs, and Saints defenses are, but the Ravens actually allowed the second-fewest points in the NFL this season (behind the Rams). Since the aforementioned 89-point shootout with Cleveland, Baltimore has now kept its last four opponents to 14 points or fewer.
Defensive coordinator Don Martindale came up with a master gameplan for shutting down Derrick Henry, who ended the game with just 40 rushing yards (his fewest all season). For that, he deserves tons of praise. But you have to think, if he can shut down Henry, then can he shut down Mahomes?
Similar to the Henry situation, the Ravens have already played the Chiefs this season so Martindale will know from that game where his team needs to improve. If Baltimore can indeed step up and limit the K.C. offense even slightly, then that could be the break they need to pull off the upset.
The Ravens will have all the confidence in the world, and I wouldn't feel confident betting against them with anybody right now.
Pickswise is the home of free Super Bowl Predictions. Our expert handicappers break down all things Super Bowl, including our best free Prop Bets and our Super Bowl Parlays.