NFL Week 17 money line 6-team mega parlay (+6355 odds)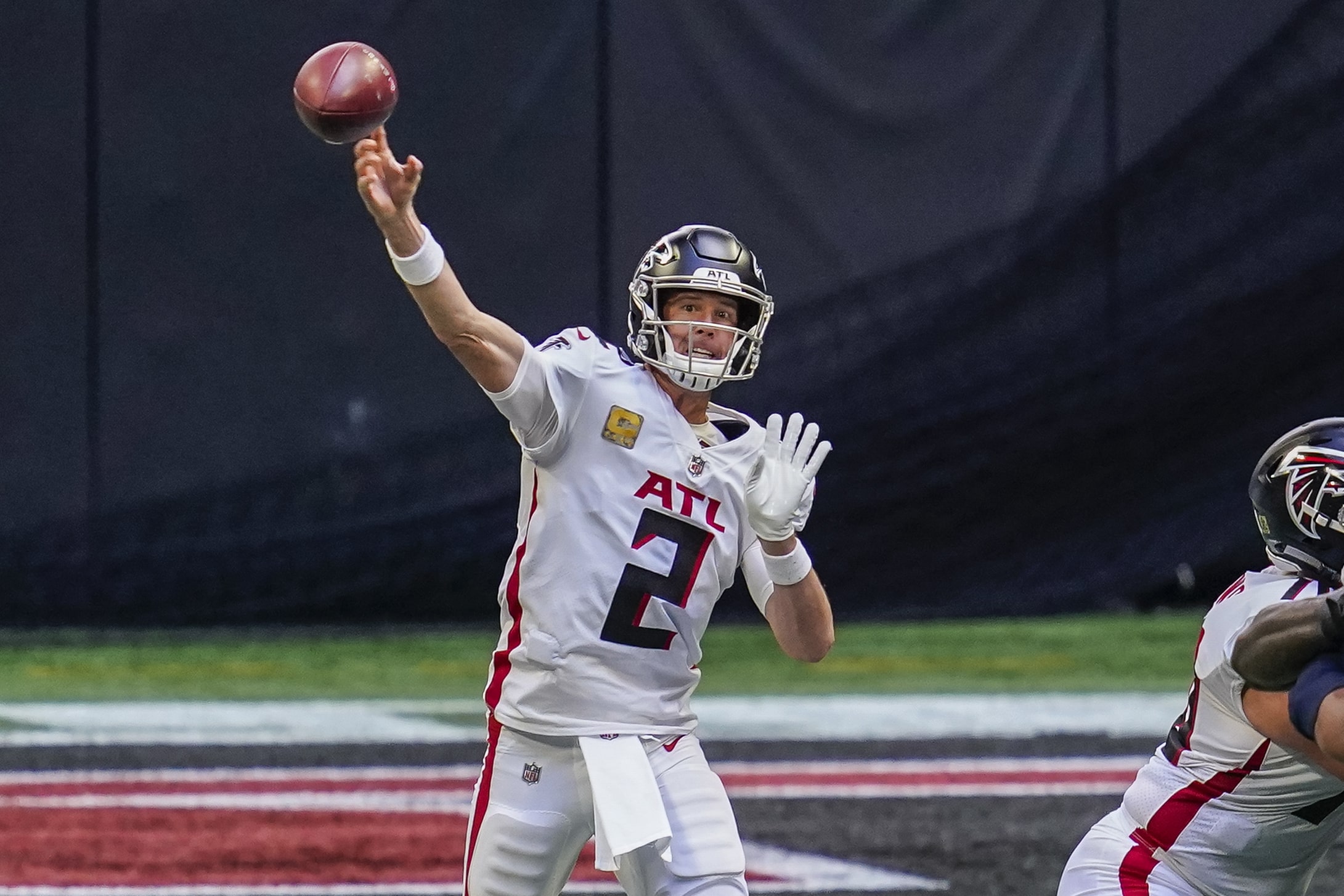 We cashed our Week 13 NFL mega money line parlay at 74/1 odds just a couple of weeks ago, and are hoping to cash another big one before the NFL season officially winds down. What better way to celebrate the final Sunday of the regular season than with a mega parlay for one last chance to fire the board. There's a lot to like about this Week 17 NFL card, and while you'll of course have your regular compliment of wagers, it's also a lot of fun to sprinkle a few bucks on a big parlay with a huge payout.
While you can get our thoughts on the side and total for every Week 17 NFL game, here we'll be picking a handful of money line spots that each present value, with a few underdogs mixed in. This week we've got a six-teamer for you, with a payout north of 60/1.
Atlanta Falcons +260
New York Giants +105
Los Angeles Rams +155
Green Bay Packers -235
New Orleans Saints -305
Washington Football Team -130
Parlay odds: +6355
I think each of these plays has standalone value, and the two heavy favorites are very likely winners, so let's break down each of them one by one.
Atlanta Falcons to beat Tampa Bay Buccaneers (+260)
I continue to think this Buccaneers team is overrated. What better time to fade them than when they're coming off their dominant nationally televised win over the Lions? Yes they're still playing for the fifth seed, but they've already got their playoff spot wrapped up. The Bucs are just 4-3 in their last seven, with the wins coming against the Panthers, Vikings, Falcons, and Lions. Three teams struggling mightily plus this Atlanta team. Of course, the Falcons were winning by 17 points late in the third quarter of their first meeting, so it's not like they're at all out-classed in this matchup. The Falcons have been fighting hard for interim coach Raheem Morris, and they surely have that blown lead fresh in their minds which will have them extra riled up for this finale. Of all the big underdogs on this Week 17 card, the Falcons easily make the most sense.
New York Giants to beat Dallas Cowboys (+105)
If you'd listened to us earlier in the week, you could've got the Giants +3. Even at closer to a pick em now I still like the Giants, and that initial line was ridiculous. Dallas has gotten all this praise for beating the Bengals, 49ers, and Eagles, three teams going nowhere. Meanwhile everyone has been quick to bury the Giants for losses to the Cardinals, Browns, and Ravens. Right before that New York had rattled off four straight wins, including one over the Seahawks. I think these offenses are nearly equal, but the Giants have the far superior defense and are playing at home.
Los Angeles Rams to beat Arizona Cardinals (+155)
Getting this much plus-money with the Rams here is an absolute steal. Keep in mind that the lookahead line on this game published last week was Rams -4, and we've now seen a four-point adjustment to Rams +3 after the injury to Jared Goff. Needless to say, that's far too much for a quarterback of Goff's caliber. Sean McVay should be able to coax a strong enough performance out of former AAF star John Wolford, and Los Angeles has the far superior defense in this matchup. Jalen Ramsey can shutdown DeAndre Hopkins, and Hopkins is now dealing with a hip injury as well. Kyler Murray is also very banged up, so he won't be as mobile or able to escape Aaron Donald's grasp as easily.
Green Bay Packers to beat Chicago Bears (-235)
I hate to throw cold water on the Mitchell Trubisky resurgence, but I'm not sure it's much of a resurgence at all. Chicago has beaten the Texans, Vikings, and Jaguars to get back in the playoff hunt, three teams with very little life these days. Right before those victories they had just lost to the Lions and were on a six-game losing streak. Now that Trubisky isn't facing one of the worst defenses in the league anymore, I expect him to start struggling again. The Packers need this game to wrap up the top seed and only bye in the NFC, so it's not like they're going to be slacking off here. Chicago's defense has quietly been playing pretty poorly recently, so I don't think they have any chance of slowing down Aaron Rodgers.
Is Lamar Jackson the fastest QB in the league?

FALSE ITS AARON RODGERS 💰

— Pickswise (@Pickswise) November 15, 2020
New Orleans Saints to beat Carolina Panthers (-305)
The Saints are also still fighting for that first-round bye, so don't expect them to take this one lightly either. The Panthers absolutely can not stop the run right now, and Alvin Kamara is coming off a game where he had six rushing touchdowns. Carolina is just 2-8 in their last ten games, with the only two wins coming against the Lions and Washington. They only beat Washington this past week because Dwayne Haskins looked like he was shaving points, and even in that victory they didn't score in the second half. The talent gap here is just too wide to overcome.
Washington Football Team to beat Philadelphia Eagles (-135)
Hopefully we can bring this one home with the final game of the 2020 NFL regular season. Washington can clinch the NFC East with a victory, while the Eagles have nothing to play for after a collapse against the Cowboys last week left them eliminated from the playoffs. Philly is very banged up right now, while it looks like Washington is on track to get Alex Smith back from his calf injury. Washington also has stud running back Antonio Gibson back now. Jalen Hurts will be running for his life all game long as the Eagles' patchwork offensive line will try, and fail, to block this dominant Washington defensive front. Rookie pass-rusher Chase Young should have another big game here, and the offense will do enough to lead Washington to victory.
Pickswise is the home of free NFL Predictions and NFL Odds. Check out the latest NFL Prop Bets and NFL Parlays as well as expert NFL Underdog Picks and NFL Computer Picks.