NFL
Back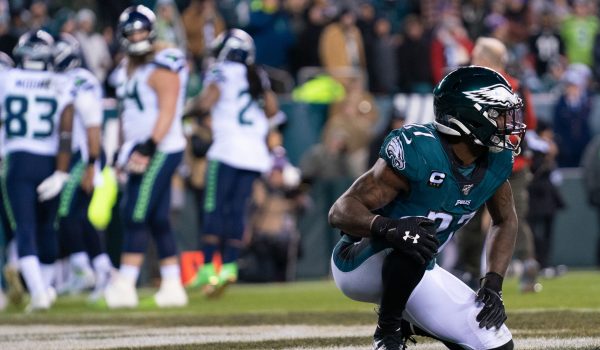 Philadelphia Eagles: What will their 2020 record be?
The Philadelphia Eagles went with a relatively little-known receiver in the first round of the NFL Draft and then selected an insurance policy at quarterback in the form of Jalen Hurts with their next pick. Those are not necessarily bad choices, but neither one suggests that the Eagles are going all in to win right now.
Moreover, their 2020 schedule is no walk in the park. Let's break it down game by game and see how head coach Doug Pederson and company will fare.
Week 1: @ Washington Redskins
Philadelphia's opening stretch of games is far from difficult, and it begins with an NFC East battle against Washington. The fact that it's on the road makes it somewhat interesting, but the visitors should prevail. Win
Week 2: vs. Los Angeles Rams
You never know if Carson Wentz can stay healthy for more than one week, which means this could be Hurts vs. Justin Herbert. Whatever the case, Philadelphia is a superior squad. Win
Week 3: vs. Cincinnati Bengals
Speaking of rookie quarterbacks, Joe Burrow pays a visit to the City of Brotherly Love in Week 3. Don't expect the Eagles to be generous hosts even though Cincinnati was the worst team in football last year. Win
Week 4: @ San Francisco 49ers
Philly goes from one of its easiest stretches of the season right into its toughest. And it begins with the most difficult test of the trio: a road trip to defending NFC champion San Francisco. Loss
Week 5: @ Pittsburgh Steelers
Back-to-back road dates with the 49ers and Steelers is not an easy proposition. If Ben Roethlisberger is healthy, Pittsburgh will be a tough place to find a 'W.' Loss
Week 6: vs. Baltimore Ravens
Don't let the Ravens' playoff meltdown against Tennessee blind you from just how good they were in 2019. And the scary thing is that Lamar Jackson is only getting better and better. Loss
Week 7: vs. New York Giants
The Eagles' first two NFC East contests come against Washington and New York. That means a real opportunity is there for them to jump out to 2-0 division record. Win
Why not make it 3-0 in the division? Philadelphia's opening showdown with Dallas comes at home, which should be enough to pocket a victory. And what is going on with Dak Prescott's contract demands?!?! Win
Week 9: BYE
Week 10: @ New York Giants
The Eagles will feel good about themselves going into the bye week with a victory over Dallas. They will feel good coming out of it, as well, getting to play the Giants once again. Win
Week 11: @ Cleveland Browns
Are the Browns ever going to live up to expectations? They certainly did not last season. Cleveland might be unable to this time around, also, but at home it should be good enough to beat Philly. Loss
Week 12: vs. Seattle Seahawks
I have the Eagles going 6-2 at home in 2020, which seems reasonable if not slightly on the optimistic side. Setbacks at the hands of Baltimore and Seattle are not exactly bad ones. Loss
Week 13: @ Green Bay Packers
The Packers may not be as good as they were in 2019, but Aaron Rodgers will definitely have them still in contention at this point of the season. Rodgers and company will take care of business at the Frozen Tundra. Loss
Week 14: vs. New Orleans Saints
With the Eagles having lost three in a row for the second time already this year, they will absolutely have to pick up a big win over the Saints. It won't be easy, but at home it's a realistic endeavor. Win
Week 15: @ Arizona Cardinals
Will Philadelphia get caught looking ahead to closing games against a pair of NFC East rivals? Even if that's not the case, Arizona is a tough out. Kyler Murray has that program on the rise. Loss
Week 16: @ Dallas Cowboys
Could the division title be at stake in this one? It's certainly not out of the question. Playing at home, the edge here goes to Prescott, Ezekiel Elliott, and the Cowboys. Loss
Week 17: vs. Washington Redskins
As usual, by this point the Redskins will be playing for another high draft pick. If the Eagles are lucky, they'll be playing for a potential playoff spot. In Philly, this will likely be a rout. Win
The NFL has expanded its playoffs to included seven teams in each conference, which means an 8-8 record has at least some chance of allowing a team to sneak inside the cut line. But it won't be easy; nor will it by easy for Philadelphia to come up with a record much better than 8-8. Based on both its own talent level and a tough schedule, a .500 mark seems like the end result.
Last updated: Wed 27th May 2020