Ryder Cup Sunday singles best bets: Morikawa and DJ will end it early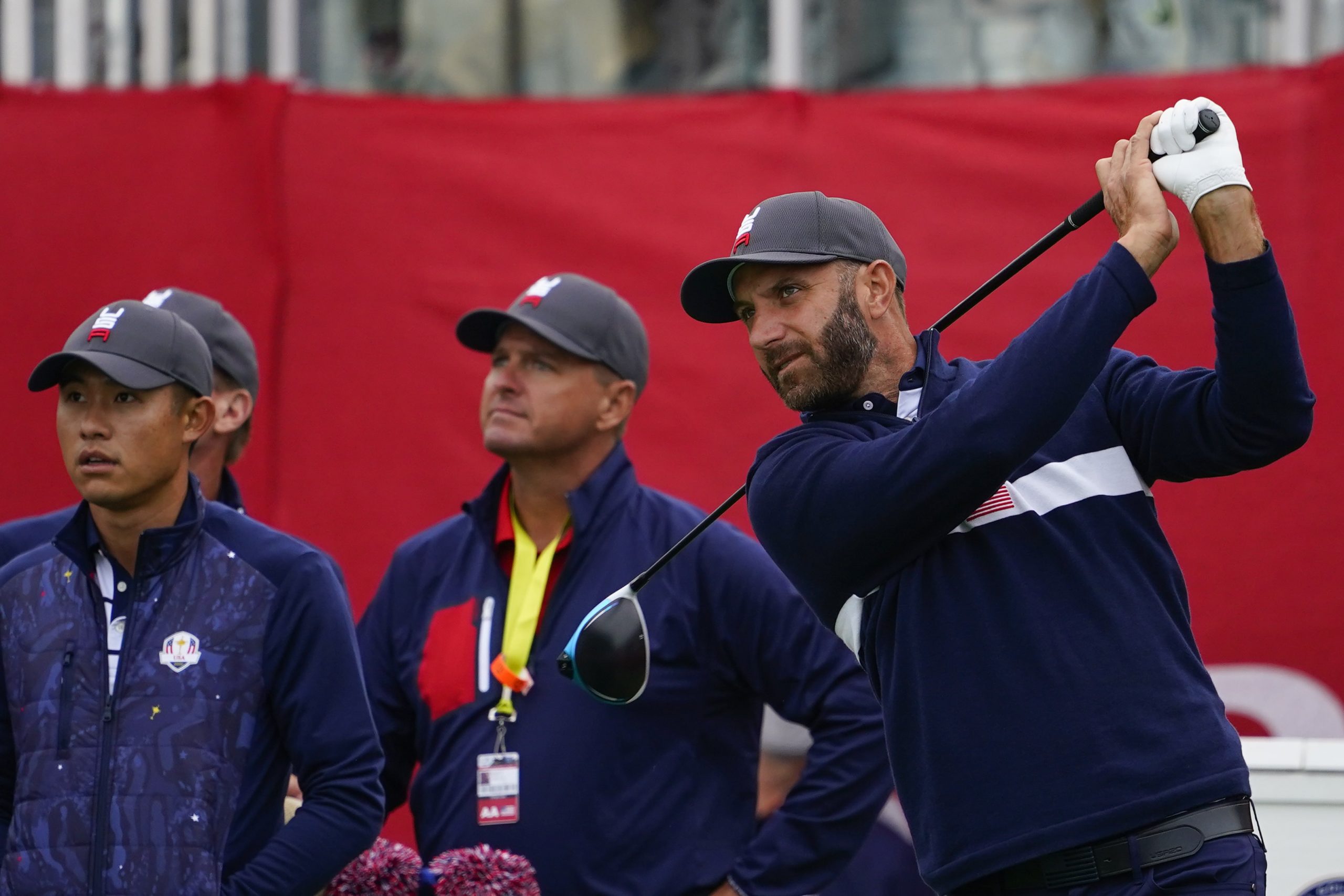 I said that the Ryder Cup was over after Day 1 and I was right. It didn't take a genius to do so, after all. The heavily-favored Americans already had a 6-2 lead in their pocket. Now it really is over, as the host nation extended its advantage to 11-5 on Saturday. Look no further than the odds to confirm as much. The United States is -10000 to win the cup. That's right; you have to bet $100 just to return a measly $1.
No team in Ryder Cup history has ever come back from a bigger deficit than 10-6 on the final day, and erasing even a 10-6 deficit requires an absolute miracle. This European squad certainly isn't going to be the one to make history. Outside of Jon Rahm, it is saddled with vastly inferior talent to Team USA up and down the board.
Despite the likely lack of drama on Sunday, there is still plenty of betting intrigue on individual matches. We are on fire with a perfect 6-0 record through two days, so let's try to keep it rolling! Here's a look at our three best singles bets for the final day.
Xander Schauffele (-150) over Rory McIlroy
First of all it should be noted that more than half of the singles matches are unlikely to finish given how big of a blowout this is. If they do decide to finish the ones still on the course even after the Americans win, meaningless competition makes for risky betting. Thus it is smarter to bet on the matchups that tee off earlier compared to later.
Schauffele and McIlroy are going first. United States captain Steve Stricker is aiming for the knockout blow right away with one of his best players and the reigning gold medalist at the Olympics. European captain Padraig Harrington is hoping that the McIlroy of old suddenly wakes up and provides an unexpected jolt of energy into the visiting side. It would be shocking if McIlroy delivers. He is 0-3 so far this week and deserves every bit of his winless record. The Northern Irishman has absolutely no idea where his golf ball is going these days. Schauffele, on the other hand, is 3-0 and playing incredible golf. This one should be a laugher.
Collin Morikawa (-140) over Viktor Hovland
It has been a tale of two different Ryder Cups for these rookies. Morikawa is 3-0 and two of his three matches with Dustin Johnson were complete blowouts. Hovland for some reason played in all four team sessions and went 0-3-1 to show for his efforts. The Norwegian's three losses came by a total of eight holes. His short game has been an abject disaster in the pressure moments–which it often is during the main PGA Tour season, as well. Having already played four rounds, Hovland is going to be mentally and physically spent. Morikawa should win this one going away.
Dustin Johnson (-190) over Paul Casey
The official world golf rankings aren't lying, folks. Rahm, the world No. 1, has been incredible for Team Europe. Johnson, the world No. 2, is 4-0 and his wins have come by a combined 11 holes. He is the only guy who could compete with Rahm on Sunday, and vice versa. But it isn't Rahm vs Johnson (unfortunately). Casey has the unenviable task of facing the red-hot American, and the 44-year-old Englishman is just about the last guy who could challenge Johnson. He is 0-3 this week and not once has he taken a match to the 18th hole. Even at -190, this is a great play. It is hard to see any scenario in which Johnson loses.
Remaining singles picks
Patrick Cantlay (-160) over Shane Lowry
Sergio Garcia (+115) over Bryson DeChambeau
Brooks Koepka (-180) over Bernd Wiesberger
Harris English (-165) over Lee Westwood
Tyrrell Hatton (+145) over Justin Thomas
Tommy Fleetwood (+130) over Jordan Spieth
Jon Rahm (-180) over Scottie Scheffler
Tony Finau (-160) over Ian Poulter
The Pickswise golf handicappers are on hand with expert Golf Picks and Golf Predictions as well as tournament previews and analysis throughout the PGA Tour season, including all of the majors. This weekend we will also provide daily Ryder Cup best bets.