Super Bowl 57 National Anthem Prop Bet Odds, Picks, Predictions and Key Trends
If you're interested in trying to win a bet before Super Bowl 57 even begins, then the National Anthem may be for you. Betting on the duration of the National Anthem has grown in popularity in recent years, and this year won't be any different. Country superstar Chris Stapleton will be performing the National Anthem at the Super Bowl this year, and based on the way he sings and his popular songs, we have a best bet for the National Anthem length.
DraftKings is one of the most popular and trusted sportsbooks in the United States, and you can understand why with a new-customer offer where you can bet $5 and immediately get $200 in bonus bets. Click here to sign up to DraftKings right now.
How To Bet On The National Anthem
Placing a bet on the National Anthem is quite easy since you're either betting on the over or the under of the length of the performance. However, this year, several sportsbooks have not produced a National Anthem betting line, so make sure to shop around to find a line. You can usually find the National Anthem under specialty props for most sportsbooks.
Super Bowl National Anthem Previous Times & Trends
Heading into Super Bowl 57, the over has been victorious in 3 of the last 4 Super Bowls. The last time a country artist performed the National Anthem at the Super Bowl was by Luke Bryan in 2017, and the National Anthem exceeded two minutes. Bryan completed at 2:04 despite the National Anthem over/under being set at 2:09, which was a little quicker than expected.
The over has prevailed in six of the contests if you examine the last 10 Super Bowls as a wider sample size. In the past 20 years, there has only been one instance of the over hitting in three straight Super Bowls, which occurred from 2008 to 2010. If Stapleton hits the over in Super Bowl 57, it will mark three straight overs for a second time. The previous two overs were performed by Mickey Guyton last year, as he exceeded the length by 17 seconds, and Jazmine Sullivan and Eric Church, who went 18 seconds over during Super Bowl 55.
Here is the list of the last 11 Super Bowl National Anthem performances and times: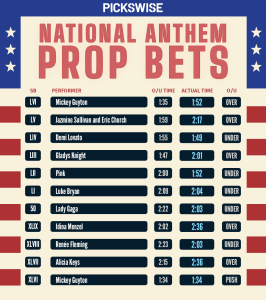 Super Bowl National Anthem Odds
Over 1:59 (-110)
Under 1:59 (-110)
The line for the National Anthem can vary depending on the sportsbook that you use. It's possible to find a length that is less than two minutes, like this one, or a line above 2 minutes. Shopping around is essential, regardless of if you're taking the over or under, because if you want to take the under, you'll want to find the highest over/under set to increase your chances of winning. But if you decide to take the over, look for an over/under that is set at 2 minutes or less, like this one.
All of today's biggest games are available to bet with BetMGM, the premier destination for online sports betting. New customers can earn themselves a $1,000 deposit bonus by signing up right now! Click here to lock in this great sign-up offer.
Super Bowl National Anthem Picks and Predictions
With Chris Stapleton performing the National Anthem at Super Bowl 57, we are taking the over 1:59 as our best bet. It is a challenging bet to research for, considering Stapleton has never sang the National Anthem in public before. Therefore, we must examine Stapleton's musical background and performance style.
The slower-paced music that Stapleton is known for and his country twang seem to be ideal for the over. It's clear that Stapleton isn't the fastest singer while listening to some of his biggest singles, including "Tennessee Whiskey" or "You Should Probably Leave." The last time a country artist performed the National Anthem at a Super Bowl, it was over 2 minutes long. I expect the same from Stapleton at Super Bowl 57.
Free NFL Super Bowl 57 picks and other information
Want more Super Bowl novelty props picks and predictions? Be sure to check the rest of our previews to make sure you're as informed as possible before making your bets on the big game!
Unibet has arrived, and you can get $100 in bonus bets by signing up right now. Click here to join Unibet and lock in their great new customer bonus.
Pickswise is the home of free Super Bowl Predictions. Check out our expert handicappers' best Super Bowl Picks including our free Super Bowl Prop Bets and Super Bowl Parlays.