NFL
Back
Best to Worst - Ranking Tom Brady's Super Bowl Wins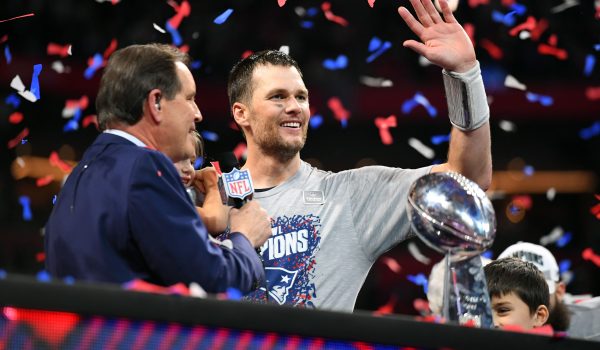 NFL
4:00PM
Tue 2nd February 2021

NFL
4:00PM
Tue 2nd February 2021
Phil Agius
See Bio
Phil Agius

@philagius
phil.agius@racingpost.com
I've been writing about the NFL and a host of other sports for the UK's top daily betting paper the Racing Post for more than 20 years. An incurable Browns fan (1-31 survivor), I also specialise in all kinds of motorsport betting including F1, MotoGP, IndyCar and NASCAR.
By Phil Agius

@philagius
phil.agius@racingpost.com
See Bio
I've been writing about the NFL and a host of other sports for the UK's top daily betting paper the Racing Post for more than 20 years. An incurable Browns fan (1-31 survivor), I also specialise in all kinds of motorsport betting including F1, MotoGP, IndyCar and NASCAR.
Super Bowl 55 is nearly upon us, and for a lot of the players it will be the biggest game of their lives. However, for Tom Brady, it is just one of the 10 biggest games of his life. After all, Brady has already contested nine Super Bowls in his storied career, and he has come out on top in six of them.
Make sure you check out our full-game preview for the Chiefs vs. Buccaneers, where we have our best picks on the side and total, but right now we're focusing on the greatest of all time, TB12.
Here is my breakdown of each of Brady's sensational six Super Bowl victories, ranking them from best to worst:
1. Super Bowl LI, February 5, 2017
New England 34, Atlanta 28
Vegas line: New England -3
43/62 passes completed
466 passing yards
2 TDs
1 interception
QB rating 95.2
The most sensational of Tom Brady's six Super Bowl wins (to date) came in 2017 at the expense of the Atlanta Falcons.
Trailing 28-3 with less than three minutes left in the third quarter, statistical models gave Brady's New England a 99.8 percent chance of losing. But they didn't.
The former Michigan man threw touchdown passes to James White and Danny Amendola and marched them down the field again for White to score on the ground with less than a minute left, completing a two-point conversion to Amendola which tied the game.
In the first-ever overtime Super Bowl, Brady puffed his stats to 43 completed passes for 466 yards. White ran in the winning score as Brady claimed his fourth Super Bowl MVP award to go ahead of Joe Montana on the all-time list.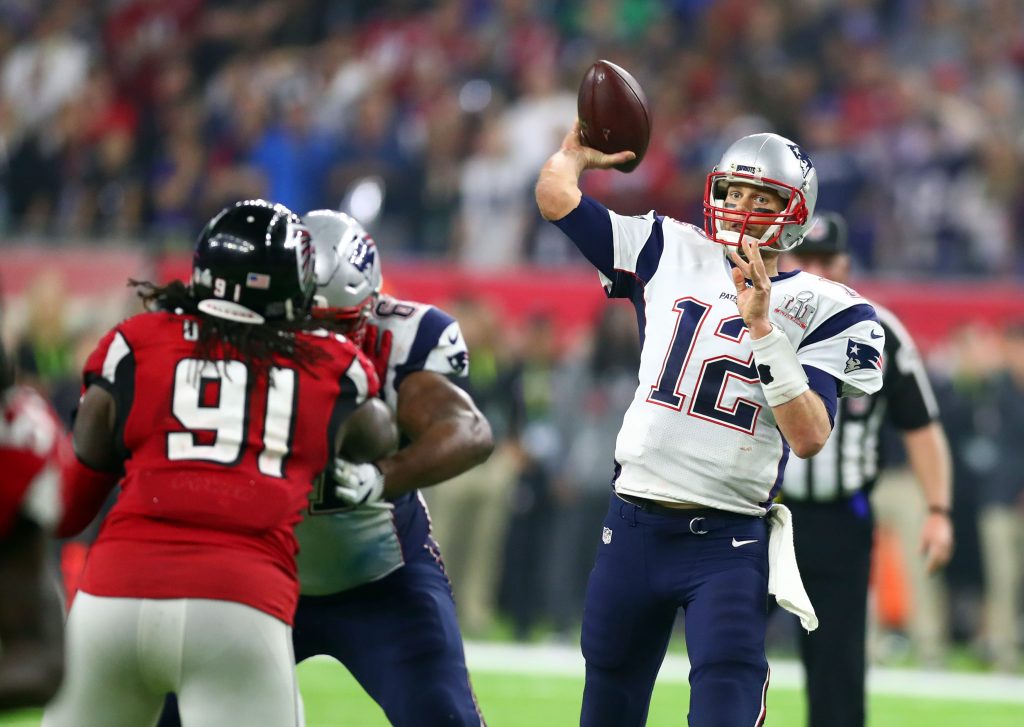 2. Super Bowl XXXVI, February 3, 2002 
New England 20, St. Louis Rams 17
Vegas line: New England +14
16/27 passes completed
145 passing yards
1 TD
0 interceptions
QB rating 86.2
It's hard to imagine now but the first success of the Super Bowl-winning dynasty formed by New England head coach Bill Belichick and quarterback Tom Brady was a classic underdog victory.
With veteran Drew Bledsoe at quarterback, the Patriots had started the season at gigantic odds of +6000 and they were as big as +15000 for the Vince Lombardi Trophy after losing their first two games.
Bledsoe suffered a serious chest injury in Week 2 and was replaced by Brady, the unsung 199th pick in the 2000 draft, who had completed one pass for six yards in his rookie season.
The Patriots went 11-5 after a 3-4 start but they headed to the Super Bowl as 14-point underdogs against the slick Rams, whose awesome offense — led by QB Kurt Warner, receivers Torry Holt and Isaac Bruce, and running back Marshall Faulk — was known as The Greatest Show on Turf.
Brady's statistics show that the workmanlike win was not really down to his passing heroics, but demonstrated an icy big-match temperament, enabling Adam Vinatieri to kick the winning 48-yard field goal as time expired.
3. Super Bowl XXXVIII, February 1, 2004
New England 32, Carolina 29
Vegas line: New England -7
32/48 passes completed
354 passing yards
3 TDs
1 interception
QB rating 100.5
The 2004 Super Bowl in Houston had everything – the notorious wardrobe malfunction by Janet Jackson at halftime, no points at all in the first or third quarters, and 37 of them in a crazy fourth quarter.
Brady threw three touchdown passes as New England relied on a battery of smaller receivers – Troy Brown, Deion Branch, and David Givens – although one of their scores was hauled in by linebacker Mike Vrabel, now head coach of the Tennessee Titans.
Brady had developed into much more than a game-manager by this time and his 32 completions were the most in Super Bowl history. In standard fashion, Brady got the team in position to win with a Vinatieri field goal as time expired.
No. 37: 2003 Super Bowl XXXVIII – Panthers vs. Patriots (Feb. 1, 2004) #NFL100 @Patriots

📺: NFL 100 Greatest Games on @NFLNetwork pic.twitter.com/hV9YLRUJpP

— NFL (@NFL) September 28, 2019
4. Super Bowl XLIX, February 1, 2015
New England 28, Seattle 24
Vegas line: New England +1
37/50 passes completed
328 passing yards
4 TDs
2 interceptions
QB rating 101.1
It may not seem like it now but Brady had to wait 10 years between his third and fourth Super Bowl wins including two defeats by the New York Giants, who were underdogs on both occasions. 
But the Patriots staged what was then the biggest comeback in Super Bowl history to deny Seattle back-to-back victories.
Ten points behind with less than eight minutes left, Brady threw TD passes to Danny Amendola and Julian Edelman to put the Patriots up by four points. But it appeared not to be enough when Seattle had second and goal from the one-yard line with 26 seconds left.
However, instead of asking running back Marshawn Lynch to run in the winning score, the Seahawks chose to pass and Russell Wilson's attempt was intercepted by Malcolm Butler.
5. Super Bowl XXXIX, February 6, 2005
New England 24, Philadelphia 21
Vegas line: New England -7
23/33 passes completed
236 passing yards
2 TDs
0 interceptions
QB rating 110.2
An efficient performance proved to be enough when Tom Brady beat current Chiefs coach Andy Reid's Philadelphia Eagles team in 2005. 
Brady secured his third Super Bowl win in four years in a game that was tied at 14-14 after three quarters.
He found Deion Branch 11 times for 133 yards but didn't need to throw any completions further than 27 yards as the New England defense forced four turnovers.
No team has managed to win back-to-back Super Bowls since, but Reid's Kansas City has a chance to change that on Sunday.
FLASHBACK: When the #Patriots played the #Eagles in the 2005 Super Bowl, Tom Brady threw a touchdown pass to … Mike Vrabel. #WBZ pic.twitter.com/fRSdSGx0tN

— Liam Martin (@LiamWBZ) January 22, 2018
6. Super Bowl LIII, February 3, 2019
New England 13, Los Angeles Rams 3
Vegas line: New England -2.5
21/35 passes completed
262 passing yards
0 TDs
1 interception
QB rating 71.4
Brady reached his third successive Super Bowl by winning his first playoff battle with Kansas City's Patrick Mahomes in a thrilling 37-31 overtime victory.
The quarterback's sixth Super Bowl triumph was a far less exciting contest, though, as the Rams were beaten 13-3 in a game featuring just one touchdown and which was level at 3-3 until Sony Michel ran in the decisive score with just seven minutes left.
With no TD passes thrown and an interception on his first pass of the game, it was no surprise that this became the second of Brady's six Super Bowl wins for which he did not claim the MVP award. Instead, it went to wide receiver Julian Edelman, who was on the end of 10 of Brady's 21 completed passes for 141 yards. Tight end Rob Gronkowski caught six balls for 87 yards but no other Patriots player had more than two catches.
New England set a slew of Super Bowl records, not least Brady surpassing former Dallas and San Francisco pass-rusher Charles Haley to take sole custody of the record for most Super Bowl wins by a player.
But overall it was a contest that will live longer in the memory of NFL historians than most fans.
Free Super Bowl 55 Picks and Predictions
Be sure to check out our full-game preview for the big matchup:
We've also got plenty of expert articles to make sure you're fully informed before making your Super Bowl bets:
Pickswise is the home of free Super Bowl Predictions. Our expert handicappers break down their best Super Bowl Picks, including our best free Prop Bets.
Last updated: Sat 6th February 2021