Three Winners, Three Losers From 2021 NFL Draft: Giants Get Great Value
The 2021 NFL Draft is in the books, and it was thrilling. The first three picks were all quarterbacks, and the intrigue didn't stop there. There were plenty of big splashes, trades, surprising falls and everything in between. We won't know the full story on these draft classes for years to come, but plenty became clear right away. We can't judge the results yet, but we can judge the processes. Accordingly, we're bringing you our three biggest winners and losers from the weekend, with the Giants deserving lots of praise.
Let's dive in:
Winners of the 2021 NFL Draft
Minnesota Vikings
We can all debate the Kellen Mond pick for eternity. But no matter what you think of the third-round quarterback, the rest of Minnesota's draft looks pretty good. With their first-round pick they addressed a big need, drafting Virginia Tech tackle Christian Darrisaw. Darrisaw has the potential to be an elite left tackle, and will immediately take Riley Reiff's place protecting Kirk Cousins' blindside. Minnesota had a whopping seven picks in the third and fourth-rounds, so they were able to load up on depth guys.
They added a couple of defensive ends, and another potential starting offensive lineman in Ohio State guard Wyatt Davis. Davis slipped in the pre-draft process, but had previously been viewed by many as a first-round talent. The Vikings were really banged up on defense last year, and with Aaron Rodgers potentially leaving the division, I like Minnesota a lot as a sleeper team. You can get them around 50/1 to win the Super Bowl, which looks very appealing to me. Mond has some upside, and if he turns into a future starter this draft class will be a home run for GM Rick Spielman.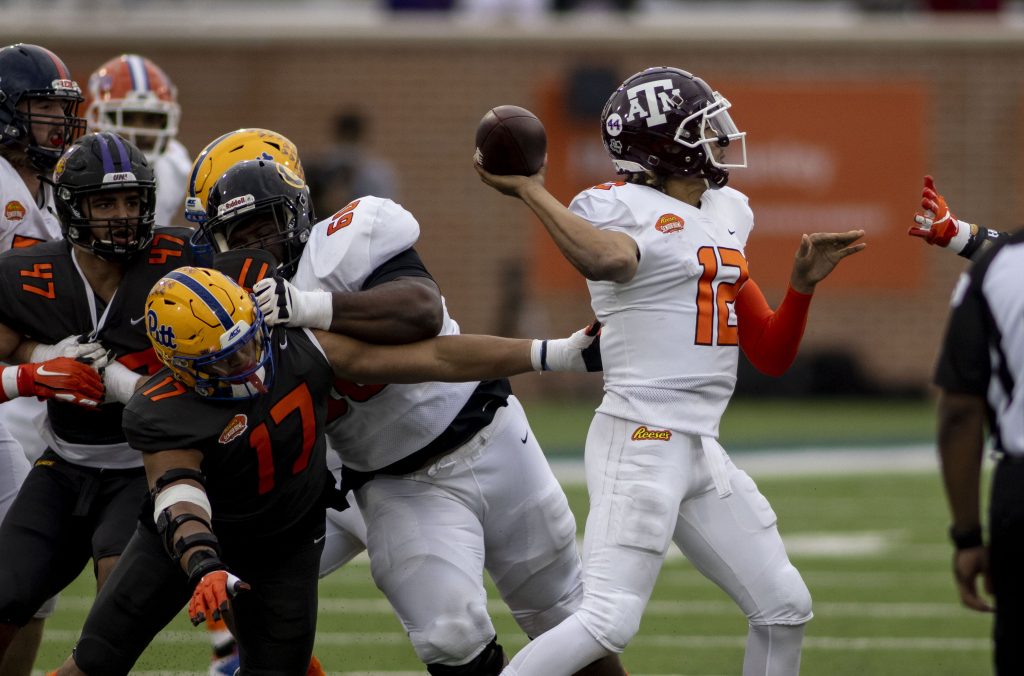 New York Giants
I like to give Dave Gettleman a hard time as much as the next guy, but he deserves credit here. Countless articles were written about how the Giants GM never trades down, and then he did it in each of the first two rounds. He got great value both times. For moving down from 11 to 20, Gettleman got an extra first-round pick from the Bears and some mid-rounders. There's a good chance that free Chicago pick ends up being even better than 11th overall next year.
For picking up an extremely valuable first-round pick, the Giants didn't even lose out on anyone. New York clearly wanted another receiver for Daniel Jones, and none were taken between 11 and 20. Kadarius Toney was the best receiver on the board at 11, and he was the best receiver at 20. Gettleman showed he's a little more shrewd than anyone would like to admit. Even if the Giants disappoint in 2021 and he gets fired, they're now set up very well for the 2022 draft.
Getting Azeez Ojulari at 50th overall is also a steal. He led the SEC in sacks last year, and is still only 20. He slipped that far only because of his medicals, but if the Giants can keep him healthy that pick can be a game-changer.
Chicago Bears
It's always puzzling seeing teams that need to be aggressive get scared by the bright lights. Matt Nagy and Ryan Pace know they're both fighting for their jobs, and at least they acted like it in this draft. Even if the bold moves they made don't work out, at least they went down swinging. That's more than most head coaches and general managers can say these days. The Bears made the big splash of the draft, trading up with the Giants to land Justin Fields.
It's impossible to say how Fields will turn out, but they've now got a shot at having an elite franchise quarterback. Andy Dalton wasn't going to save anybody's job. The Bears didn't stop their aggression there, as they also traded up in the second-round. That time to land tackle Teven Jenkins, who looks like he's going to be a day-one starter at left tackle. Go big or go home, and the Bears certainly didn't shy away from the moment. Their NFC North rival the Lions essentially punted on 2021 by passing on a quarterback with the seventh pick, and Chicago wasn't going to make the same mistake.
Justin Fields threw for 385 yards against Clemson

His passing prop bet is set at 296.5 📈pic.twitter.com/2pkEESLIWS

— Pickswise (@Pickswise) January 12, 2021
Losers of the 2021 NFL Draft
Pittsburgh Steelers
I just don't get it with the Steelers. The team started 11-0 last year, and then completely collapsed down the stretch. How anyone could've watched that collapse and come away concluding that running back was their main issue is beyond me. Sure, the running game struggled, but that was on the offensive line more than anything else. In today's NFL, running back just isn't as valuable a position as it used to be.
That didn't stop Pittsburgh from using their first pick on Alabama's Najee Harris. Harris might turn out to be a great player, but the Steelers simply had more pressing needs. James Conner wasn't responsible for the team's abysmal play in December. Then in the second round instead of adding some O-line help or boosting a secondary that has seen some key guys depart, they drafted tight end Pat Freiermuth. Rookie tight ends take a while to develop, and the team already has Eric Ebron. This draft was a missed opportunity to fix some real issues.
With an aging Ben Roethlisberger and a really tough AFC North, the Steelers are a team I'll be looking to fade in futures markets.
Dallas Cowboys
I don't love the Cowboys taking Micah Parsons 12th overall, and their middle-round picks were really puzzling. Linebacker, like running back, just isn't a premium position anymore. The Cowboys also already have Leighton Vander Esch and others, so this pick felt a little redundant. What plants them firmly in the 'losers' section though are there Day 2 selections. In the third-round, the Cowboys drafted a slew of guys widely expected to be available on Day 3.
With the 99th overall pick for example, they drafted cornerback Nahshon Wright from Oregon State. Many analysts expected him to go undrafted. NFL.com's Lance Zierlein had him as a Round 7/priority free agent guy. Needless to say, it was a massive reach with plenty of quality players on the board. They did get some good value with LSU linebacker Jabril Cox on Day 3, but they really needed a top corner. Kelvin Joseph can be solid, but the Cowboys lost this draft the moment they missed out on Jaycee Horn and Patrick Surtain.
Dallas is a big favorite to win the NFC East next season, but I'm not so sure I agree. The Giants certainly out-smarted them in this draft.
Tampa Bay Buccaneers
It's hard to rag on the Bucs too much, given they're coming off a Super Bowl and all that. But this draft was a missed opportunity for GM Jason Licht. Tampa understandably focused most of their offseason on locking up their own free agents, so this was their chance to add new pieces. Teams have to aggressively continue to get better in the NFL, and the Bucs can't just rest on their laurels because they won a championship. In the first round, they added outside linebacker Joe Tryon, when they already have one of the league's best pass-rushes.
He opted out of the 2020 season, and only has one year of starting college experience. In the second-round they drafted quarterback Kyle Trask, who obviously isn't going to contribute this season. With the 64th overall pick they could've drafted a real piece for a potential second Super Bowl run, not a possible replacement for whenever Tom Brady retires. Their third and fourth-round picks were an O-lineman and receiver who will both be developmental depth pieces as rookies. They just didn't add much immediate help, which was misguided.
Can't wait for the NFL season to begin? Well, luckily Pickswise is also the home of free MLB predictions, NBA predictions , and NHL predictions.