Tuesday NBA four-team mega parlay (+1492): Warriors-Pelicans rematch
We have a seven-game slate in the NBA on Tuesday, headlined by a double-header on TNT that features the Brooklyn Nets, Milwaukee Bucks, Toronto Raptors, and Los Angeles Clippers. Other teams taking the court are the Phoenix Suns, Dallas Mavericks, Miami Heat, and Golden State Warriors. It is an intriguing schedule on the professional hardwood, and one that offers plenty of betting options. Make sure you check out our picks on the side and total for all of tonight's matchups.
Here is our best four-team parlay for today's action.
Phoenix Suns -12.5 (-110)
Brooklyn Nets ML (+120)
Golden State Warriors ML (+107)
Toronto Raptors +9 (-110)
Parlay odds: +1492
For this parlay we mix in one favorite against the spread, one underdog and the points, and two underdog winners on the money line. Let's break down each of the four legs one by one.
Phoenix Suns -12.5 over Cleveland Cavaliers (-110)
The Cavaliers looked like they could challenge for a play in spot a few weeks ago but now find themselves in a downward spiral. They have lost six straight games and nine of the last 10 overall. Four of their six losses over their current streak were by double-digits. The Suns are on the other end of the spectrum, winning four straight and boasting the strongest road record in the NBA (21-9). They are currently involved in a tight race for the top seed in the Western Conference and are unlikely to rest players here–or in any other game. Only Jae Crowder is confirmed out for them tonight. For the Cavaliers, however, the injury list is extensive. Darius Garland, Larry Nance Jr., Taurean Prince, Isaiah Hartenstein, and Matthew Dellavedova are all out.
Check out our full game preview.
Brooklyn Nets ML over Milwaukee Bucks (+120)
On the heels of Sunday's tough 117-114 loss to the Bucks, the Nets get another shot in this same matchup. Kevin Durant missed a late three-point attempt that would have forced overtime, but instead the Nets lost their second straight. Durant had 42 points and carried them all night long. There is no sign of James Harden making a comeback; he is likely sitting out the remainder of the regular season and prepare for the playoffs. But Brooklyn is still loaded without him. The Bucks will be without Jeff Teague and Axel Toupane for this one. The Nets were in the game until the very end on Sunday and that was despite Kyrie Irving struggling for the majority of it. Expect him to play a lot better tonight and the Nets to regroup–especially on the defensive end.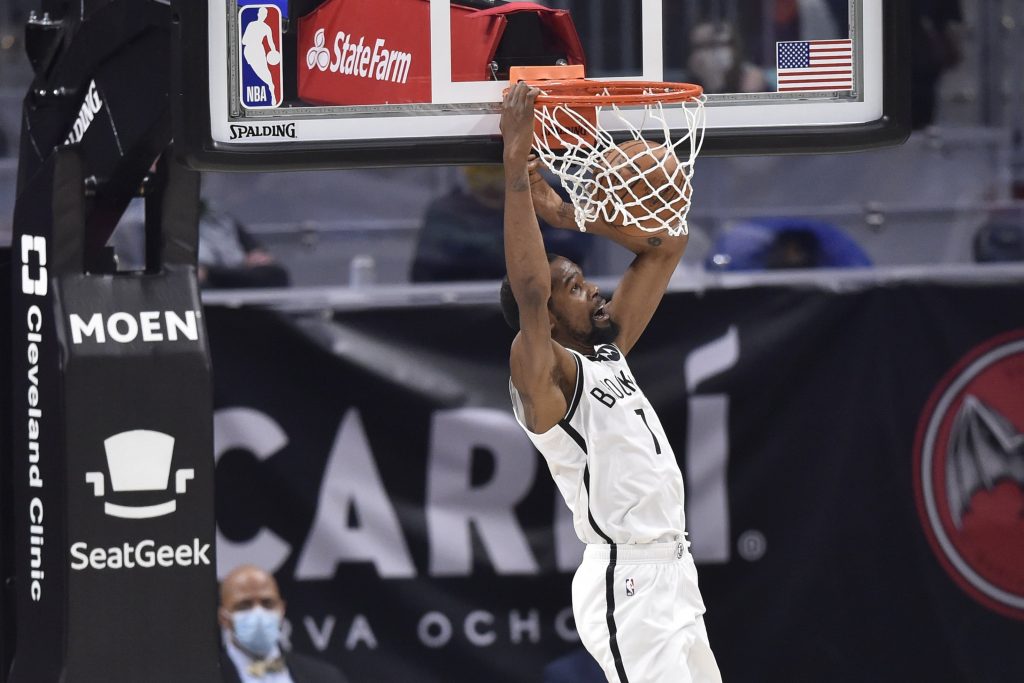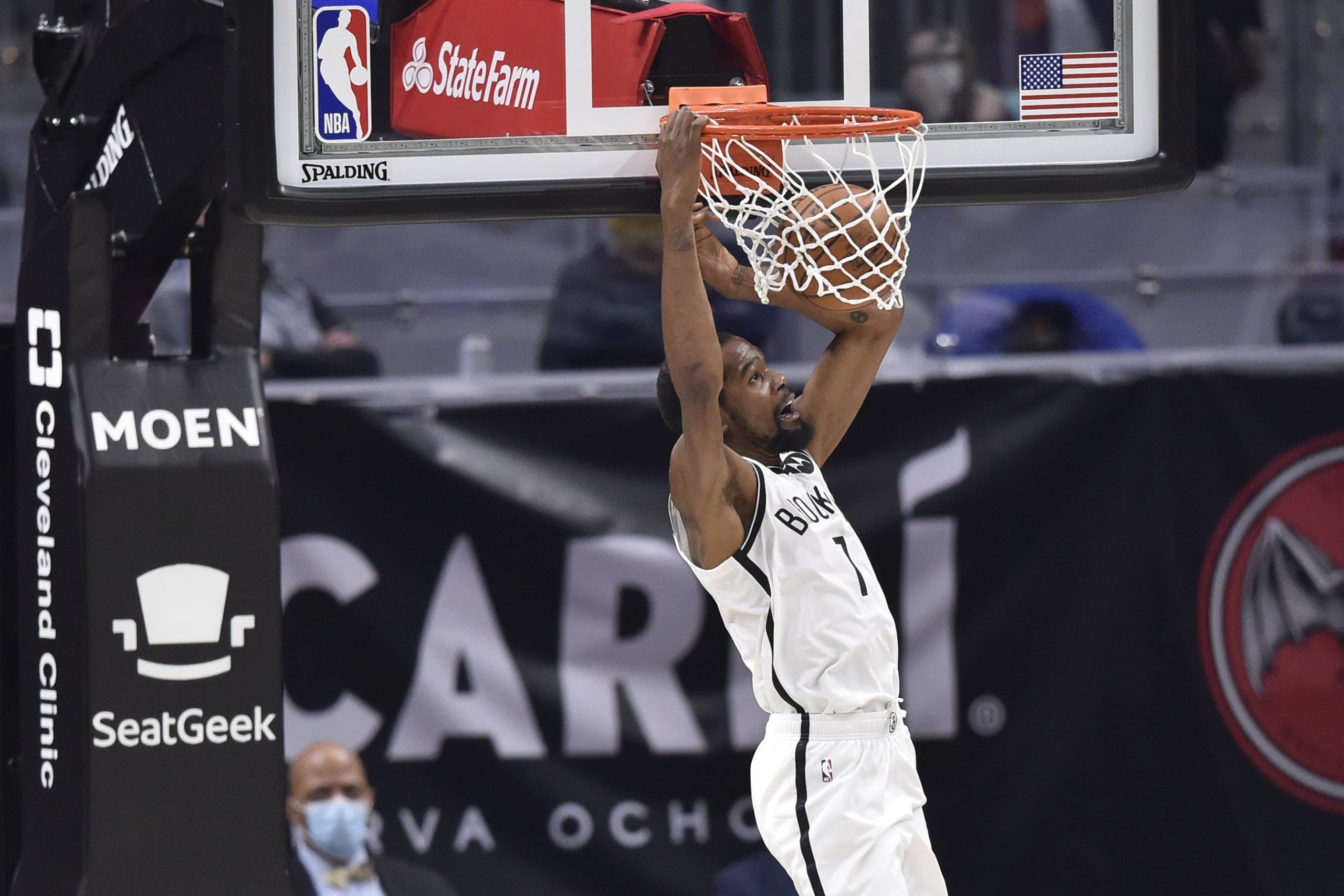 Check out our full game preview.
Golden State Warriors ML over New Orleans Pelicans (+107)
Stephen Curry lit up the Pelicans last night for 41 points and the Warriors came out on top 123-108. The opening quarter was decisive, as Golden State took full advantage of the Pelicans' slow start and led by 18 points at the end of the first. Andrew Wiggins chipped in 26 points and as a team the Warriors shot 53.4 percent while making 17 threes on the night. They are now 9-4 over their last 13 games and look destined to secure the eighth spot in the West. It was their 17th win in the last 20 visits to New Orleans and their 16th in their last 20 overall against the Pelicans. Why is there any reason to expect something different in the rematch 24 hours later? Well, there isn't. Curry continues to mesmerize everyone and is a nightly threat to score 40-plus points. He went 14-for-26 from the field on Monday and more of the same should continue.
Check out our full game preview.
Toronto Raptors +9 over Los Angeles Clippers (-110)
Toronto was in LA for their last game and beat the Lakers despite not having the services of Fred VanVleet and OG Anunoby. Pascal Siakam and Kyle Lowry both had strong games with 39 and 37 points, respectively. That win keeps the Raptors alive a little longer, but there is not much margin for error with just seven games remaining. At least they are playing with a sense of urgency. The Clippers have lost three in a row; not even Kawhi Leonard's return was able to get them back on track against Denver in their last game. LA has a high ceiling in the long run, but games right now just aren't super meaningful for this team. Toronto is very familiar with Leonard from his days with the team and has been able to keep him relatively in check since. This one should be competitive.
Check out our full game preview.
Pickswise is the home of free NBA Picks and Predictions. Check out the latest NBA Prop Bets and NBA Parlays as well as NBA Best Bets from our NBA experts.