UFC
Back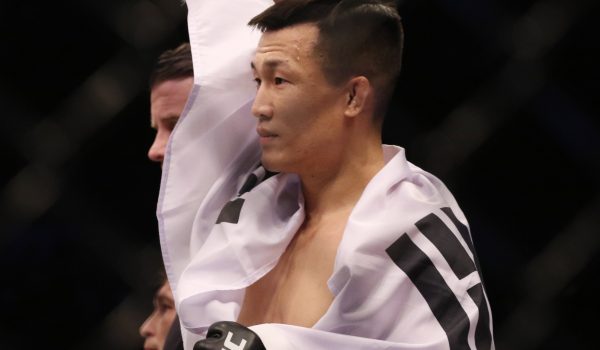 UFC predictions, picks and best bets for UFC Fight Night 180
We will continue at Fight Island this week for UFC Fight Night 180 and this weeks' card will feature a  Featherweight fight as the Main Event.
We'll share our UFC Fight Night 180 best bets here but head over to our main UFC Fight Night 180 predictions homepage if you want picks for every fight on the main and preliminary card. Please gamble responsibly when following our MMA picks and predictions.
UFC Fight Night 180 Best Bets
Main Card
"The Korean Zombie" Win by Finish (+100)
The winner of this fight has already been basically guaranteed a shot at the Featherweight title. The Korean Zombie comes into this fight 16-5 in the MMA and 6-2 in the UFC. He most recently beat Frankie Edgar by TKO back in December of 2019. Korean Zombie is almost exclusively a striker, averaging 4.58 strikes per minute. He could be more accurate, but his power is clearly there. His grappling is not as good, averaging just 0.78 takedowns per every 15 minutes. His takedown accuracy is 41%, but his takedown defense is 77%.
Brian Ortega is coming off his first career loss, but this loss was all the way back in 2018. He is now 14-1 in the MMA and 6-1 in the UFC. He is averaging 4.07 strikes per minute so his stand-up fighting ability is his go to fighting style. Though he only lands these strikes at 33% and is absorbing 7.36 strikes. He averages 0.51 takedowns per every 15 minutes, but has a takedown accuracy of 16%.
Both of these guys have a perfect finish rate in the UFC, but because The Korean Zombie is a better striker and can defend takedowns at a much higher rate, I will back him to win this fight inside the distance to reduce his price significantly.
Jessica Andrade Money Line (-168)
Jessica Andrade comes into this fight 20-8 in the MMA and 11-6 in the UFC. She has lost two fights in a row with the most recent loss coming to Rose Namajunas at UFC 251. Andrade is averaging 6.40 strikes per minute, landing these strikes 49% of the time. Because of her aggressive style, she absorbs 5.30 strikes. In terms of grappling, she averages 3.02 takedowns per every 15 minutes. Her takedown accuracy is 57% and she defends takedowns at 76%.
Katlyn Chookagain bounced back from a loss in February by beating Antonina Shevchenko back in May of this year. This was a win by unanimous decision. She is averaging 4.19 strikes per minute, landing them at an accuracy of just 35%. She is absorbing 4.20 strikes per minute, and has only been knocked out once in her career. Chookagain is a below average grappler, averaging just 0.31 takedowns per every 15 minutes. Her takedown accuracy is only 15%, so that is going to be a huge issue.
Andrade is too well balanced to lose three fights in a row. Her high-volume striking ability is going to be the difference here, so I am going to back Andrade as a favorite to snap her losing streak.
Claudio Silva Money Line (+132)
Claudio Silva lost his very first fight in the MMA way back in 2007 by DQ, but has now won 14 fights in a row. He is 5-0 in the UFC and will be trying to continue moving up in the rankings in his division. Silva is averaging 2.80 strikes per minute, so he is a decent to below average striker at best. He is absorbing 2.17 strikes, so clearly, he does not take a ton of damage, which has resulted in him never being knocked out. Silva is more of a grappler, averaging 3.32 takedowns per every 15 minutes. Even though he has a takedown accuracy of just 33%, he still has nine submission wins in his career. His last three fights have ended in submission victories for Silva.
James Krause is more of a veteran, posting an MMA record of 27-9. His UFC record is 8-4 and he has won four of his last five fights. He did just have a six-fight winning streak snapped back in February of this year, losing to Trevin Giles. Krause is a better striker, averaging 4.65 strikes per minute. He is absorbing 4.09 strikes per minute, but has been knocked out just once. He is averaging 1.05 takedowns per every 15 minutes, but lands them with an accuracy of 18%.
I do believe that Silva is the better fighter here, he is more balanced, and he takes far less damage. Because of that, I will be backing Silva.
Last updated: Fri 16th October 2020