View from the Front Office: The importance of knowing when to replace a franchise QB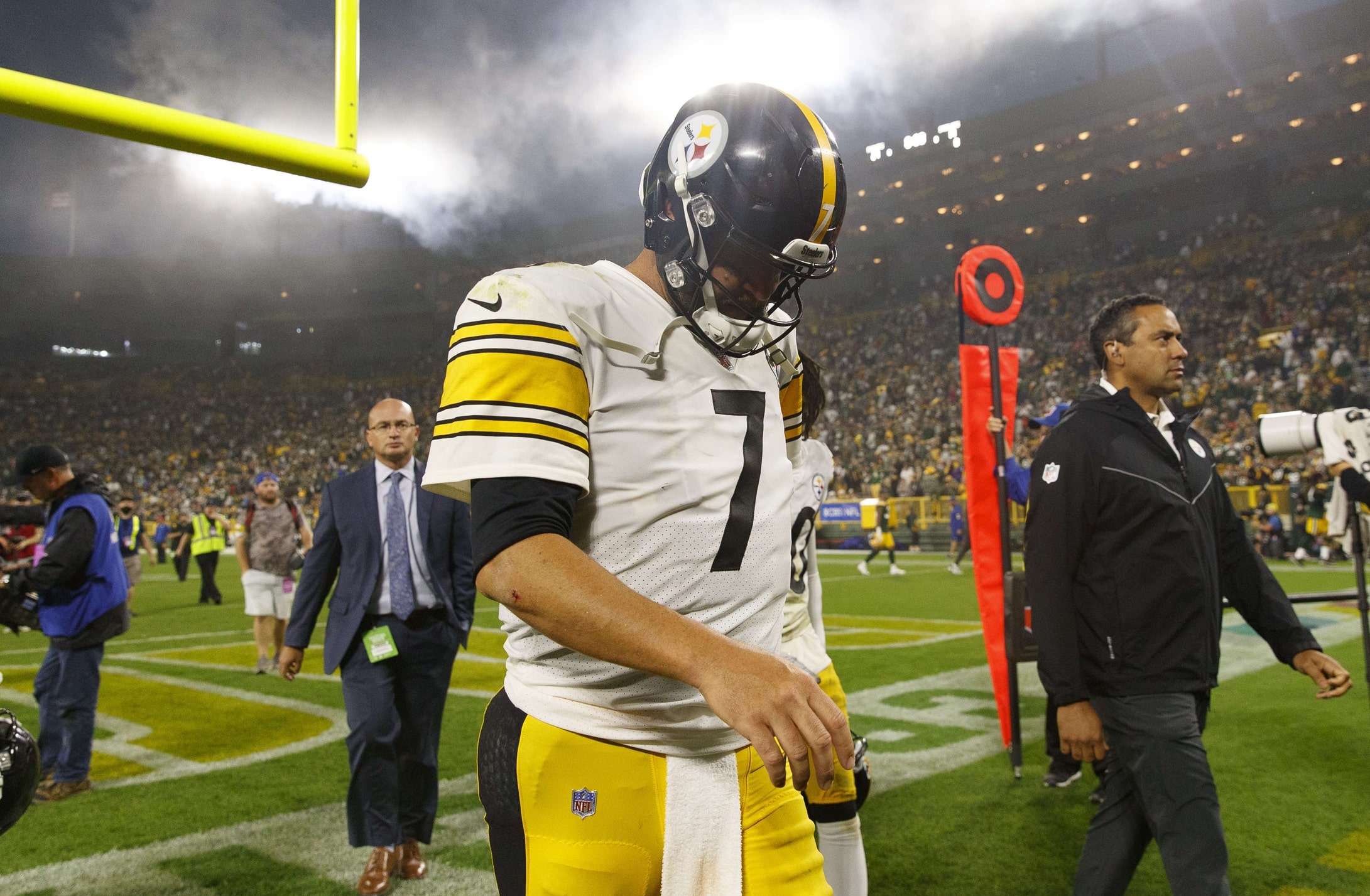 After working 17 years in the NFL as an area scout (Philadelphia and New Orleans) and Director of Player Personnel (Buffalo), I am now back to my true passion that started in high school – using statistics and unique insights to find value. Here you can find my unique perspective on the hottest topics in the NFL, player evaluation and film reviews, plus where I see value in the betting market.
The Steelers made a mistake by not finding Roethlisberger's replacement
While it is important for any GM to draft a franchise quarterback, it is just as crucial for them to know when it is time to move on from one. Steelers QB Ben Roethlisberger looked to be struggling a lot at the end of last season but Pittsburgh decided in the offseason to stick with him. Four games into the 2021 season, and Big Ben is still finding things difficult and his heir-apparent is completely unknown.
Every former player I worked with or knew always said, "father time is undefeated." Age at some point will force you into retirement from professional sports. Obviously, we are witnessing an exception with Tom Brady, but you get the point.
Before the 2017 draft, New Orleans called me when I was director of player personnel for Buffalo to see if we were interested in trading out of our selection. We already had a deal in place with Kansas City that they could not match. It turns out that the Saints wanted to come up to draft Patrick Mahomes to eventually replace Drew Brees — very forward-thinking by Saints GM Mickey Loomis and head coach Sean Payton.
I've been critical of Giants GM Dave Gettleman, but at least they drafted Eli Manning's replacement, taking Daniel Jones, rather than be left scrambling. The Chargers front office let Philip Rivers walk knowing they were in a position to draft a first-round QB and selected Justin Herbert. Green Bay felt strongly enough to trade up and take Jordan Love knowing Aaron Rodgers is still playing at an MVP level. These organizations had a plan.
What is the plan in Pittsburgh and Atlanta right now? Roethlisberger's decline was obvious, yet they have Mason Rudolph who is a backup at best, and Dwayne Haskins who is not good enough to be a starter anywhere in my opinion. Matt Ryan is still good enough to win with, but first-year GM Terry Fontenot had a chance to draft his replacement with the fourth pick of the 2021 draft yet chose to take a tight end? 
It was a perfect situation for Fontenot to make his mark in Atlanta. Ryan is still able to throw the ball at a high level but the game is changing and having a dual-threat at QB is important. The Falcons do not have a good enough defense to compete for a super bowl so this was the time to let a rookie learn a new system for a year and then insert him next season, much like Kansas City did with Mahomes when he sat his first season behind veteran Alex Smith.
These are not easy decisions to make, but in order to sustain success, they are the tough decisions that need to be made to continue competing for Super Bowls, which the Steelers and Falcons have grown accustomed to doing.
Check out The Burning Question, where three of our experts give their thoughts on whether Justin Fields should be QB1 for the Bears
GM in the sauna: Grier under pressure as Dolphins flounder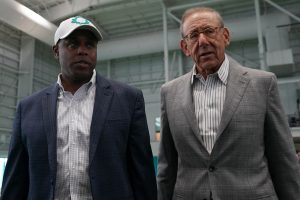 It is plenty warm in Miami without needing to use a sauna, but this week it is Chris Grier who is beginning to sweat. He was promoted to GM in 2016, having been with the team since 2000, and is now finding himself under pressure at 1-3 and heading to Tampa this Sunday.
The saying goes when you miss on a first-round QB it sets your organization back five years. The Bills know this all too well when they selected J.P. Losman in 2004 and EJ Manuel in 2013. Losman and Manuel combined for nine seasons in Buffalo with no playoff appearances. 
The Dolphins are in year two with 2020 first-rounder Tua Tagovailoa, but already tried to replace him with Deshaun Watson until Watson's status became unknown due to off-the-field legal concerns. In my opinion, Tagovailoa does not look like the answer at quarterback so who is to blame?
Grier's first-round selections include 2016 tackle Laremy Tunsil (traded), 2017 DE Charles Harris (traded), 2018 safety Minkah Fitzpatrick (traded), and 2019 DE Christian Wilkins (34 games played, 4.5 sacks). The jury is still out on his five first-round picks from the 2020 and 2021 drafts. Can any of those players make up for the limitations that Tagovailoa has shown or does Miami waste the next five years trying to make it work?
Make sure you read our Pickswise Supercomputer's best value futures bets for the rest of the season!
Week 4 quarterback film review: Ryan runs riot
After watching film of every Week 4 game, I can see which quarterbacks put in great performances and which ones put up what I like to call "fake stats", where their numbers in the boxscore are misleading. Let's dive in. 
Top 5 QBs in Week 4
Matt Ryan (ATL) – Threw with dead-on accuracy all day, overcoming drops as well. The Falcons are not winning, but it is not the fault of the veteran QB. 
Patrick Mahomes (KC) – Threw touchdowns underhanded and overhanded. He is rare in terms of his ability to torque his body and deliver with accuracy to any part of the field. 
Justin Fields (CHI) – There is absolutely no reason to see Andy Dalton again this season. Made special throws down the field and even missed Mooney wide open once. Was not asked to throw a lot but took advantage of his opportunities. 
Taylor Heinicke (WFT) – He went head-to-head all day with Matt Ryan. The former XFL backup belongs in the NFL due to his toughness, good athleticism, and accuracy. 
Russell Wilson (SEA) – He did almost nothing in the entire first quarter against the 49ers but made up for it the rest of the game. Constantly under pressure and still delivered with perfect placement.
Bottom 5 QBs in Week 4
Davis Mills (HOU) – Almost not fair to play in the rain against the best defense in the league right now. He looked out of place and was not competitive. 
Ben Roethlisberger (PIT) – Not showing arm strength or ability to make plays on his own. The Steelers hung around all game, but Big Ben could not hit open targets that could have changed the outcome.
Baker Mayfield (CLE) – Good thing his defense and running game showed up. He was not accurate and did not handle the pressure well.
Sam Darnold (CAR) – Forced the ball down the field too often trying to come from behind. He was sloppy with his footwork, causing the ball to sail on him. His ability to run is real though.
Matt Stafford (LAR) – Two games in a row where he is missing open receivers. He is underthrowing deep balls and not accurate on crossing routes. However, that is correctable and it will need to be for them to reach the Super Bowl.
Check out our Pickswise NFL Power Rankings and where your team is ranked
Jim Monos' NFL Week 5 picks
Cincinnati Bengals +3 over Green Bay Packers
I see this as a very even matchup and have no problem taking the Bengals +3 and the ML too. The Packers rank 22nd in yards per play on offense while Cincy ranks 5th in yards per play on defense, so Green Bay will have to earn their points. The Bengals' 9th-ranked run defense will make the Packers one-dimensional, throwing the ball against Cincinnati's 5th-ranked pass defense in yards per attempt.
New Orleans Saints -1.5 over Washington Football Team
The Football Team won a wild game in Atlanta last week and the Saints lost their home opener to the Giants so of course the Saints are favored on the road. Washington's defense is not good, ranking last in third-down defense and 20th in yards per play. New Orleans ranks 6th in third-down offense so they will extend drives and can finish with Taysom Hill in the redzone with his ability to run.
Buffalo Bills +2.5 over Kansas City Chiefs
When the Chiefs have the ball, we will see the first-ranked offense in yards per play against the Bills' first-ranked defense in yards per play. The difference is when Buffalo is on offense, they will be going against perhaps the worst defense in the NFL. The Chiefs' defense ranks last in yards per play, 30th in yards per attempt and run defense respectively. Make sure you take the Bills on the first half line too!
Make sure you read our picks on the side and total EVERY Week 5 NFL game!
Pickswise is the home of free NFL Picks and NFL Odds. Check out the latest NFL Prop Bets and NFL Parlays as well as expert NFL Underdog Picks and NFL Computer Picks.