The Burning Question: Should Justin Fields be named QB1 for the Chicago Bears?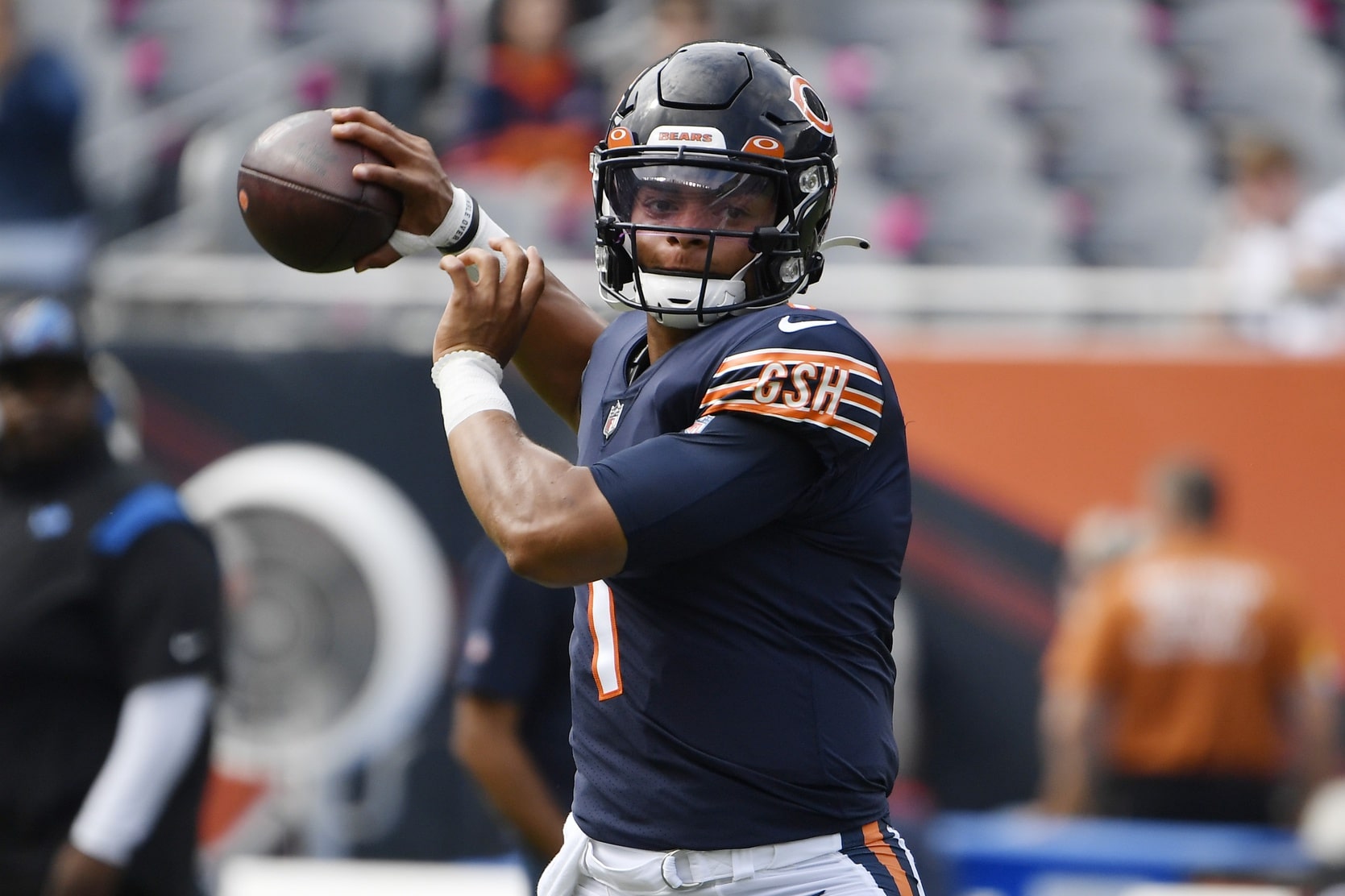 Welcome to The Burning Question, where three of our NFL experts give their thoughts on a big talking point coming out of the past week's football action.
Justin Fields earned the first win of his NFL career as a starting quarterback, as he led the Bears to victory over the Lions. Chicago head coach Matt Nagy has said that Andy Dalton remains the Bears' starting QB when he's healthy, but is that the right decision? Should the Bears look to roll with Fields as their starter from here on out, or should he sit behind Dalton for the time being? Our NFL experts — Jared Smith, Andrew Ortenberg, and Ricky Dimon — give their thoughts on the Chicago quarterback situation.
Jared Smith: Perception is different than reality
The reality is neither option is particularly appealing for the Bears in the short-term. Meanwhile, the perception in Chicago seems to be that Matt Nagy would rather win now with Dalton and keep his job for another season instead of fully investing in Justin Fields by building an offense around him that best suits his skill set. I do not understand strategy one bit. It makes sense selfishly for Nagy, but it likely hurts the Bears in the long run. Since there truly is no right answer with this question, as neither Dalton nor Fields can save the Bears this season, it would make more sense to me to fully invest in the future of the team and throw my weight behind the rookie.
Find out Jared Smith's best early bets for Week 5 of the NFL season in his Early Birds column!
Andrew Ortenberg: 1000%
The short answer? Yes. The long answer? Of course. I'm certainly not sold on Fields after one solid game against the lowly Lions, but the team simply has nothing to lose by letting him play. Chicago isn't contending for anything with Dalton under center, and Fields at least gives the team a spark. Fields was a disaster in his first start against the Browns, but it's clear Cleveland's defense is just really good.
This past week the Browns held the Vikings to only seven points. It was also Fields' first career start, on the road. Fields made major strides from his first to second outings, and he made some truly beautiful throws. It would be downright dumbfounding to not see if he can take another leap in start number three. The team traded next year's first-round pick to trade up and get Fields, it's time to see what he's got.
Ricky Dimon: Dalton not done yet
I'm honestly 50-50 on this, so…what the heck…I'll argue on the side will probably be less popular: Dalton.
The Bears are a respectable 2-2 through 4 games, leaving them in obvious NFC North contention (1 game behind Green Bay) and/or in the mix for a wild-card spot. I'm not saying that Fields as the starter automatically means they are waiving the white flag on 2021 and playing for the future, but Dalton's experience probably gives them a better chances to win now. In 9 games as a starter last season plus the 1 in which he replaced Dak Prescott, Dalton compiled a decent 5-5 record even though the Cowboys' defense was utterly atrocious. So far this season he is completing 73.5 percent of his passes with 1 touchdown and 1 interception. The 33-year-old is by no means spectacular, but he also isn't washed up.
Fields, meanwhile, hasn't done much of anything — other than hold the ball too long and get sacked. With a similar workload, Fields has been sacked 12 times compared to 4 for Dalton. The rookie out of Ohio State has been picked off twice and has not yet thrown a touchdown pass. It should also be noted that running back David Montgomery is out 4-5 weeks with a sprained knee and even Damien Williams (thigh) is questionable for Week 5. Chicago could be down to rookie 6th-round pick Khalil Herbert. The Bears aren't going to be able to run the ball much, which means they need a drop-back, down-field passing threat. Right now, Dalton gives them that dynamic to a greater extent than Fields.
Check out our full game preview for TNF between the Los Angeles Rams and Seattle Seahawks
Pickswise is the home of free NFL Picks and NFL Odds. Check out the latest NFL Prop Bets and NFL Parlays as well as expert NFL Underdog Picks and NFL Computer Picks.