The Pickswise NFL Power Rankings: Bills closing in on the top two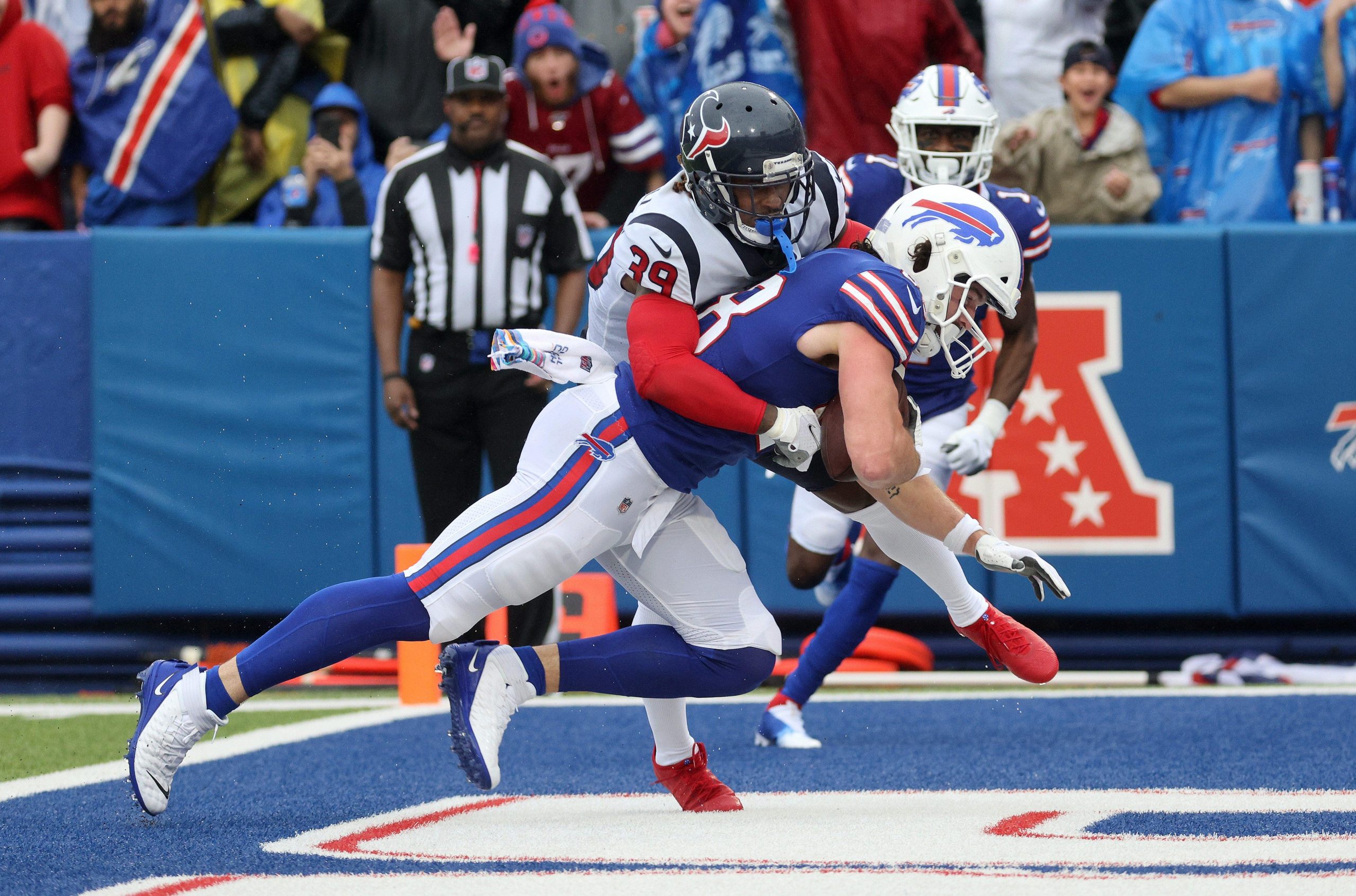 The Pickswise NFL Power Rankings have the same top 3 after the Week 4 games, but the Buffalo Bills are making a serious challenge to move past long-time top dogs Tampa Bay and Kansas City. All 3 teams won this week, but after the Bills recorded their second shutout win by 35+ points of the last 3 weeks they are right in the mix.
This season, we've handed over control of our NFL power rankings to the Pickswise supercomputer. Our data science team has created a predictive machine learning model that makes use of a proprietary dynamic rating system. In addition to analyzing in-house derived metrics, the model also adapts to situational factors such as rest weeks, home-field advantage, and time-zone differentials.
Let's take a look at how the computer ranks all 32 teams heading into Week 5.
1 Tampa Bay Buccaneers (3-1)
The Super Bowl champions won on the road in New England in the Brady-Belichick reunion game, but failed to cover as the master kept his former apprentice out of the end zone. The Bucs are set to stay near the top of these rankings for a while given a soft schedule through to their December meeting with Bills.
2 Kansas City Chiefs (2-2)
The Chiefs put some respectability on their record with a win over the Eagles, but concerns remain about their defense. The Chiefs have conceded at least 29 points in all 4 of their games this season, and that's no way to go about your business, even if you have Patrick Mahomes.
3 Buffalo Bills (3-1)
The computer has been kind enough to show me its working, so I can pass on that the Bills were really, really close to going past the Chiefs with their 40-0 thumping of Houston. It's starting to look like we might need a bigger computer to figure out how the Bills lost to the Steelers in Week 1, though.
4 Baltimore Ravens (3-1)
The Ravens not only ended Denver's unbeaten start and just preserved their streak of rushing for 100 yards in 43 straight games, they also sparked an entertaining spat between head coaches Vic Fangio and John Harbaugh. Another question we should feed into the supercomputer (I'm not sure if it does requests) — why was RB Ty'Son Williams a healthy inactive on Sunday?
5 Green Bay Packers (3-1)
The Packers are rolling again now and with the Bengals and Bears up next, they should be able to hang on to a top 5 spot.
6 Los Angeles Rams (3-1)
Well, what happened to the Rams on Sunday? Sean McVay's team was crushed 37-20 at home by the Cardinals, letting the game slip away when losing by a combined 27-3 in quarters 2 and 3. Their NFC West visit to Seattle this week should tell us whether this week was an outlier or a turning point.
7 Arizona Cardinals (4-0)
The Cardinals muscle their way into the top 10 after that eye-popping result in LA. The league's final undefeated team gets two more decent tests of their credentials next against the 49ers and Browns and if they're 6-0 after that, they can expect to be much higher.
8 Cleveland Browns (3-1)
There's good news and bad news for the Browns. The positive is that their new defense looks the real deal after crushing Chicago and holding the Vikings offense to just 7 points. The worry is that QB Baker Mayfield looked out of sorts and may still be bothered by a shoulder injury he suffered in Week 2. Their clash against the Chargers is another game to look forward to this week.
9 Seattle Seahawks (2-2)
The Seahawks have shown they can be extremely good or pretty average on any given Sunday, but Week 4 was a positive one for them with a divisional road win in San Francisco that evened up their record.
Be sure to check out our full game preview for TNF Rams vs Seahawks
10 New Orleans Saints (2-2)
After the Seahawks we have another Jekyll and Hyde 2-2 team in the Saints. Losing at home to the Giants doesn't really say top-10 team, and many humans would probably have placed the team at No. 11 above them.
11 Los Angeles Chargers (3-1)
The Chargers look great right now, and Monday's 28-14 win over the previously unbeaten Raiders might well have propelled them higher. A single-digit ranking surely awaits if they can handle the Browns this week.
12 Dallas Cowboys (3-1)
The Cowboys are another team who will have their eye on a higher ranking after ending the Panthers' unbeaten start. A divisional clash with the Giants should not hold too many fears for them this week.
13 San Francisco 49ers (2-2)
Back-to-back losses and the Cardinals up next is not a great look for the 49ers. Jimmy Garoppolo's injury is reportedly not as bad as first feared but a sandlot showdown between Trey Lance and Kyler Murray will be one to get the hipsters buzzing and have the old-school boomers going red in the face.
14 Indianapolis Colts (1-3)
The Colts finally got the win they really needed to justify a top-half slot going forward. The good news is they're somehow only 1 win off the pace in the struggling AFC South, but this week's trip to the Ravens won't be easy.
15 Las Vegas Raiders (3-1)
The unbeaten start is over for the Raider Nation, but there's no real disgrace in losers to the Chargers. A home game against the Bears gives Jon Gruden's team a solid chance to get back to winning ways.
Check out our MNF reaction as the Chargers beat the Raiders
16 Tennessee Titans (2-2)
We thought the computer had been a bit harsh on the Titans last week, but maybe it knew a defeat to the Jets was coming? These things are smart.
17 Carolina Panthers (3-1)
Carolina lost their first game with Christian McCaffrey sidelined, but the result would probably have been the same even with their star man available. The Panthers allowed 6 more points to Dallas than they had in their first 3 games combined and they trailed by 22 before two late TDs made the final more respectable.
18 Denver Broncos (3-1)
A second consecutive team who lost game 4 after a 3-0 start. Again the Broncos can have few complaints after a fair-and-square loss to the Ravens. Their defense should be an interesting challenge for Ben Roethlisberger this week.
19 New England Patriots (1-3)
The Patriots at 1-3 still looks odd, but they did better than many expected on Tom Brady's homecoming. A game against the Texans could be just what Mac Jones needs to record his second career win.
20 Minnesota Vikings (1-3)
The Vikings still seem to be a lot better than their 1-3 record suggests. Their star-studded offense didn't find Cleveland's D much easier to deal with than Chicago had in Week 3, and the Vikes went down 14-7 at home in a game that had less than half the number of points most people expected.
21 Pittsburgh Steelers (1-3)
Big Ben looks older and less useful by the week, but it's telling that no one is really pushing for underwhelming backups Mason Rudolph or Dwayne Haskins to get a chance instead. Losing to the Packers is not a disaster, but Mike Tomlin's men are already two games behind everyone else in the AFC North.
22 Washington Football Team (2-2)
The WFT evened up their record with a win over Atlanta, but one of the mysteries of the season so far is what has happened to their defense, which was supposed to be one of the best in the league — only the Chiefs and Falcons have allowed more than their 122 points through 4 games.
Find out what the Pickswise computer model's NFL futures best bets are here
23 Miami Dolphins (1-3)
The Dolphins have lost 3 in a row, including 2 at home, since their opening road win in New England. The Bills, Raiders and Colts are all decent teams who have beaten them, but it gets no easier with the Bucs up next.
24 Chicago Bears (2-2)
If you only read news stories about the Bears (the ones about the coach who doesn't know what he's doing and their disastrous offense) you'd be surprised to learn they are actually 2-2. Then again, it helps when the opposing team (looking at you, Lions) fails to score a point on 4 visits inside your 10-yard line.
25 Cincinnati Bengals (3-1)
I can't really quibble with the computer keeping the Bengals down here despite being 3-1. Their win over the Steelers looks worth less every week, they were lucky against the Vikings and they needed a big fightback to overcome the winless Jaguars last Thursday night.
26 Philadelphia Eagles (1-3)
The Eagles are another member of the impressive-looking Week 1 win followed by 3 straight losses club. It doesn't get much easier for them with the Panthers, Buccaneers and Raiders coming up next.
27 New York Giants (1-3)
Things are much happier at the Giants, who followed three losses with a surprising road win over the Saints. Saquon Barkley healthy and leading the offense is exactly what they needed.
28 Atlanta Falcons (1-3)
It doesn't look good for the NFL's international relations that we had to wait this long to get to the first of the teams they are sending to London for next week's early kickoff game. The Falcons lost 22-21 to Detroit after leading 21-0 at half-time on their last visit to London in 2014. No result would be a surprise when they play the Jets.
29 Houston Texans (1-3)
The Texans lost 40-0 to the Bills, and they were frankly lucky to get 0. They're also lucky to be as high as 29th.
30 New York Jets (1-3)
The Jets are on the rise! Zach Wilson made some splash plays as they upset the Titans in overtime and their defensive front gave Tennessee plenty of problems. If their transatlantic trip goes well, the Jets could be much happier heading into their early bye.
31 Detroit Lions (0-4)
The two 0-4 teams have made their way into the bottom two places, but Detroit only had themselves to blame this week — did you see the play where they snapped the ball to a defensive lineman in Chicago?
32 Jacksonville Jaguars (0-4)
The Jags still aren't winning but they sure are producing headlines, most of them not good for head coach* Urban Meyer. *at time of publishing.
Pickswise is the home of free NFL Predictions  and NFL Odds. Check out the latest NFL Prop Bets and NFL Parlays as well as expert NFL Underdog Picks and NFL Computer Picks.