Where will Julio Jones play in 2021? Betting odds and predictions
Aaron Rodgers isn't the only NFL star whose future has surprisingly been thrown into doubt.
Elite receiver Julio Jones has sparked a clamor for his services after it was revealed that he wants to leave Atlanta after 10 touchdown-filled seasons with the Falcons.
Jones is 20th on the NFL all-time receiving yards list after a stellar career which has seen him fail to reach 1,000 yards only three times — in his rookie year (959 in 13 games) and in injury-shortened seasons in 2013 and 2020.
The Falcons surely have no regrets after trading five picks, including two firsts, in a deal with the Cleveland Browns to take Jones with the sixth pick in the 2011 draft.
He has made the Pro Bowl seven times and been named first-team All-Pro twice, but now it seems Jones is ready to move on, and reports suggest the Falcons are now willing to listen to trade offers.
DraftKings is now offering odds on where Jones will be playing next season, and that's what we're looking at today. Let's take a look at the leading options: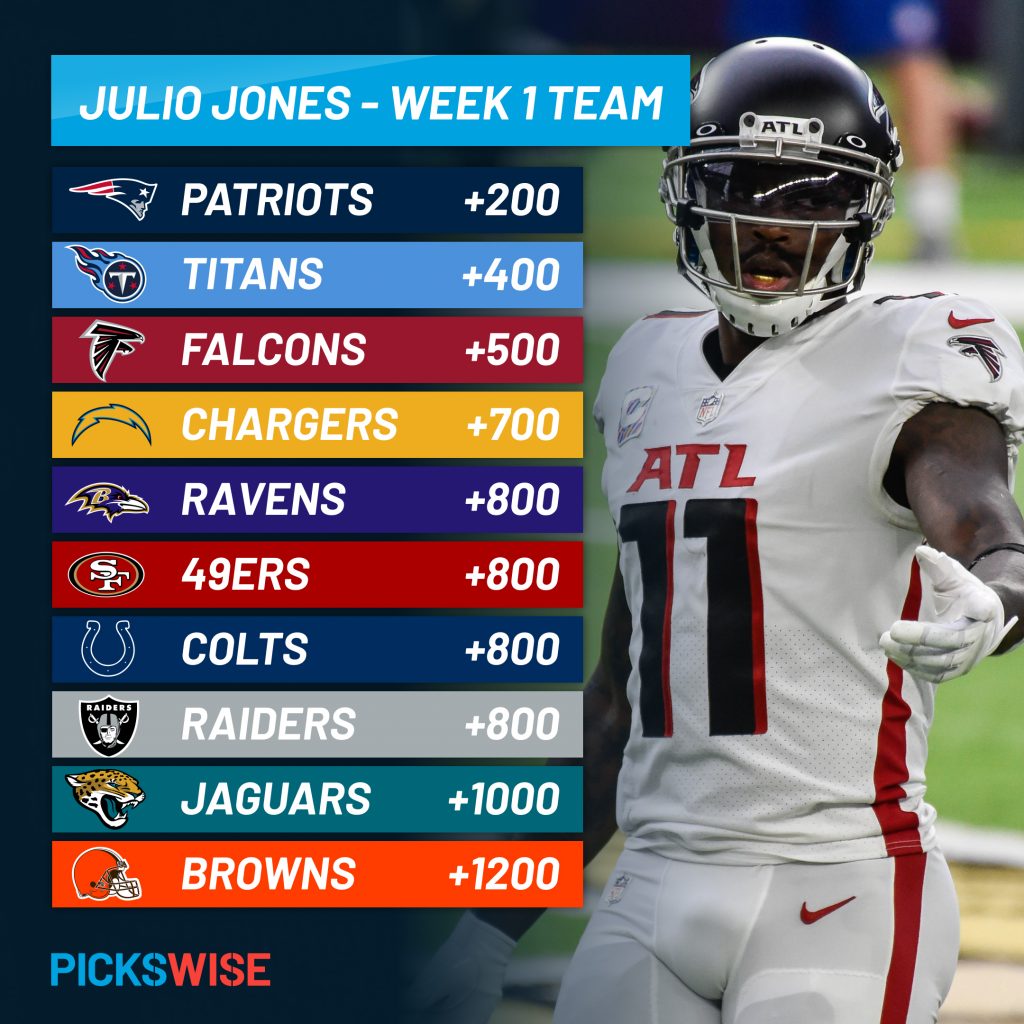 New England Patriots +200
After whatever came over former tight-pursed shopper Bill Belichick this year that made him sprinkle cash around like confetti to free-agent pass-catchers Nelson Agholor, Kendrick Bourne, Jonnu Smith, and Hunter Henry, it's no surprise to see the Patriots at the top of the list.
They are still lacking an elite No.1 receiver at Gillette Stadium and Jones is exactly that. Belichick worked wonders with another older star, Randy Moss, who joined the Pats for the tenth season of his career aged 30, and Jones at 32, is not much older.
Whether he wants to spend the end of his prime years putting trust in either an unconvincing Cam Newton or rookie Mac Jones is the big question.
Tennessee Titans +400
The Titans could certainly use a top receiver after losing Corey Davis to the Jets, with A.J. Brown and Josh Reynolds currently heading the WR room in Nashville.
But Jones clearly wants to go to a Super Bowl contender and while the Titans are still an offensive force, they got no support whatsoever from their defense last year. Jones may not want to experience that situation again after going through it at times in Georgia.
Atlanta Falcons +500
He's not gone yet and staying in Atlanta remains an option if the relationship between player and team has not fully broken down. The Falcons aren't blessed with offensive talent now, with Russell Gage the main back-up to the impressive Calvin Ridley if Jones walks, although rookie Kyle Pitts looks set to be the focal point of the Falcons offense in years to come.
Atlanta is in a certain amount of salary-cap trouble, too, and trading their main man, while a short-term blow on the field, may be quietly welcomed by some in the front office.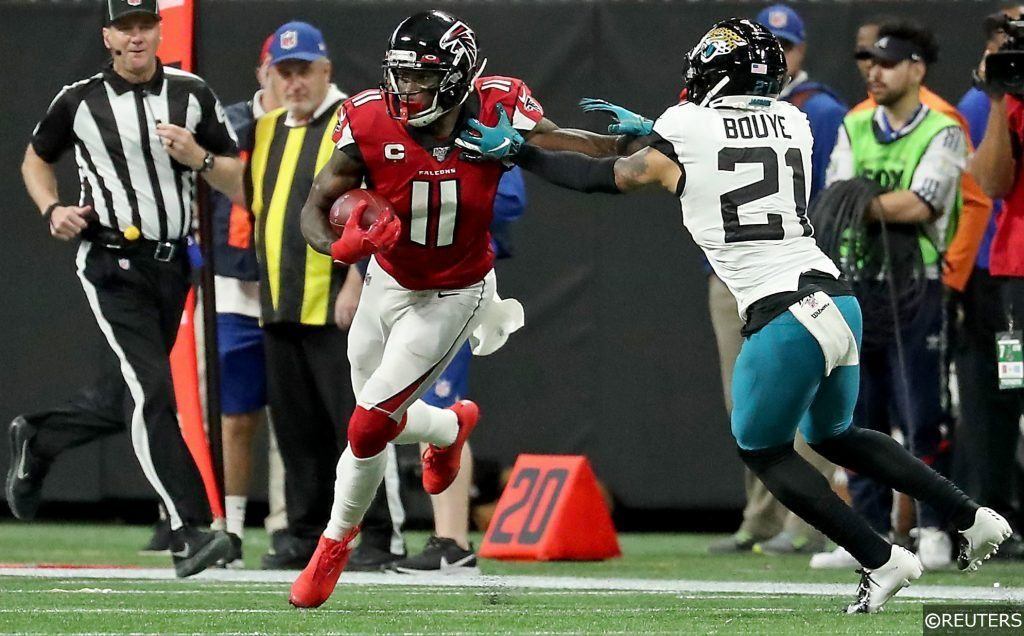 Los Angeles Chargers +700
The Chargers are a team on the up, have the cap space and draft capital to make a move, and Jones might like the idea of playing with second-season quarterback Justin Herbert, who looked the real deal in his rookie year. Not only does L.A. have to see off Kansas City in the AFC Championship, though, they also meet them twice a year in the AFC West so it's not an obvious fast track to the Super Bowl for Jones.
Baltimore Ravens +800
If Jones is smart, he won't have the rush-crazy Ravens at the top of the list. Baltimore has not been short of receiving talent, but Marquise Brown struggled to make an impact last season as run-first QB Lamar Jackson and the ground game led by J.K. Dobbins and Gus Edwards were the key men for the offense.
Indianapolis Colts +800
The Colts are on the fringes of making a Super Bowl run in the crowded AFC field, but they're pretty well stocked at wideout already and Jones would have to join Colts head coach Frank Reich in putting his faith in the Carson Wentz reclamation project at QB.
San Francisco 49ers +800
This is the kind of team Jones should want to be tagging along with if he wants another Super Bowl visit in his career, but the 49ers have until now been riding on the back of their defense and running game. Either Jimmy Garoppolo or rookie Trey Lance would love to have Jones on board, but the trade to move up for Lance has left the 49ers short of draft capital, so getting a deal done might be a problem.
Don't forget to check out our early best bets for Week 1 of the 2021 NFL season!
Las Vegas Raiders +800
Jon Gruden loves almost every veteran offensive player in the league, so why wouldn't he want to add Julio to his collection? The problem here is selling the Raiders as a potential Super Bowl team given the questionable strategy they have pursued in the last couple of seasons, and catching passes from Derek Carr may not appeal. If the Raiders also manage to land Aaron Rodgers, of course, the equation might be different.
Jacksonville Jaguars +1000
A team who went 1-15 last year and with a first-season QB and head coach is probably not the Super Bowl-ready destination Jones is looking for in the twilight of his career. The weather's nice, though.
Cleveland Browns +1200
This one would have a nice symmetry to it, as the Browns (the bad old, self-harming Browns of the past) were the team who traded down to allow Atlanta to draft Jones in the first place (needless to say they converted their haul of picks into a handful of dust). But with talk of the Browns looking to move on from either or both of Odell Beckham Jr. or Jarvis Landry for salary-cap reasons after the 2021 season, adding another high-wage veteran would make little sense.
So, where will Julio Jones play in 2021?
There's no obvious front-runner in this debate but, if pushed, I would say that the Patriots and the 49ers are the teams to focus on. Jones must be intrigued about reprising the Randy Moss role in New England (although the Tom Brady element is crucially missing), while he thrived in 49ers head coach Kyle Shanahan's offense for two seasons in Atlanta and the 49ers are clearly Super Bowl candidates with a host of key players coming back from injuries this year.
How will Trevor Lawrence and Zach Wilson fare in their rookie seasons? Read our analysis here!
Pickswise is the home of free expert NFL Picks and NFL Odds. Be sure to check out all of our season previews and NFL Futures Bets leading up to the 2022 NFL Season.