How good will Trevor Lawrence and Zach Wilson be? Breaking down the 2021 NFL season player props for the two rookies
A historic 2021 NFL Draft is in the books. As expected, it began with three straight quarterbacks in Trevor Lawrence, Zach Wilson, and Trey Lance. Two other QBs went in the top 15 (Justin Fields and Mac Jones). Not a single defensive player went off the board until the Carolina Panthers selected Jaycee Horn at No. 8.
Lawrence was projected as a future No. 1 overall pick for many years. Wilson was thought to be the second pick for many weeks heading into last Thursday's festivities. With draft day having come and gone, it's time to start looking ahead to the upcoming season—specifically to what may be in store for Lawrence and Wilson. Both players are obviously joining bad teams, giving them opportunities to step in immediately and begin reversing the fortunes of their respective franchises.
How will they fare in year one? Let's take a look.
Trevor Lawrence 2021 NFL season prop bets
Under 4150.5 passing yards (-112) – Before you are left open-mouthed by this huge number, keep in mind that the NFL season has expanded to 17 games from 16. That makes Lawrence's quota of 4,150.5 passing yards at least somewhat understandable — but you still have to like the under. The former Clemson standout would have to average more than 244 yards per game, and that's even if he stays healthy for all 17 weeks. In a Jacksonville Jaguars offense led by head coach Urban Meyer and Darrell Bevell that will probably feature a run-first mentality, soaring way over the 4,000-yard mark will be difficult. Also, note the fact that Jacksonville's 2021 opponents include the AFC East and NFC West. There are some stout defenses in that lineup, especially when it comes to stopping the pass.
Over 22.5 passing touchdowns (-130) – Even though the under on Lawrence's passing yards is a sound play, his touchdown quota is low enough to inspire an over bet. Averaging approximately 1.32 passing TDs per contest just isn't too big of an ask as long as Lawrence is injury-free and keeps himself on the field. In 35 career college games (many against big-time competition), the Cartersville, Ga. native compiled a 90-to-17 touchdown-to-interception ratio.
Zach Wilson 2021 NFL season prop bets
Under 3,874.5 passing yards (-110) – Wilson has to play all 17 games and average right at 228 passing yards to exceed this number. I'm not seeing it. The New York Jets have done well to address their offensive line with first-round draft picks in recent years, but their front five remains inexperienced at best and poor at worst. Head coach Robert Saleh is not going to want to see Wilson get completely destroyed like Joe Burrow was in his rookie season with the Cincinnati Bengals. Expect plenty of running with Tevin Coleman, La'Mical Perine, and Michael Carter.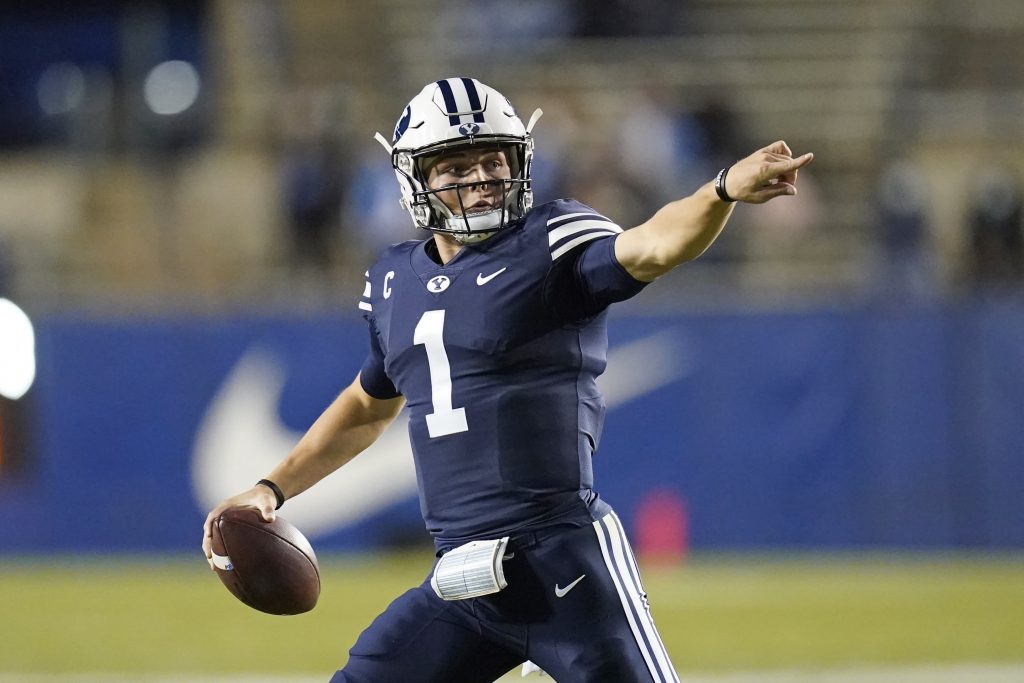 Over 13.5 interceptions (-110) – Whereas Lawrence often played against the best of the best during his college, Wilson was stuck on an independent team trying — and often failing — to find worthwhile opponents. Facing the likes of the Buffalo Bills, Miami Dolphins, and New England Patriots twice in a season is going to be a whole different beast. Although Wilson threw only 15 total interceptions in his three-year college career, nine of those came in nine games during the 2019 campaign. He can make mistakes — and probably will on an offense that is still many pieces away from being good.
Can't wait for the NFL season to begin? Well, luckily Pickswise is also the home of free MLB predictions, NBA predictions , and NHL predictions.