2022-23 NFL Coach of the Year odds & predictions: Nick Sirianni can help Eagles fly high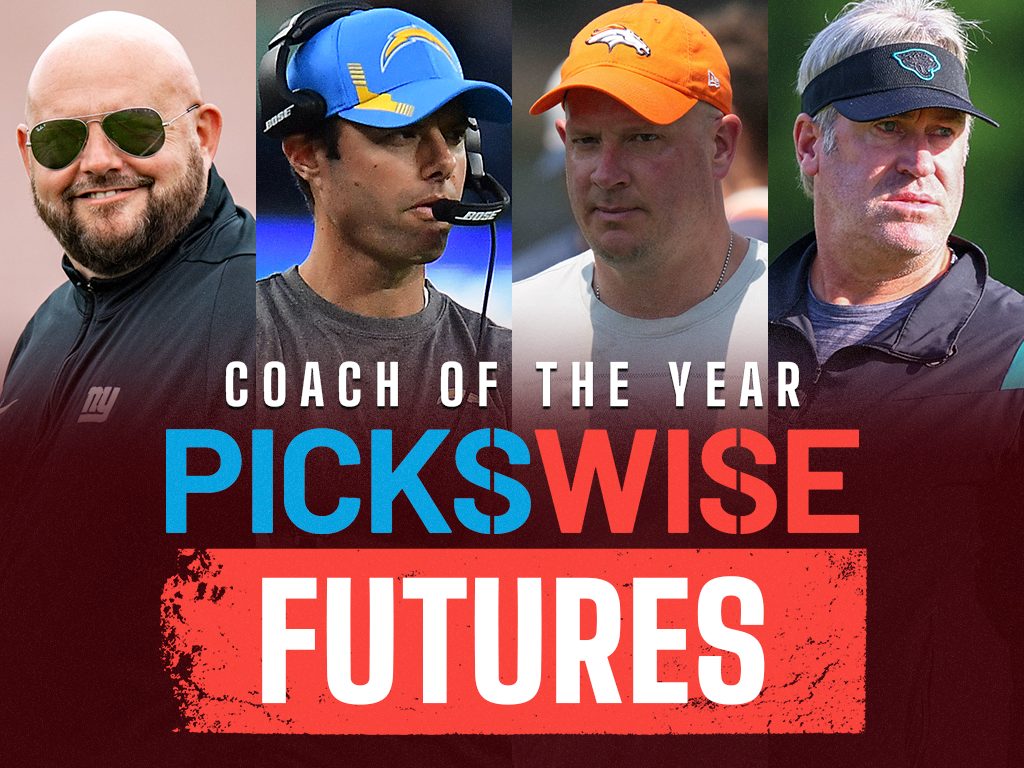 Veteran players are starting training camps this week and the preparations for the 2022 NFL season are now in full swing. While the main target for all players and coaches is to win games, make the playoffs and win the Super Bowl, there are a number of individual accolades that can come their way as a by-product of achieving, or getting close to achieving, their main goals. One of those is the NFL Coach of the Year award, and that's what we'll be putting under the spotlight in this article.
The award generally goes to a coach who leads his team to a season that exceeds expectations by the greatest distance, whether that is a team that was expected to struggle which makes the playoffs, or one that was expected to be pretty good which ends up having a dominant year.
Looking at the list of recent winners, it seems a double-digit win total is going to be required, so we're on the hunt for a team that could at least make the playoffs. Tennessee's Mike Vrabel won the honor last season after leading the Titans to the #1 seed in the AFC, and he hadn't even been in the top half of the odds list at the start of the season. The year before, Kevin Stefanski got the award after turning the once bottom-feeding Browns into playoff contenders, following John Harbaugh's win after the Ravens went 14-2 the year before. Taking this trophy doesn't guarantee long-term survival for a coach, though, with 2018 winner Matt Nagy already fired by the Bears. Let's take a look at the leading odds for this year's NFL Coach of the Year award.
Let's take a look at the odds and the best bets to be made.
2022 NFL Coach of the Year odds
Odds provided by DraftKings Sportsbook and FanDuel Sportsbook, best odds shown
Brandon Staley (Chargers) (+1400, FD/DK)
Nathaniel Hackett (Broncos) (+1600, FD)
Brian Daboll (Giants) (+1800, DK)
Doug Pederson (Jaguars) (+1800, DK)
Dan Campbell (Lions) (+1800, DK)
Kevin O'Connell (Vikings) (+2000, DK)
Mike McDaniel (Dolphins) (+2000, FD)
Nick Sirianni (Eagles) (+2000, FD)
Frank Reich (Colts) (+2000, FD/DK)
Josh McDaniels (Raiders) (+2000, FD)
Kyle Shanahan (49ers) (+2000, FD/DK)
Kevin Stefanski (Browns) (+2200, DK)
Matt LaFleur (Packers) (+2500, DK)
John Harbaugh (Ravens) (+2500, FD/DK)
Mike Vrabel (Titans) (+2500, FD/DK)
Dennis Allen (Saints) (+3000, DK)
Sean McDermott (Bills) (+3000, FD)
Zac Taylor (Bengals) (+3000, FD)
Bill Belichick (Patriots) (+3000, FD)
Chargers head coach Brandon Staley leads the market, but Staley himself is arguably one of the biggest obstacles to the loaded LA roster getting the success it deserves and backing the team as a whole is preferred. Nathaniel Hackett has the tools to succeed in Denver now that Russell Wilson has arrived, and it would not be a surprise to see the Jaguars take a big leap forward if Doug Pederson is able to get everyone pulling in the same direction again after the toxic Urban Meyer era.
Dan Campbell might not need to get as many wins as many of his rivals to get this award, but the talent level remains a major limitation in Detroit, and a more interesting outsider is Dennis Allen, who has inherited a talented roster in New Orleans if he gets a solid season of quarterback play. However, we're targeting a different NFC squad for our best bet.
Read our best bets and analysis for the Super Bowl here
2022 NFL Coach of the Year best bet: Nick Sirianni (+2000)
Nick Sirianni wasn't expected to last long in some quarters after his early press conferences had people wondering what the Eagles had let themselves in for, but his reputation has flourished, like the flowers he said he was nurturing at The Linc. The Eagles ended up going 9-8 and making the playoffs in Sirianni's first year at the helm, and he will be the first to tell you that it's still very early in their development as a team. Quarterback Jalen Hurts remains a big question mark for many observers, but there's a bunch of talent on both sides of the ball now with A.J. Brown joining DeVonta Smith at wide receiver, and Darius Slay and James Bradberry at cornerback.
If the Eagles can take another step this year and win a playoff game or two, Sirianni's name would surely be in the mix for this award.
Check out our advice for the AFC Championship and NFC Championship
2022 NFL Coach of the Year best longshot bet: Andy Reid (+4000)
It just doesn't seem right to see Andy Reid's name among the absolute outside bets at 40/1 in FanDuel's betting. DraftKings have shown Big Red a little more respect at 28/1 but even that's not a bad bet for one of the best coaches in the league. Expectations have lowered for KC this season due to the ridiculous level of competition in the AFC West, but that helps in terms of this award, as if the Chiefs roll to another season of 13 or 14 wins even without Tyreek Hill, people will sit up and take notice.
Patrick Mahomes and Travis Kelce are still there, after all, and JuJu Smith-Schuster, Marquez Valdes-Scantling and Skyy Moore have given him means to make up for the loss of Cheetah. It's a full 20 years since Reid won this award with the Eagles, so you have to think one of the game's great offensive minds is due another trip to the podium at the end of the season. If the improvements on the offensive line and defense in general work as planned, they might not need to conjure up 50 points worth of Mahomes magic to win games this season.
Could this +7500 bet on Defensive Player of the Year have value?
Pickswise is the home of free expert NFL Picks and NFL Odds. Be sure to check out all of our season previews and NFL Futures Bets leading up to the 2022 NFL season.