2022 Tom Brady futures: MVP odds, passing yards & best bets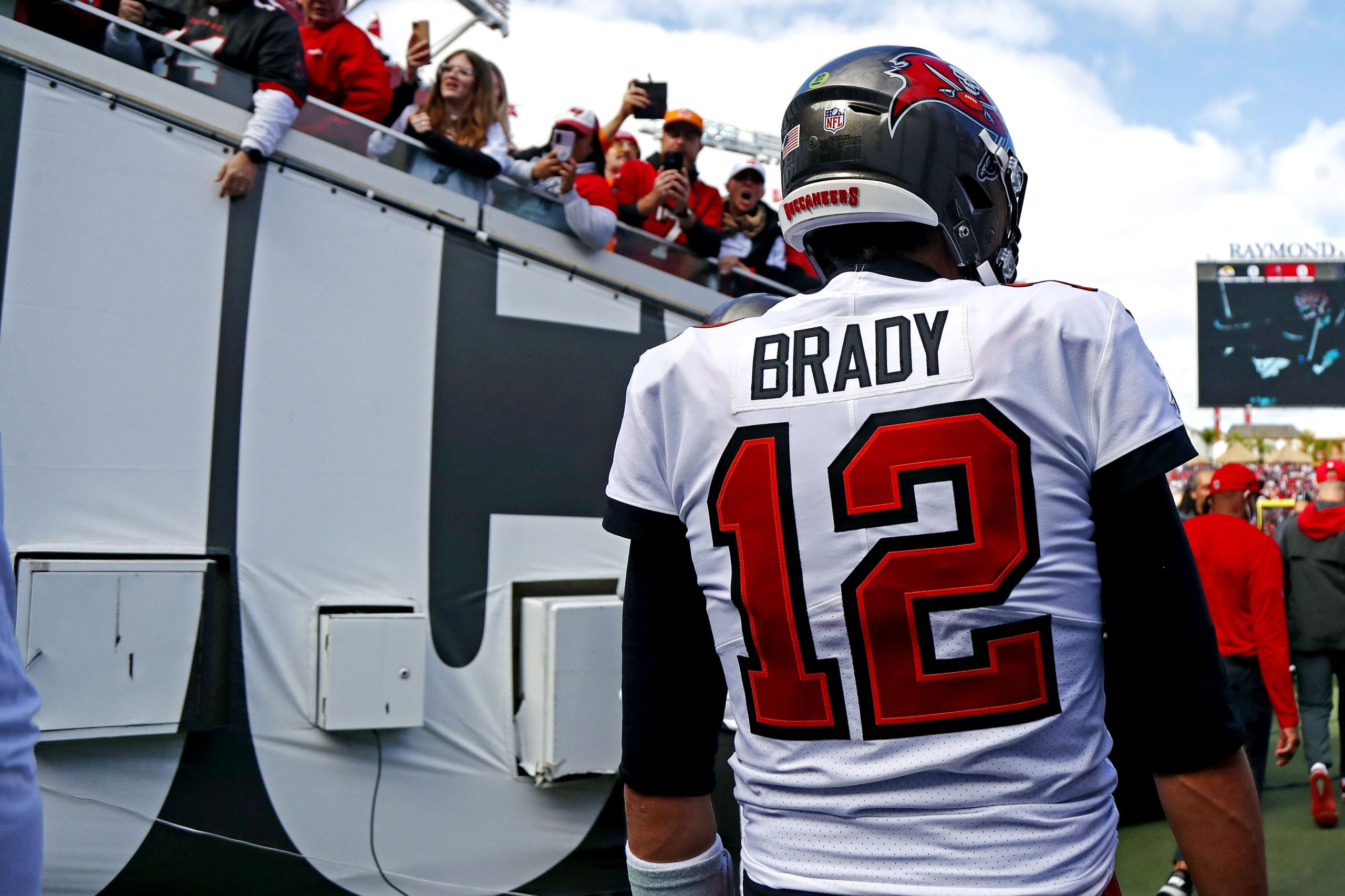 Just a week after a 30-27 loss to the Los Angeles Rams, who would go on to win the Super Bowl, Tom Brady announced his retirement from the NFL. However, that lasted only 40 days; Brady announced in March that he would return for the 2022 season on a 1-year contract. At 45 years old, this could be his final NFL season — but then again we have been saying that for 5 years.
Widely considered the greatest quarterback of all time, Brady has won 7 Super Bowls and 5 Super Bowl MVP awards. In his first season in Tampa Bay in 2020, Brady and company won the Buccaneers their second NFL championship.
Now in his third season with Tampa Bay, Brady continues to grow his legend in year 22 of his NFL career.
Tom Brady futures bets
Tom Brady regular-season passing yards odds
Over 4650.5 (+100)
Under 4650.5 (-120)
Brady eclipsed this number by more than 600 yards last season and came up 17 yards short in 2020. He has been so successful in Tampa Bay for several reasons, one being its excellent offensive line that will be led by Shaq Mason and Tristan Wirfs in 2022. The second is the Buccaneers' receivers. Brady's group of receivers continues to get stronger each season as he is projected to have Mike Evans, Julio Jones, Chris Godwin and Russell Gage as his four main WR targets in 2022. Evans has always been the No. 1 receiver for the Buccaneers in his career and one of Brady's favorite targets during the last two seasons, but the addition of Jones makes the Tampa Bay offense dangerous.
Injury is the easiest way to derail this bet because if Brady misses more than a game or two, he likely won't be able to reach this mark. However, the 7-time champion has not missed a game due to an injury as a Buccaneer. In fact, not since 2008 has Brady missed a game because of an injury. Being able to play the majority of games is crucial for this bet, and Brady has been able to do that basically throughout his entire career. Another star receiver gets Brady a step closer to another 5,000-yard season, so I expect him to surpass this 4650.5 mark in 2022.
Read our NFL MVP predictions, which includes a +2000 longshot
Tom Brady regular-season passing touchdowns odds
Over 35.5 (-110)
Under 35.5 (-110)
Since coming to Tampa Bay, Brady has thrown 83 touchdowns. He has had great receivers, but he has also managed to stay very healthy. He has easily surpassed 35.5 touchdowns in both seasons as a Buccaneer, and this upcoming season should be no different. Brady didn't lose many weapons on offense besides Rob Gronkowski, but with Gronk's weak knees he was becoming more of a blocking tight end toward the end of his career anyway. Cameron Brate and Kyle Rudolph will take over the responsibilities of tight end, and they could be perfect red-zone targets for Brady. Besides Brate and Rudolph for big targets and Jones and Evans for deep ball threats, Brady also had Leonard Fournette in the backfield.
If you have ever watched Brady play, you know he loves to use the dump pass when pressured, and Fournette benefited from that last season — especially in the red zone. Fournette led all running backs with targets in the red zone in 2021, and despite him looking slightly overweight in preseason practice, he'll see another fair share of targets this season which is another chance Brady has for a passing touchdown. With no more Ronald Jones, the Buccaneers will rely even more on their passing attack, so Brady should eclipse 40 touchdowns for the 3rd year in a row.
Tom Brady MVP odds
Brady currently sits at +800 at both DraftKings and FanDuel to win the MVP award. Josh Allen is the favorite at each shop, which isn't too surprising considering the excellent season he had in 2021 and the high expectations for him in 2022. The last time Brady won the MVP award was in 2017 and he became the oldest player in NFL history to win it (40 years old). Since that point, he has won two Super Bowls and continued to defy Father Time. Oddsmakers are expecting another big season for Brady with such close odds to Allen, and it makes sense when considering all his weapons on the field. If you feel confident that Brady will win his 4th MVP in 2022, you can place that bet now at DraftKings or FanDuel at +800 odds.
Best bet: Tom Brady to lead NFL in passing yards (+800)
Brady led the NFL in passing yards by more than 300 yards in 2021. Justin Herbert was the runner-up and is the favorite to win the passing title in 2022, but I believe Brady can go back-to-back. He will be playing about half his games in the nice climate of Florida, which means he no longer has to worry about snowstorms as he did in New England — which caused the passing game to become obsolete. Moreover, the Buccaneers are projected to have a top-three defense that will likely cause a lot of 3-and-outs and more time with the ball for Brady. He is completely healthy with one of the most talented wide receiving groups in the NFL, so at +800 he's worth a shot.
Now read our best Josh Allen futures bets
Pickswise is the home of free expert NFL Picks and NFL Odds. Be sure to check out all of our season previews and NFL Futures Bets leading up to the 2022 NFL season.