Back to the Futures: Dak ascends to MVP co-favorite, oddsmakers react to NFL Week 6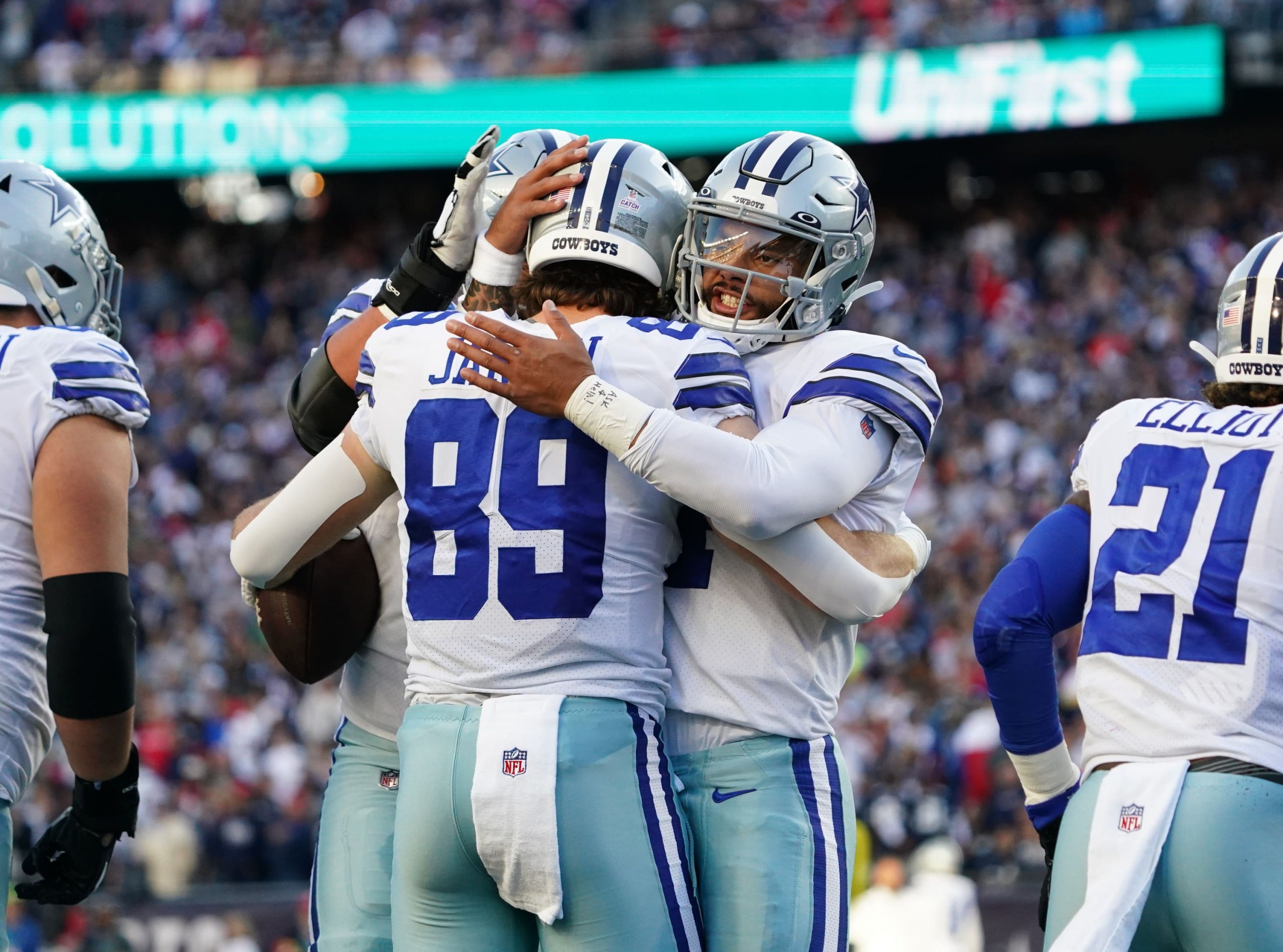 Dak Prescott is on a path to making history. The Cowboys quarterback is squarely in the driver's seat to win Comeback Player of the Year, but after Sunday's dramatic overtime win over the Patriots, he has now emerged as a co-favorite to win the MVP at most sportsbooks, alongside Kyler Murray.
If Prescott is able to accomplish that feat, he would be the first player in NFL history to win both awards in the same season. There's obviously still a long way to go, and his biggest ceiling right now is outside the sphere of his control. "His path revolves around the success of Allen and Murray," said TwinSpires Trading Analyst Zachary Lucas.
I've seen prices on Prescott ranging from +400 to +600, and it will likely stay relatively stable this week as Dallas enters its bye week. Considering the Cowboys will be favored in each of their next three games after the bye (at Vikings, vs. Broncos, vs. Falcons), I would not be surprised to see Prescott's number shorten before a critical game in late November against the Chiefs.
In the broader market, the Super Bowl tiers continued to sharpen this week at the Westgate SuperBook. The Bills' surprising loss on Monday night to the Titans pushed Buffalo just outside of the top tier, making way for the Chiefs to reassume the mantle as the best-priced team in the AFC. The Cardinals, Ravens, and Cowboys all saw their numbers shorten, as each solidified themselves as legitimate contenders with impressive victories, while the Chargers and Browns dropped beneath the third tier.
Top tier (+500 to +600): Bucs, Chiefs
Second tier (+700 to +800): Bills, Cardinals, Cowboys, Rams
Third tier (+1000 to +1200): Ravens, Packers
Fringe contenders (+1600 to +2000): Chargers, Browns
Arizona Cardinals: +1200 to +900 to win the Super Bowl at BetMGM
The Cardinals continue to impress bookmakers and barring injury to Kyler Murray, will be the biggest upside mover in the Super Bowl market this season. Arizona opened at +4000 at MGM but they were even lower than that at some spots, and if you read my preseason futures column you might have been able to grab +4800 at FanDuel.
Obviously, because of my position, you won't find a bigger supporter of this Arizona team than me, so it pains me to keep flashing the sell indicator, but it's foolish to think they aren't due for regression at some point. They will likely cruise past the Texans this week, setting up a massive game next Thursday night against the Packers at home, which could propel them to the top tier of the board, alongside the Chiefs and Bucs. "If they win that game I'll be sold," said Lucas.
Read this week's Burning Question, where three NFL experts say whether it's time to hop on the Cardinals' bandwagon
Baltimore Ravens: +1200 to +1000 to win the Super Bowl at BetMGM

The Ravens distanced themselves from the Chargers on Sunday and reaffirmed their position as a contender. The AFC North might be a little softer than expected this year if Cleveland and Pittsburgh continue to show volatility, but the only way you make this bet and invest in Baltimore long-term is if you think they have a real chance of beating the Bills, possibly on the road.
BetMGM Sports Trader Darren Darby says his shop would favor Buffalo on a neutral field in that matchup, but declined to give out a specific number. I like the Ravens' toughness, and Lamar Jackson has taken a significant leap in the passing game, so if you wanted to open a small position on Baltimore I still see upside if their defense can continue to play as well as they did against Justin Herbert.
Find out Jared Smith's early bets for the NFL Week 7 slate in his Early Birds column!
Georgia: +130 to +120 to win the CFP at BetMGM
Alabama: +300 to +240 to win the CFP at BetMGM
Another week, another tightening at the top of the college football board as oddsmakers continue to dare bettors to find a better option than Georgia or Alabama. The good news is if you have deep pockets, you don't have to decide. The odds are still long enough to craft a hedging strategy that nets out 0.55 units of profit for every 1 unit invested on both teams at the current prices. That's the equivalent of betting Georgia/Alabama vs. the Field at around -180 odds.
At this point, it's hard to make an argument for another team considering how good those two have looked, especially Georgia, who opened +800 at MGM. However, if you had to look at another team to join the party, my choice would be Oklahoma at +1200. The Sooners have been buzzing since handing over the quarterback reins to freshman sensation Caleb Williams.
Caleb Williams: +10000 to +2000 to win the Heisman Trophy at BetMGM
Williams' meteoric rise is catching the attention of bettors and bookmakers alike, not only pushing Oklahoma into the championship conversation but Williams into the Heisman spotlight. "They (Oklahoma) look like a completely different team with him under center," said Lucas. The Sooners schedule could feature three ranked opponents down the stretch (Baylor, Iowa State, Oklahoma State) then another marquee matchup in the Big 12 title game, so there will be plenty of opportunities for him to impress voters. The best number I found on Williams was +5000 at FanDuel and at that price, it's certainly worth opening a small position.
Check out our college football futures watch, as Georgia locked down their status as CFP favorite
Pickswise is the home of NFL Picks. Check out our latest playoff picks and round-by-round analysis as well as our free Super Bowl predictions.