Back to the Futures: Oddsmakers react to NFL Week 3, Heisman Trophy betting strategy as Ole Miss meet Alabama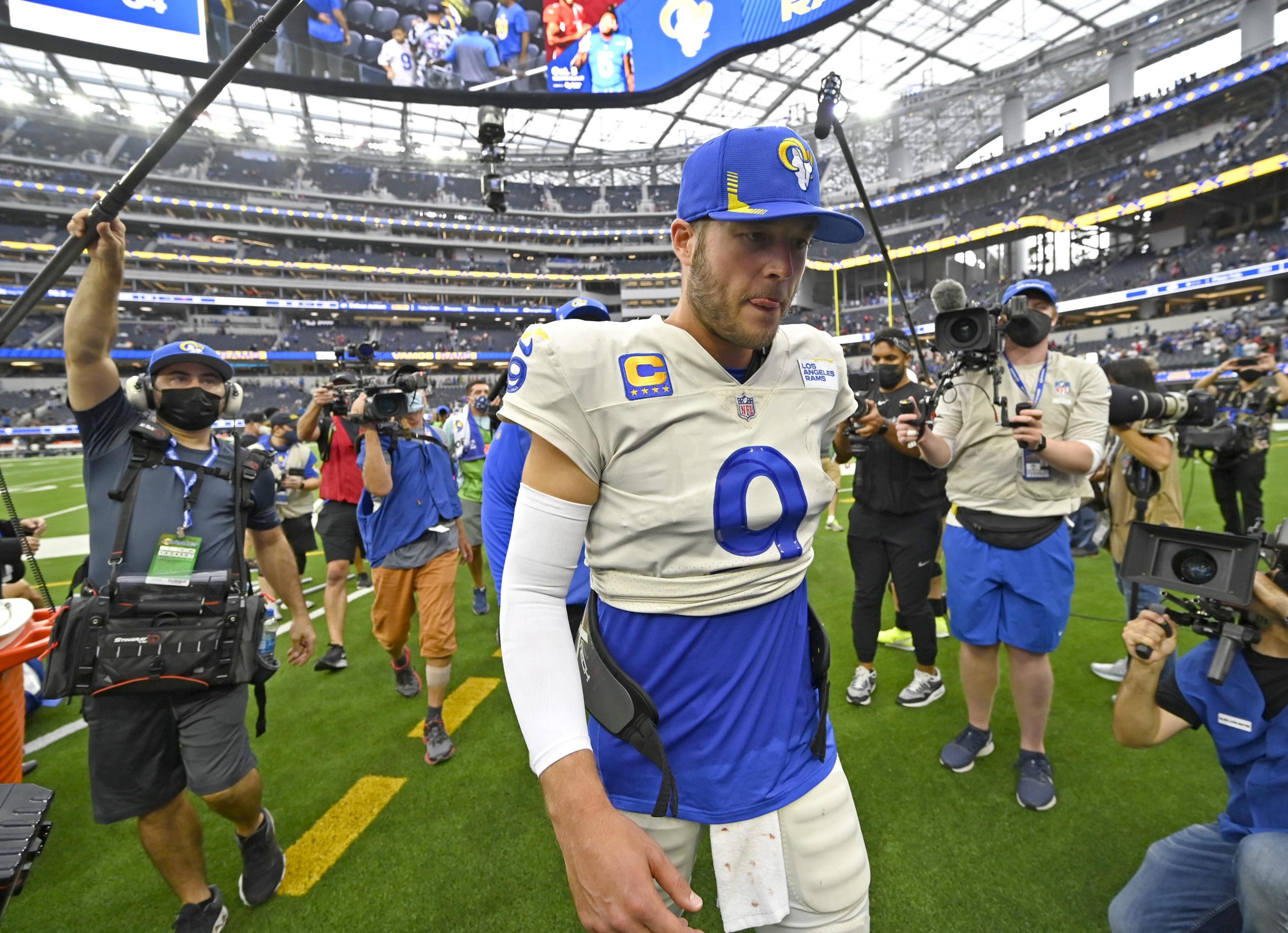 Week 3 in the NFL provided us with another intriguing data dump as the true nature of teams is slowly becoming more evident. One thing clear to me is the top of the market is starting to drift back to the pack, and a new contender is emerging as a top dog. The Rams moved from +700 to +600 to win the Super Bowl at the Westgate SuperBook, currently tied with the Bucs and Chiefs as favorites, who both lost on Sunday. Oddsmakers also believe the Rams have staying power at the top.
"I really think LA is the best team overall on both sides of the ball," said TwinSpires Trading Analyst Zachary Lucas. "Stafford finally has weapons all over the field and if this team can stay healthy I think we'll see them as the SB favorites as we approach the second half of the season." This week will be a litmus test for the Rams as they host another early-season darling, the Arizona Cardinals. If Los Angeles takes care of business, they could inch in front of Tampa Bay and Kansas City.
Kansas City Chiefs: +525 to +600 at TwinSpires
The NFL markets have similar concepts to gravity, as what goes up, must come down. "The league has finally caught up with KC and knows how to game-plan better versus their potent offense," said Lucas. "While we still have KC as the favorites, a lot of that has to do with brand recognition. You can't make this team any higher than 10/1 barring any injuries as we'll get flooded with KC money and if there's one player in the league that can carry a team it's Patrick Mahomes." The Chiefs travel to the Eagles this Sunday, who are on a short week, and then they host the Bills in a huge primetime matchup next Sunday night. Despite the slight discount this week, I would still be in wait-and-see mode with KC.
Los Angeles Chargers: +3000 to +1800 at WynnBET
On the other side of Sunday's AFC West coin, the Chargers bolted up the odds board and have gotten the attention of some oddsmakers. "Watching the Chargers close out a big divisional game was refreshing to say the least," said WynnBET Senior Trader Grant Tucker. "Justin Herbert is developing nicely and his chemistry with Mike Williams is something I would keep a look out for over the next few weeks." I've been really impressed by Herbert too, but the Chargers' next three games (vs. Raiders, vs. Browns, at Ravens) are not easy, and I'm guessing they will slip up at least once which should give bettors a better buy-in price later this season.
Ja'Marr Chase to win Offensive Rookie of the Year: +1300 to +400 at TwinSpires
The Bengals are getting a lot of buzz after their big win in Pittsburgh and the OROY market responded in kind. This is a significant move which implies a 13% increase in Chase's probability to win the award. "Rookie quarterbacks' struggles are very evident," said Lucas. "Chase has a great situation in Cincinnati and if he continues what he's doing I think you'll see that plus money go away by midseason." I already have exposure to Justin Fields and Mac Jones in this market, but there is still room in the portfolio for a nice buy on Chase, which I've detailed below…
Original Position: Justin Fields +850, 1u to win 8.5u 
Additional Bet: Mac Jones +400, 2u to win 8u
Additional Bet: Ja'Marr Chase +500, 1.75u to win 8.75u
The math works out nicely for me here. If Fields wins, I will net 4.75u of profit (8.5u win – 3.75u loss). If Jones wins, 5.25u of net profit (8u win -2.75u loss). My biggest position will be on Chase, netting 5.75u of profit (8.75u win – 3u loss).
Make sure you check out Jared's best early bets for NFL Week 4 and all the opening lines!
Heisman Trophy Strategy: Ole Miss/Alabama game could serve as market-tilting event
Last week I advised everyone to wait until we saw the Ole Miss/Alabama line before making a decision on how to proceed with the Heisman market. The Rebels reopened at just over a two-touchdown underdog at most shops, which means it would be a surprise if Ole Miss pulled off the outright upset. So now we have two questions left to answer. What kind of game does Matt Corral need to have in order to retain his status as Heisman favorite? And what is the best strategy for approaching both markets this week?
"I think it depends on how this game plays out," said Tucker. "If Matt Corral has six total touchdowns and the Rebels lose by 10 points, we are having a different conversation than if Alabama wins in typical fashion such as 48-20. This game is intriguing because we have two Heisman favorites going head-to-head."
Corral and Alabama's Bryce Young are dead even atop Wynn's odds board at +175 to win the Heisman. I already have early exposure on Corral at +900 and if you are holding a similarly priced ticket I think it makes sense to hedge a bit here with Bryce Young. I do not believe a third viable contender has emerged to win this award and we are already one-quarter of the way through the season, so increasing my exposure in this market before Saturday makes sense. The best price I could find on Young was +300 on FanDuel.
If you are starting with a totally clean slate and want to play it safe, I think a reasonable approach is to bet Ole Miss +14.5 and then come back on Young +300. It's risky to bet Corral at his current price considering how much the number has already dropped, especially if you factor in a potential blowout looming on Saturday in Tuscaloosa. There's also a chance you thread the needle with Ole Miss backdooring the spread and Young outplaying Corral. It's a safe and efficient way to play both sides of the market at this stage where I expect to see a fork and significant movement after Saturday's marquee matchup.
The riskiest strategy here would be to bet Ole Miss on the money line. The best price I found was +520 at FanDuel, which is significantly longer than Corral's +150 odds to win the Heisman. That is a highly correlated bet since if the Rebels win on Saturday it will likely secure the award for Corral. However, if you take that aggressive approach you must also bet Ole Miss +14.5 so you don't get totally left behind if the Rebels keep things just close enough on Saturday to keep Corral at the top of the Heisman market. If Ole Miss gets blown out and you lose both bets (which is what makes this a riskier strategy) you will likely get a better number to buy in on Corral to win the Heisman next week.
Be sure to read our preview and best bets for Ole Miss vs Alabama!
Pickswise is the home of NFL Picks. Check out our latest playoff picks and round-by-round analysis as well as our free Super Bowl predictions.