Best 2021 NFL Draft Bets - Odds, Expert Predictions, and Best Bets: Don't rule out Slater going early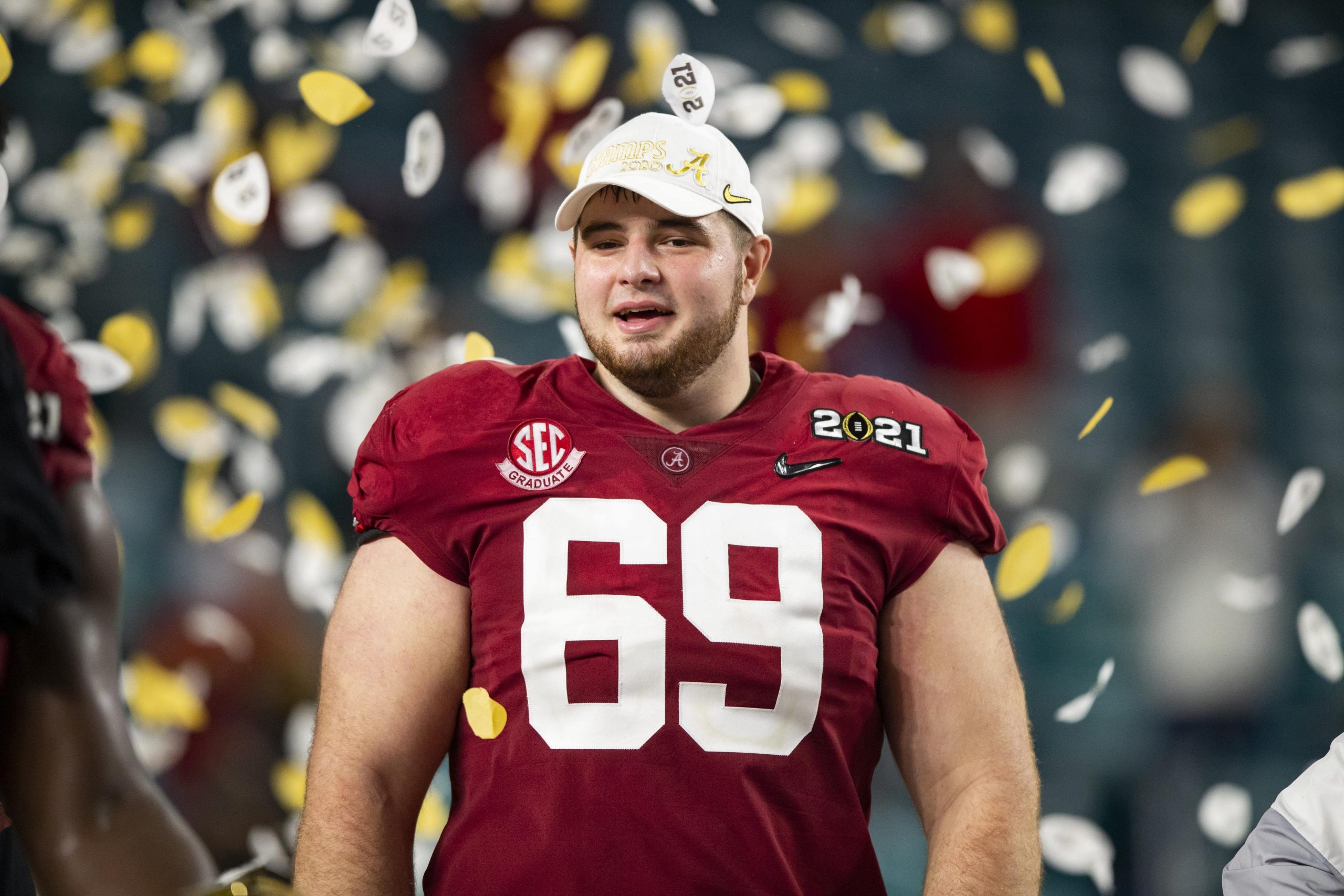 Unfortunately, we've still got a few months to go until the start of the 2021 NFL season. On the bright side, we've got an exciting offseason ahead, and that starts with the NFL Draft. The draft has snuck up on us with everything going on, and it's now only a week away.
The action will get underway on April 29th, and we'll be doing everything we can to get you primed until then. Trevor Lawrence will be taken first overall, and Zach Wilson likely second, but after that, the real intrigue starts. This draft could be more hectic than ever with so many quarterbacks going off the board early. Let's try to figure some of it out while talking about a few of my best bets for the draft. First, let's recap the few bets I laid out in this column last week, and then we'll get to three new ones:
Penei Sewell over 6.5 (+108)
Trey Lance under 6.5 (+101)
Total receivers drafted in first-round under 4.5 (+155)
I still feel pretty good about all three of these. I feel particularly confident about Sewell, as I'm not even sure he's going to be the first offensive tackle drafted at this point. Rashawn Slater has a very good chance. Remember, check out the full article to read my full reasoning on each of those three plays. Now, let's not waste any more time, we're diving into three new plays that have caught my eye:
Best NFL Draft bets
Rashawn Slater under 9.5 (-110)
This one correlates with the Sewell play. I continue to remain skeptical of just how highly the league views Sewell. Even if Sewell is the first tackle off the board, that certainly doesn't preclude Slater from going in the top nine. The Panthers have been heavily linked to tackles, and could easily nab Slater at eight if they don't trade back.
The Broncos pick at nine, and I think they could very well take Slater to pair next to Garrett Bolles. Benjamin Allbright, a reporter in Denver who is very plugged in with the Broncos and regularly breaks stories about the team, recently suggested that's a legit possibility. I think he'll be gone by then anyway, but if the Broncos are seriously considering him at nine, I think this play has a ton of value at almost even money.
Said on the show the other day not to rule out Slater at 9 if Denver doesn't go QB and can't trade back.

— Benjamin Allbright (@AllbrightNFL) April 21, 2021
Landon Dickerson over 36.5 (-112)
I don't see Dickerson going on Day 1, or in the first few picks of Day 2. NFL.com draft analyst Lance Zierlein recently tweeted he sees Dickerson out of the first round and locked into the second. Zierlein is one of the best in the business, and I always trust his info.
I think teams are going to be hesitant to take a center in the first round no matter what, especially one that is coming off an ACL tear. Fellow draft analyst Tony Pauline recently said that numerous teams have major red flags with Dickerson's medicals. In fact, Pauline wrote that several teams have told him they couldn't draft Dickerson in the first five rounds due to his medicals.
Under 0.5 running backs drafted in first round (+230)
This is a fun prop bet that I think is worth a stab at. Neither Najee Harris nor Travis Etienne are guaranteed to go in the first 32. Etienne's over/under is at 33.5 and Harris' is at 29.5, so I think there's serious value in getting +230. The Steelers are one of the only teams linked to potentially drafting a running back in the first, but I don't think they'd be foolish enough to do so at 24.
They've simply got bigger issues to address first than replacing James Conner. I don't really see any other team taking the plunge, and more and more franchises are starting to adopt the view that running backs are easily replaceable. Daniel Jeremiah's latest mock draft had no running backs in the first round, and he's one of the most plugged-in guys out there. I think this one is closer to 50/50.
Sad that NFL season is still so far away? Well luckily Pickswise is the home of free MLB predictions, NBA predictions , and NHL predictions.