Best Monkey Knife Fight picks for Thursday Night Football: Kansas City Chiefs vs Los Angeles Chargers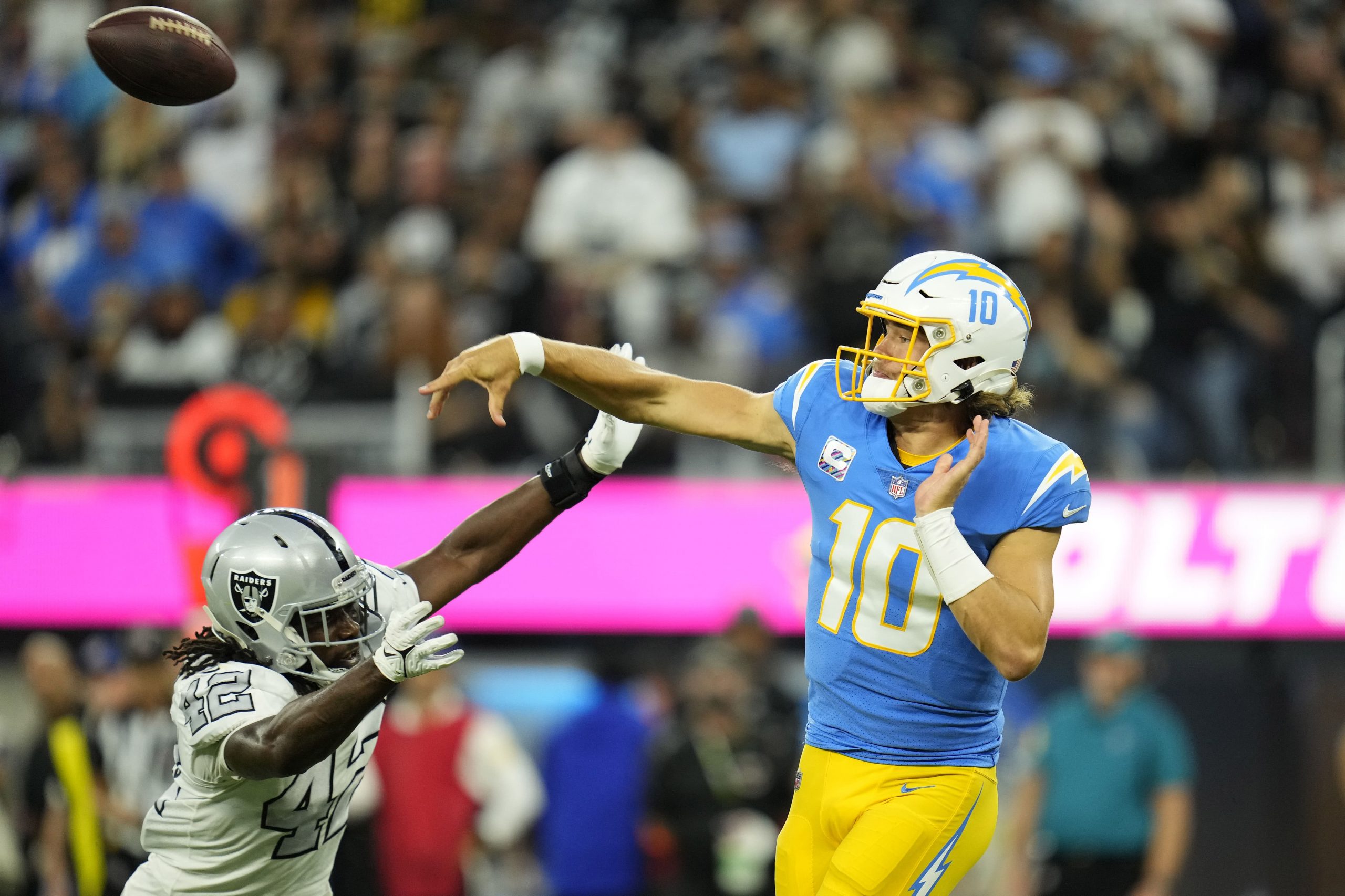 Thursday Night Football is back for Week 15. As we approach the home stretch of the 2021 NFL season it will be a pivotal AFC West matchup between the Kansas City Chiefs and Los Angeles Chargers. Will the Chiefs start to pull away in the division, or does Justin Herbert have other ideas? The spread is at right about 3 points with the Chiefs being modest road favorites. We of course have our own thoughts on the side and total, but right now we're talking Monkey Knife Fight and the games they have available to play for TNF.
MKF is one of the fastest-growing daily fantasy sports sites in the U.S. with a unique offering of player props games. You don't have to play against a bunch of professionals with algorithms and it's super easy to use.
Here are my favorite couple of MKF plays for Thursday Night Football.
Don't forget to check out our free NFL picks on the side and total for every game in Week 15!
New Monkey Knife Fight customers can take advantage of the promotion below and claim their 100% deposit match up to $100!
Monkey Knife Fight More or Less – Justin Herbert less than 289.5 passing yards, Patrick Mahomes less than 287.5 passing yards
Looking at this passing yards More or Less, I'm going less for both Herbert and Mahomes. I don't see this one turning into a shootout despite the elite talent at quarterback. I think the Chargers will run the ball a bit more than usual with Austin Ekeler, and the Chiefs' defense is peaking at the moment. Kansas City has incredibly only given up nine points in three straight games. Throw in the fact that Herbert's stud left tackle Rashawn Slater is out for this one, and I don't think he's going for 300+.
Mahomes is being overestimated here just based on reputation. Recently he's had one big game against a Raiders defense that plays the kind of single-high coverage he feasts on. Outside of that, Mahomes has eclipsed 287 yards one time since Week 2. In nine of his past 11 starts he's been held below this number, and Los Angeles' defense is getting better by the week. When these teams first played in Kansas City this year, Mahomes had only 260 yards on 44 attempts (5.9 YPA).
What is More or Less?
One of MKF's most popular games, More or Less gives you a list of players and their yardage lines, and you simply have to choose More if you think they'll go over, or Less if you think they'll go under. It can include two or more selections, and if you get them all right you win! The more selections there are, the better the payout.
We've hit several TNF same game parlays this season, so make sure you read our SGP for Chiefs vs Chargers (+1150 odds!)
More or Less – Clyde Edwards-Helaire less than 59.5 rushing yards, Keenan Allen more than 75.5 receiving yards
I often will play one More or Less and one Rapid Fire. But this week none of the Rapid Fires jumped out to me. Instead, I like a second More or Less. I don't think Mahomes is going to have a huge night, and I feel the same way about Edwards-Helaire. The Chargers' run defense has been improving rapidly, and the Chiefs have never liked to commit to their ground game anyway. CEH had only 10 carries for 37 yards last week, and that was in a game that Kansas City won by 39. Derrick Gore had a 51-yard run last week, and I think he'll continue to eat into CEH's carries here.
A 75.5 number seems pretty conservative for Allen, who always seems to thrive in these big nationally televised games. He's gotten to at least 77 yards in five of his past six games. His volume is as consistent as it gets, as he's gotten at least eight targets in all but one game this season. He's gotten double digit targets in eight of 12. When he played the Chiefs earlier this year he didn't have his biggest game but the volume was still there, as he drew 12 targets. Kansas City's defensive resurgence is being a bit overhyped, as it has faced a schedule of declining offenses — many of which have been missing key pieces.